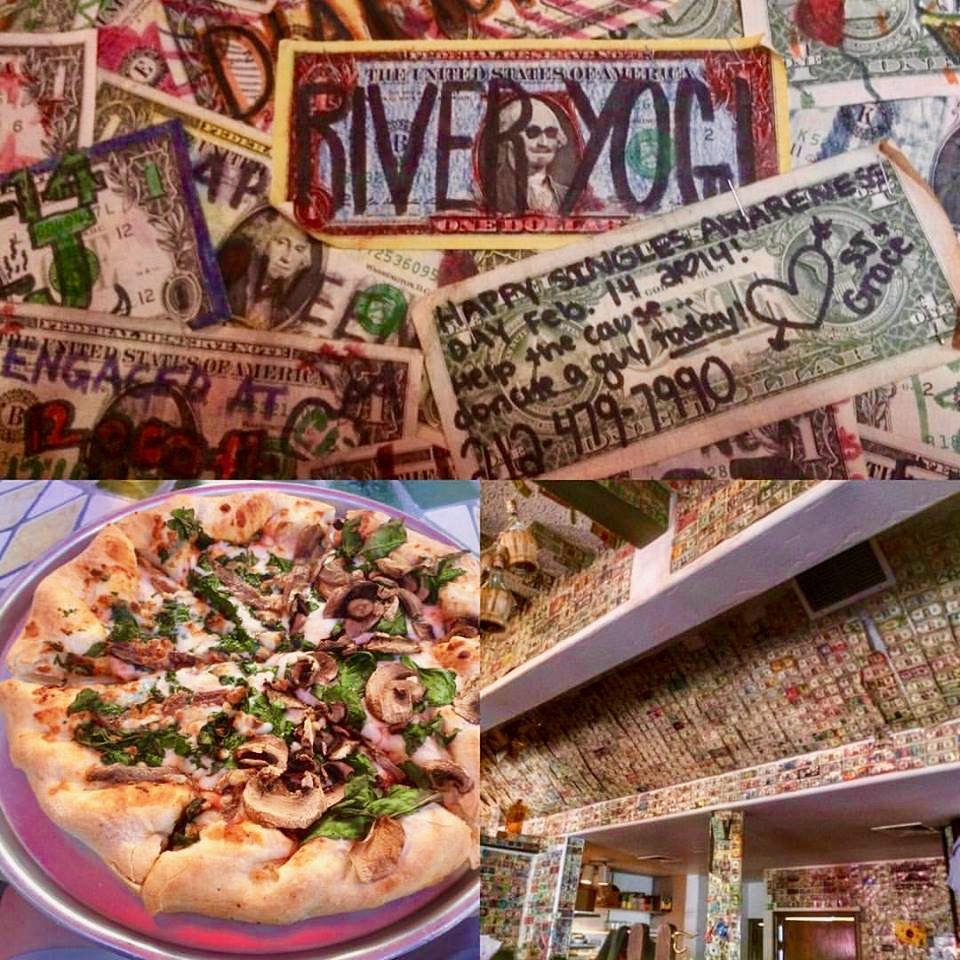 Few restaurants have as many dollar bills adorning their walls, ceilings, posts, and all, but the pizza is the attraction at Hernando's in Winter Park, Colorado! (Pictures courtesy of Mike Bailey)
I love pizza. You probably do too, and if you are like me, don't you find most pizza joints to be pretty much the same? Well, Hernando's in walkable, downtown Winter Park, Colorado is different. Opening in 1967 under the still current owner, Jeff Davidson, this eatery features not only a well-fashion pizza pie, but also tasty salads, pastas, and wings among the highlighted fares.
The design motif in this typically casual spot is good ole U.S. currency. Walls, ceilings, and posts are adorned with signed and usually decorated greenbacks. How many are there? I couldn't get a definitive answer, but perhaps somewhere between 20,000-30,000 and reportedly at least 5-figures more are hid securely in storage. (I wonder how the IRS treats these?) Anyway, this is a happening, popular place that also offers take-outs.
I enjoyed the tasty "Traditional" pizza with several veggie toppings and it earned entry into my "good – best" category. The friendly attentive service had me enjoying two rounds of refreshing local brews after two rounds of golf, and a tossed salad with delicious oregano vinaigrette. This is a hands-on family operation in which the owner religiously responds to both good (mostly) and disappointing (few) reviews on social media, but perhaps the highlight was our busboy. A polite, young man with an outgoing, engaging personality bussed our table initiating conversation with us. Like me as a boy, I later discovered that he was much older than he looked (entering high school) and was one of the owner's children. It didn't really matter for it was genuine and revealed that everyone at Hernando's is busy serving.
My next trip to Winter Park will definitely include a trip to Hernando's, perhaps even before I explore anywhere new. If you like this fare, you should too!