"Peaceful and secluded, yet convenient" would be my first words to describe one of Northern California's newest and most elite golf resort properties, CordeValle. – a Rosewood Resort. "Relaxed service and great golf" would be my next comment.
CordeValle derives its name from the Spanish phrase "el corazón del valle," meaning "heart of the valley." True to its name, this getaway resort is nestled in a valley of picturesque rolling hills, deep-set canyons and wide-open meadowlands in Northern California's Santa Cruz Mountains, just 30 minutes south of San Jose and 45 minutes north of Monterey, a couple of miles west of Highway 101. As you survey the landscape, you will discover something very rare in Northern California – a "core" golf course with no homes infringing on it and "very soothing."
The golf course opened in 1999 at the height of the dot.com era when area millionaires were being created faster than jobs are today. The focus of the private Club and the resort was unabashedly aimed at the very affluent, but to get a permit to build the facility, the partners promised to build a "public course" providing considerable access to non-members and to abide by several environmental requirements to ensure that there would be minimal ecological damage.
In what eventually turned out as good news for more golfers, after CordeValle opened, the county's Planning Commission found that the golf course was in fact "private" – and the club had "ignored" many of its permit requirements. Hence the allowance of public play had to be expanded. Though manangement liked to brag that 2/3s of its membership could "easily" afford to buy the entire resort facility, CordeValle experienced heavy operating losses in the meantime as the lodging was built and vacancies were high, yet their product and service did not waver. (There continue to be many grumbles in local golf circles from members that their CordeValle playground was not nearly as exclusive as they had originally hoped it to be.)
The good news for the rest of us is that today you can be a "member for your stay" and enjoy the sublime experience that was originally intended for a private membership. The flip side of the coin is that you can't just call ahead or drive into the property and expect to play; and it is pricey. You must stay at the resort and that takes a bit of planning.  Be that as it may, CordeValle is a place you will want to visit and play golf!
Management has elected to provide package rates that vary all over the board depending upon the room and the season.  $295 to $1,295 per night pretty much covers that range and normally you might figure your cost of golf around $400. Suffice it to say, CordeValle's market is not the average golfer, but the financially elite one in search of a memorable experience.  Whether for a romantic golf getaway or a business retreat, CordeValle is sure to hit the mark.
CordeValle was designed by Robert Trent Jones Jr. and he considers it one of his finest efforts. It is situated on 260 of the resort's 1,700 acres encompassing gently rolling terrain set in a bowl as some of the play meanders through the valley floor while portions go up and down the surrounding slopes. Thus the design utilizes the natural elevation changes for its back-to-nature experience, essentially devoid of distractions and noises, and the golf course's look and challenge is definitely marked by its abundantly bold bunkering, undulating green complexes, and broad meadows, streams, and striking sycamore and mature California oak trees..
I particularly enjoy the hillside golf here, especially as featured on the back nine not only for their challenge, but their wonderful vistas. It is also quite unusual to be able to build an enjoyable, beautiful uphill hole but the Jones II team did so repeatedly here at CordeValle with the 6th, 13th, and 15th quickly coming to mind. You will also be dazzled by the views from the 15th, 16th green or 17th tee.
The course has already attracted notice as it hosted the PGA TOUR in 2010 as well as five different local USGA qualifying events and annual collegiate tournaments. In 2011 the PGA Cup will be played there and in 2013, CordeValle will host the USGA Senior Women's Amateur. It's 7,169 yards are not particularly long by PGA Tour standards, but I don't recommend that you play the tips as the course is much more enjoyable from the more forward tees.
The holes are simply straightforward and don't scream with drama, nor do they extract too great a toll on wayward play. Sure, there are some creeks, dense native grasses, and ravines that will capture errant shots as well as an abundance of bunkering guarding the fairway landing areas and greens, but the challenge is straightforward and the strategy required on each hole is clear. Play smart, keep the ball in play and beneath the hole, and your nighttime conversation will include some bragging.  Deviate from that and CordeValle may "eat your lunch!"
One hole in particular speaks to this point. The eighth (which played as the 17th during the 2011 Frys.com Open when the routing is reversed) was shortened for the pros to around 325 yards making it potentially drivable for them. "The obstacles around the green force a player to either lay up short, maybe bounce it on, or fly it to the hole, depending on the situation" said Director of Golf Michael Marion. Most golfers will be wise to play two conservatively placed shots, but Jones offered the risk and reward of "going for it." What resulted during the final round of the Frys.com tournament was a six-minute span of some of the most electrifying golf ever on the PGA Tour.
Popular journeyman Rocco Mediate who hadn't won since 2002 had held the lead for most of the event on the strength of three hole-outs on approach shots, but he was quickly being overtaken. Four-over par on his final round coming to the hole, Rocco hit first and decided to lay up off the tee. His playing partner Bo Van Pelt took out the big lumber and promptly flew the ball unto the green. Announcer Peter Oosterhuis then suggested the far-out idea that the next player, Alex Prugh might make a double-eagle hole-in-one. Well, he almost did!  His laser-like tee shot hit into the rain softened green a foot directly in front of the hole. Somehow it barely missed going in, but stopped just a foot behind it for a tap-in eagle. Mediate back in the fairway some 116 yards asked Prugh to mark his shot.  Oosterhuis again raised the bizarre speculation that Mediate might hole the shot. Backing the ball up directly over where Prugh's mark was, Mediate accomplished the incredible, he holed out for the fourth time during the event. Mediate managed a popular 1-stroke win – just one of the craziest stretches of golf in recent PGA TOUR history!
To term Cordevalle just a golf resort is like calling Michael Jordan just a basketball player or Joe Montana just a quarterback – there is much more to the whole story. Guests are ensconced in spacious bungalows, expansive fairway homes or secluded villas. Each of the 45 separate lodgings is decked-out with original artwork, iPod docks, flat-screens, fireplaces, walk-in closets and high-speed Internet access. King-sized beds, goose-down comforters and high tread-count linens make it a snap to wind down at evening's end. The temperature of the water in your shower can be dialed to the perfect degree you desire.  Larger four-bedroom Fairway Homes make an ideal choice for executives wishing to host small gatherings for meetings or cocktails.
The list of amenities goes on. While the whole feel of the resort is rather genteel, those that prefer to get a more rigorous workout may visit the state-of-the-art gym, or head outdoors to take on the CordeValle Hiking Trail. The lower level is akin to a green or blue ski run, but to take it up a notch, the stout-hearted will attempt the Lion's Loop, which heads up the highest hillside ringing the golf course, a straight-up, then straight-down journey that
will test the lower extremities better than any leg press or quad machine could ever do. The muscles will burn and your breath labored, but the views of the nearby vineyards and surrounding countryside will no doubt inspire.
Afterwards, work out the kinks at Sense, the sparkling on-site spa offering specialty treatments including a Turkish steam room and Vichy shower, and a full range of massage, facial and body treatments.
Golf is not the only game at Cordevalle, in 2010 a new outdoor Tennis Cneter featuring four plexicushion tournament tennis courts opened for play. The courts' surfaces play at a medium speed, allowing for a wide variety of game styles and are serviced by a teaching professional. The Tennis Center's pavilion features not only locker areas, but a full bar and dining service as well as an indoor relaxation area and outdoor covered patio, complete with rocking chairs that overlook the courts along the south side of the pavilion.
Cordevalle makes for a great corporate meeting spot or getaway as larger groups can convene in the 4,391 square feet of high-tech meeting space (fits up to 250) inside the clubhouse and there are four private board rooms. Catering and support services enhance functions in these areas while planners can also arrange a memorable off-site meal at the neighboring Clos La Chance winery, which waits just a golf cart ride away. It should be noted that this is an adult, not children-oriented resort.

Dining is a highlight, particularly in the evening at Il Vigneto, which a server cleverly describes as serving "Itali-fornia" cuisine. Lion's Peak Grille and the One-Iron Bar are more causal dining options.
A note about the service. I have encountered warm and friendly attentive service during my visits, and it is a welcome contrast from the over-the-top smothering attention that you find at some of CordeValle's competitors. Online feedback largely backs up my experience though you may discover a few complaints centered upon the quality of the room service and concierge/front desk services, and the dinner meals. You should also be aware of poor cell phone reception for some carriers, particularly (Sprint) because the rural location is surrounded by hillsides. All of these are relatively small points overshadowed by many positives as well as CordeValle's special overall ambiance.
Be also aware that CordeValle is really a self-contained getaway experience. As such, it is not for everyone.  For those looking to venture out for exciting nearby diversions, many will be wanting. Within a ten-miles radius you will find little more than the garlic products of nearby Gilroy, some mid-range wineries, and no remarkable eateries. Most of your attention should be on the golf or simply chilling out within the confines of the Resort.
In my mind, CordeValle's lodging fits right in line with that of Pebble Beach and The Ritz-Carlton Half Moon Bay.  While both places have much to recommend them, they can also experience cold coastal fog and wind.  CordeValle's inland location is more protected making it what I consider the best inland retreat resort in Northern California. So when you're sitting around the fire pit at night sipping a fine wine and discussing the best places few people have ever played golf and relaxed, CordeValle will be likely be at the top of the list.
Fagan Golf Course Rating:  B+   CordeValle deserves this elite rating for it securely ranks among the ten best courses in Northern California that anyone can play and is very competitive among the same rankings for Top 100 Courses nationwide. The setting is sublime and while the first few holes with the high-tension wire and nondescript terrain are mundane, the layout just keeps improving as you go. The bunkering that was greatly influenced by the hands-on work of former Trent Jones II architect Gary Linn and developer/designer Tad Buchanan is excellent, nicely complementing the overall direction of Robert Trent Jones, Jr. Miss playing CordeValle and you have omitted one of Northern California very best resort courses!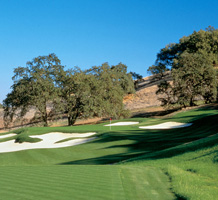 Fagan Resort Rating:  A- As a getaway resort I give CordeValle a remarkable "A-," a nearly perfect evaluation reflecting only the lack of customers' consensus over the quality of room service and food. In summation, CordeValle is a best of its kind offering that combines an outstanding mix of a high-end country club with an elite resort/spa. This is the one place where you can arrange a meeting, a quiet golf getaway, spa retreat or quiet romantic escape with equal ease. CordeValle provides unique options to accommodate the lifestyles of elite business executives, entrepreneurs, and guests from Silicon Valley and around the world.
P.S.  CordeValle maintains a very creditable caddy program, which I heartily recommend, especially for gaining a good read on the tricky putting surfaces!  (The cost of forecaddies is included in your package though tipping is expected, and a single walking caddy adds $45 plus tip.)