The spectacular 16th at the LedgeStone Golf Course provides a glimpse of why Branson, Missouri qualifies as a "must-play" golf destination.
What do you get when you combine good old fashion genuine hospitality and tons of fun options, and throw in great golf for good measure?  The answer is Branson, Missouri.  If you are like me, you may have known Branson to be a vacation destination, but did you also realize that it has also developed into a bonafide golf destination as well?  I've witnessed more than my fair share of proud inhabitants who love their towns as well as their golf
courses, and I can't fault them in the least, but when I really got the opportunity to discover Branson, Missouri first-hand, I couldn't wait to get the word out.  So here we go.
First of all, based on the rounds played in Branson, I know that without a doubt I have found one of the most intriguingly fun, yet unknown golf destinations in America.  I sampled seven different golf courses featuring
something for everyone.  If you desire the best pubic-access golf experience comparable to the best private ones, Branson has several courses that are a delight to your senses and a test for your game.  Want a truly scenic
course?  Branson has several.  How about something in-between and not too difficult, Branson has it.  How about a member-friendly club course or a centrally located Executive Course that will delight even the most
discriminating golfer, Branson has that too.  All are priced under $100 even in peak season.
Selecting the best of the Branson courses is like trying to determine whether vanilla ice-cream is superior to chocolate, but in Branson there is a flavor for everyone.  From my perspective there are three layouts anyone, and I repeat anyone, will want to play.  Many will tell you that the Tom Fazio-designed Branson Creek Golf Club is their favorite.  Gorgeous tranquil views of the hills are part and parcel of the green ribbons of fairway punctuated by bold white bunkering on this layout that is immaculately groomed.  Also vying for top consideration is the Payne Stewart Golf Club designed by Chuck Smith and Bobby Clampett.  Whereas Branson Creek is expansive, Payne Stewart cuts into the hilly terrain and appears much more defined because it is carved out of dense forest though the fairways are rather generous.  If you are a wayward driver of the ball, Payne Stewart will punish you and play 4-5 shots tougher than anywhere else, but its very attractive holes and conditioning make for a complete challenge.  The other of what I call the "My Favorite Three" is the LedgeStone Golf Course.  Perhaps more than the other top courses, this layout is more uniquely Branson-like in nature with natural rock outcropping, exciting elevation changes, and streams cascading within the property.  Yes, it is another hilly course, but one that most definitely you will want to also bring your camera.
The choice of golf motifs are anything but repetitious in Branson and if wide open expansive views are your preference, you will feel as if you are sitting atop the world on the exciting Murder Rock Golf & Country Club property.  From the clubhouse and particularly the back nine that sits at 1,300 feet above sea level, you will savor the views that seem to extend forever.  On the other hand, if you fashion a sporty, playable wooded test,
The Pointe Royale Resort & Golf Course is your test.  It is a bit shorter, but requires accurate play
throughout as it plays through the wooded hillsides of a nice residential community that features the homes of entertainers Andy Williams and Mickey Gilley to name a few.  Local knowledge and a keen short game are key here.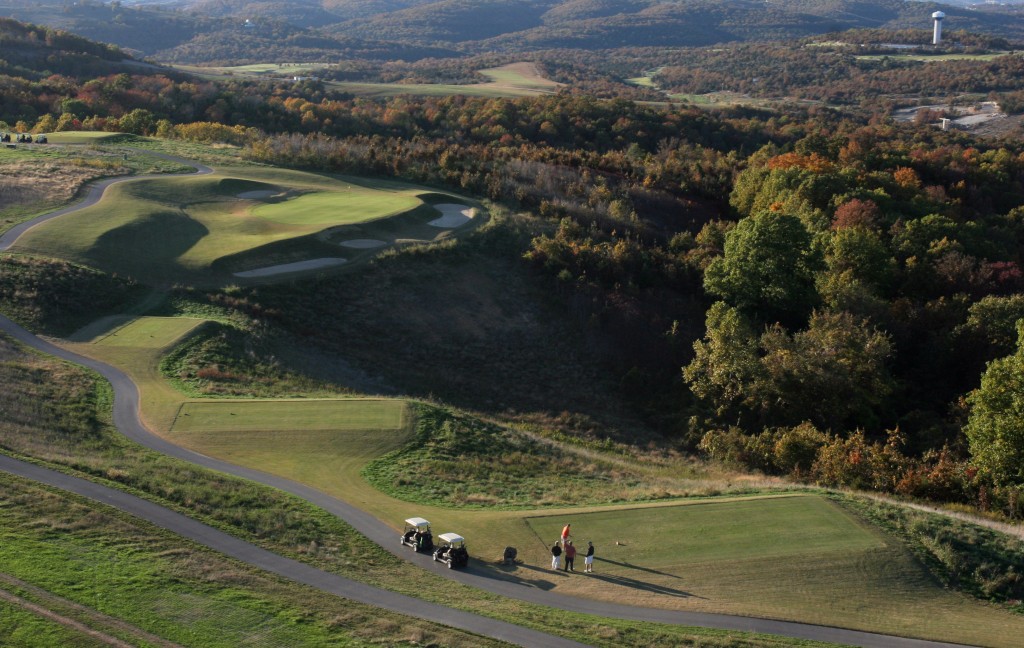 The exhilarating par-3 seventeenth at the Murder Rock Golf Club.
Executive length courses don't often get the respect they deserve, but you will be pleased if you venture to play the par-63 Thousand Hills Golf Club.  Regardless of your skill level, you will likely employ all your clubs on
this very fine and challenging Bob Cupp design.  If you can score well here, you can score well anywhere.  The shaping, design, conditioning, and challenge here are all first-class and you may also run into one of the many
celebrity entertainers that love this conveniently located layout just a couple of blocks from "The Strip."
Finally, the Holiday Hills Resort Golf Club is another sporty course with many attractive holes and a tad less challenging for the average or novice player though it is also attractively presented and priced.  Completing the menu of fine golf was the equally friendly golf course service I encountered throughout.  And if you don't have your clubs, each of the courses has late-model rental sets usually in the $25 range.
The fun doesn't stop with the golf.  The thing that really impressed me about Branson is that this area truly does qualify as a bonafide golf destination or alternatively a fun destination with golf as a sidelight – regardless of your sophistication, skill, or schedule.  In Branson, the golf is just the beginning or the end of fun and genuine hospitality.  Known as the "Live Music Show Capital of the World," every evening there are more than fifty shows to choose from and they include music, comedy, nostalgia, dance, and circus affairs with not only the
regional country and western themes, but elite performers from around the world as well.
Branson is situated around two lakes that sometimes appear more like rivers, and there are the outdoor hunting,
fishing, swimming, adventure and water sports, nature hiking, fun theme parks, and much more.  I cannot imagine anyone becoming bored in Branson.  And you'd better stay active as well because there are so many darn delicious eateries here to fill your tummy many times over, and at very reasonable prices.
While Branson is centrally located within a day's drive of nearly half of America's population, their new airport and another just up the road in Springfield make getting to Branson a breeze.  Getting around Branson is just as easy now with new and improved roads, but for me I found Terry's Transport to be a great way to get around, and he can even secure you discount tickets to most all of the shows.  (refer to:  www.ttbranson.com.)
As for lodging there are so many options.  With more than 22,000 lodging and hotel rooms, Branson matches every style and budget, and there are many golf stay-and-play packages available.  There are also many luxury condos for rent such as the very comfortable ones I stayed in at the Thousand Hills and Payne Stewart golf facilities.
So pick your poison, there are lots of golfing options that can make for a superb golfing vacation or a vacation with superb golf.  Either way, Branson golf is a treasure to pleasure.  And tell the friendly folks there that Bob
Fagan sent you.
(See also:  www.golfbranson.com.)  And for more detailed analysis and rating for each of the above courses, refer to the "Course Reviews" tab at www.theaposition.com/robertfagan.
The fun never stops in Branson as the author, Bob Fagan, gets cornered by "The Blues Brothers" as he is about to tee it up at LedgeStone.