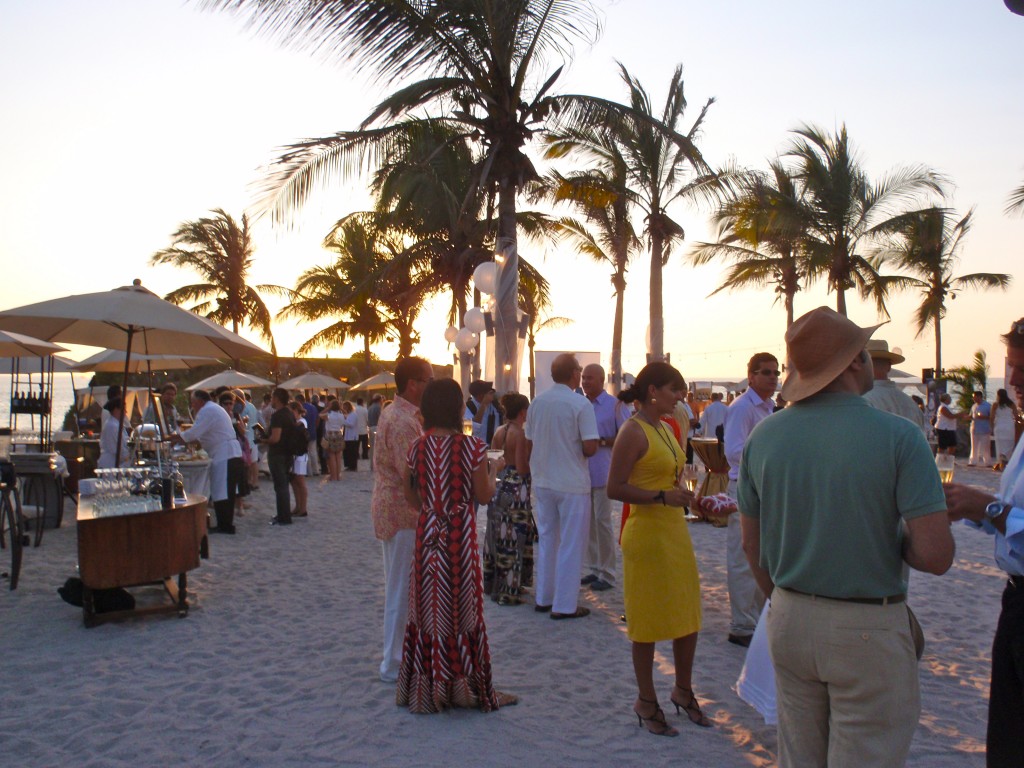 What's better than combining exquisite food, wine, tequila, and golf together at one of North America's finest resorts?  (Photo by Robert S. Fagan)
NOTHING!
Have you ever had so much fun that you just felt you had to tell everyone?  Maybe it was a concert, a thrilling sporting event, or a fantastic vacation.  Well right now I'm pinching myself.  I just participated in a fun golf tournament called "The Punta Mita Gourmet & Golf Classic" held at the two spectacularly scenic oceanside Punta Mita Jack Nicklaus-designed golf courses just forty-five minutes north of Puerto Vallarta, Mexico.  While the golf was grand, it was barely half the story.
The Punta Mita Gourmet & Golf Classic featured what seemed like continual wine and tequila tasting festival of some of Mexico's finest together with sampling world-renown chef's newest and most exciting creations.  The chefs included:  Mexicans Abraham Salum, Patricia Quintana, Jose Salas Duarte, Enrique Olvera, Sylvain Desbois, Raul Lucido, Francisco Vazquez, Jorge Gonzalez, Austrian Andrew Ormsby, American Richard Sandoval, Frenchmen Thierry Blouet and Philippe Piel, Italian Victor Casanova II, and Gaton Yelicich from Uruguay and Paola Carosella from Argentina. It is seldom that I have the urge to quickly depart a fantastic golf course, but this 3-day long event was truly special.  These weren't just ordinary chefs or ordinary libations, but some of the world's finest.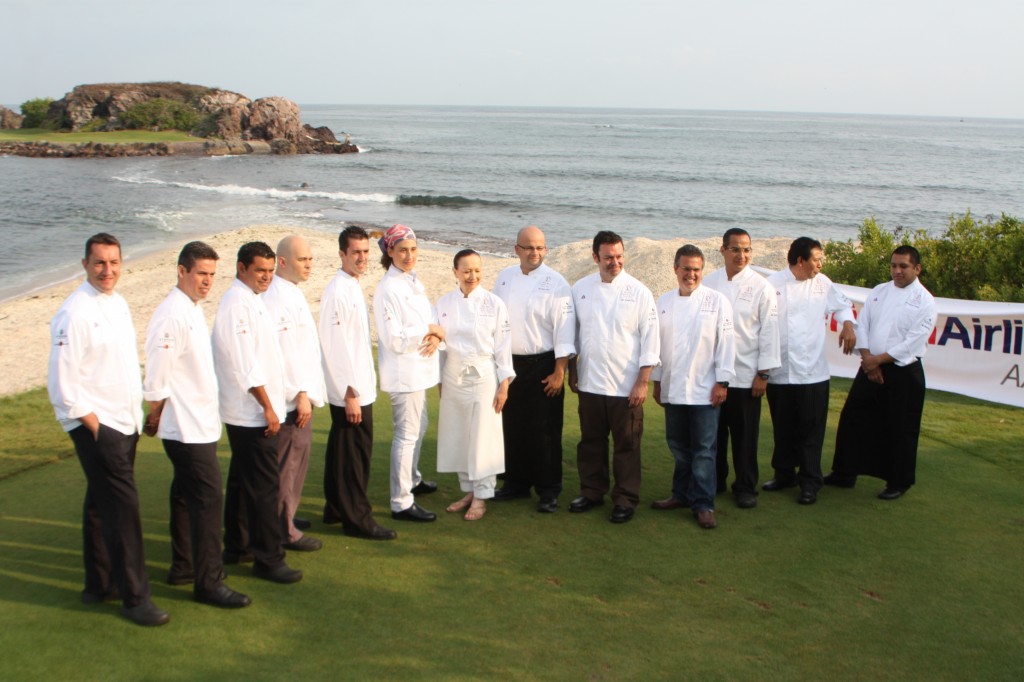 Some of the world's best chefs who gathered to provide us with their finest at Punta Mita!
You can understand why I felt that I was Robin Leach intruding in the land of the rich and famous.  While I don't know chefs and winemakers like I know golf course designers, connoisseurs were swooning as the famous ones were introduced or mingling with us.  For example, I was able to chat with Don Julio of Don Julio Tequila.
And how good was the food?  A friend of mine, Bill Nestor, who is a food critic among other things said,  "What is happening here and in this area of Mexico is absolutely magical!  These chefs produce a combinations of unusual ingredients that explode with flavor in your mouth."  I entirely agree with Bill.  I sampled red meats, chicken, pasta, sushi and other fish along with vegetables and fruits that absolutely blew my taste buds away.
Next the festival was held at the incomparable St. Regis Hotel with some also staying at the beautiful nearby Four Seasons.  As regards the St. Regis, it was only a short walk to the two Jack Nicklaus golf courses, and the sounds of the waves just a few steps from my room were my lullaby to sleep every evening.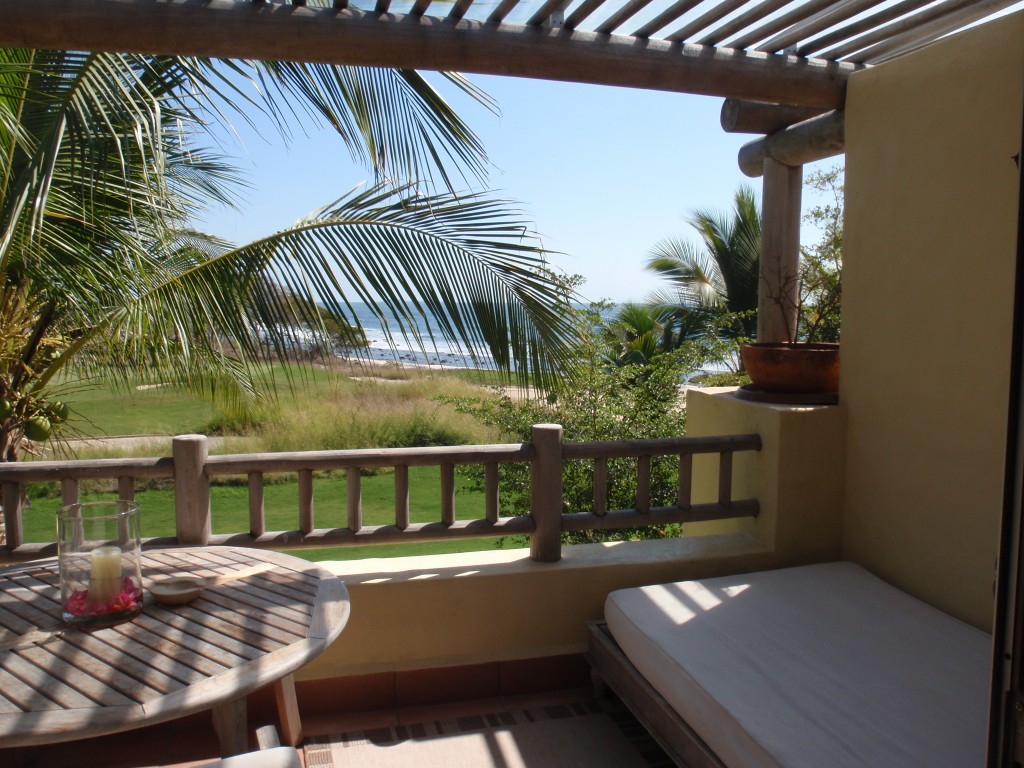 The ocean and golf view from the back of my St. Regis suite.  (Photo by Robert S. Fagan)
Then there was the St. Regis' world-class spa.  I enjoyed a fantastic session and it was particularly fun to overhear other well-traveled couples exclaim that their message sessions may have been their best ever.  The service was superb, attentive with a 24-hour butler, but never overbearing.  While it helped that the weather featured nothing but crystal clear blue skies, there was so much to offer that it probably wouldn't have mattered if it wasn't so nice.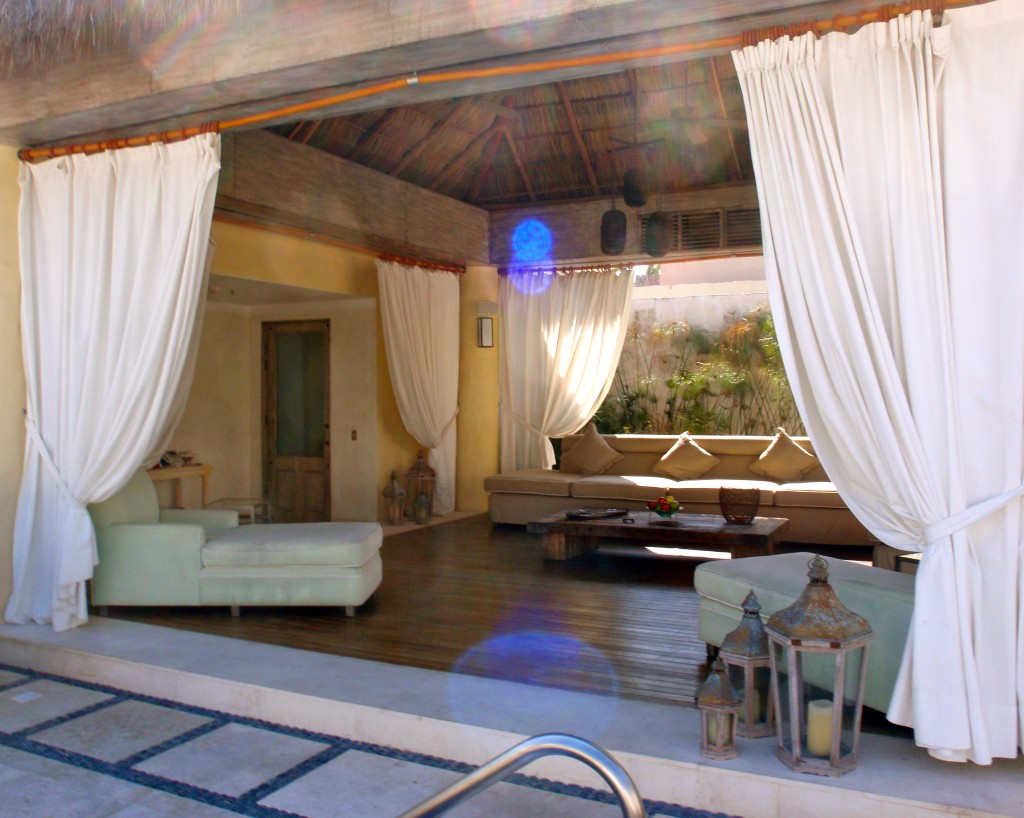 The exquisite Spa at The St. Regis will take care of you!  (Photo by Robert S. Fagan)
As for the two Jack Nicklaus golf courses, they are available for play only to guests of the two hotels and do require an additional $200 fee.  The older layout, the Pacifico Course features the only natural ocean island green in the world which under lower tide conditions you can walk out to it, but otherwise you must take an amphibious golf cart.  It plays about 180 yards into a green surrounded by rock outcroppings and is one of the world's most spectacular oceanside holes. The rest of the golf course was built on a grand scale with big bunkers, but even wider landing areas and fairly benign putting surfaces so as to be resort-friendly for most.
For the newer Bahia Course, Nicklaus was asked to provide a different flavor.  This test while also quite generous off the tee is decidedly a second-shot course with dastardly penal bunkering protecting wildly undulating putting surfaces that are more apt to repel shots as to accept them.  Golfers of all skill levels will be challenged to score well around these greens as this course is better suited to the experienced or better players.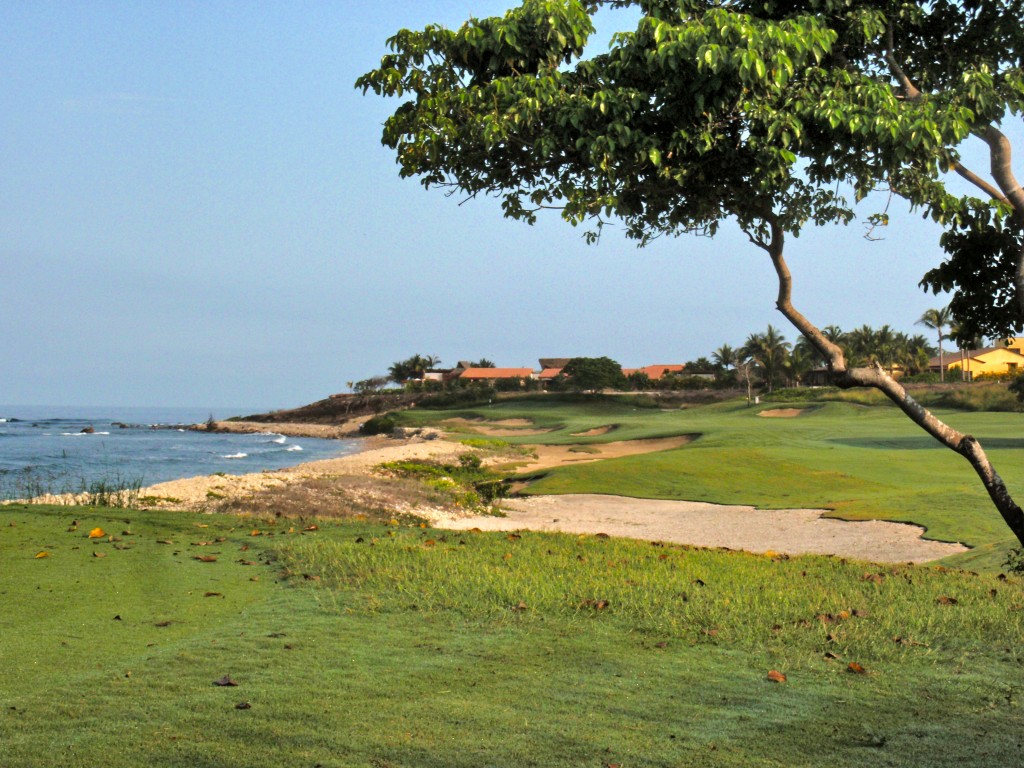 Great golf is abundant at Punta Mita as demonstrated by the 17th hole on its Bahia Course.  (Photo by Robert S. Fagan)
Finally, a mention about safety and security.  There has been much mention of danger in Mexico, but that has been largely relegated to a few areas and most often to people associated in one way or another to the drug trade.  Puerto Vallarta has experienced none of this.  Furthermore, Punta Mita is a peninsula and very nearly an island so geographical access is extremely limited.  It seemed much safer to me than most suburban American communities.  What's more, Punta Mita and the St. Regis Hotel is such a romantic spot.  Next time I hope to return there with a special lady.  For more information regarding the fantastic St. Regis Hotel at http://theaposition.com/robertfagan/golf/golf/courses-and-travel/3646/north-america-s-finest-golf-resort-hotel.
Now you might be thinking to yourself that you have to be lucky like me to be a golf and travel writer to secure such a magnificent experience.  Well, that most definitely is not the case.  This was the first annual event of what is expected to be many more.  St. Regis General Manager Carl Emberson came up with this idea after having held similar event combinations for his previous hotels, and all are still in operation today.  The rates this past year began at $1,180 per person for a three night stay based on double occupancy which was a terrific deal when you consider that rooms typically start at about $600 per night and golf is $200 per round.  The good news is that the second Gourmet Golf culinary-golf-wine adventure is scheduled for April 19-22, 2012. The cost has not been announced, but this year's event was far less than the room and golf rates and then included some of the best food and libations this side of heaven.  Will you join me in 2012?