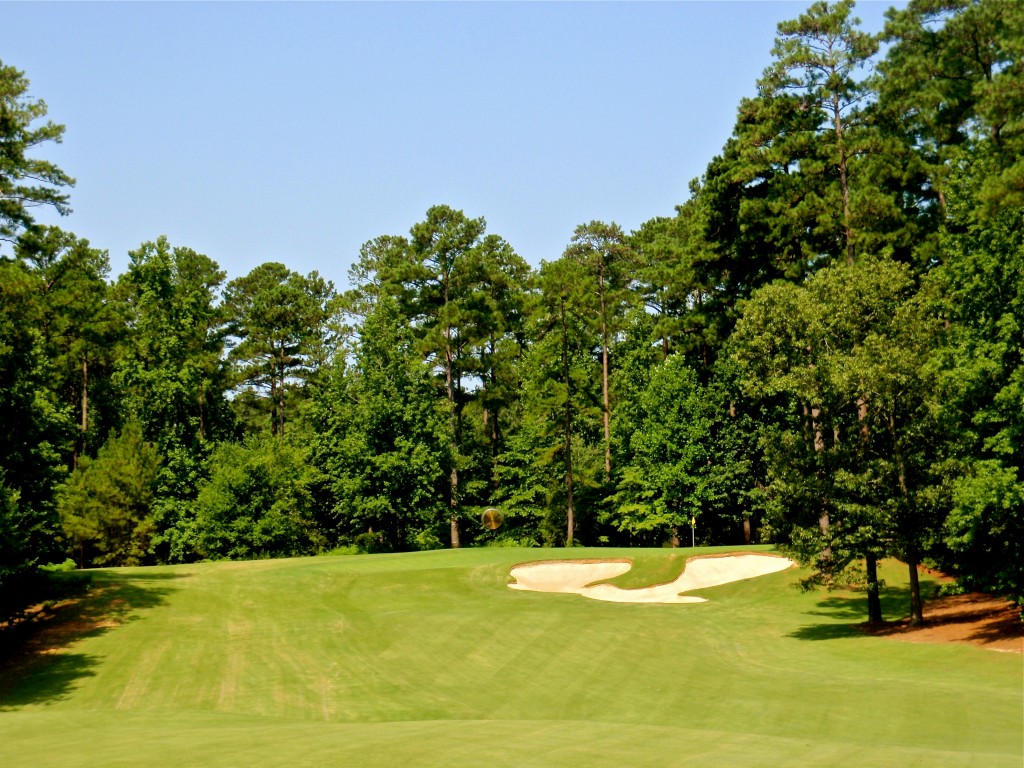 Tom Fazio usually positions a bold bunker on one side or another at Dancing Rabbit.  Shown here is the approach shot to the par-four 11th on The Azalea Course where the pin is tucked to the far right.
Towering pines, stunning oaks, and engagingly undulating terrain spell the backdrop for the two golf course complex known as the Pearl River Resort that encompasses the 36-hole Dancing Rabbit Golf Club.  Set in Mississippi's Pine Region and positioned on grounds sacred to the original Choctaw Indians, these two layouts represent a collaboration between Tom Fazio and Jerry Pate.  And while most first-time visitors usually pick the Azalea Course to play first, once they have played the younger Oaks Course, it's a toss up as to which is the preferred as both are very good.
The Azalea Course is the older and slightly more decorated of the two layouts.  It features Bermuda fairways and smooth, quick bent grass greens.  On both golf courses, the one-shotters feature elevated tee shots while the par-fives for the most part will entice long hitters with tantalizing risk-and-reward options.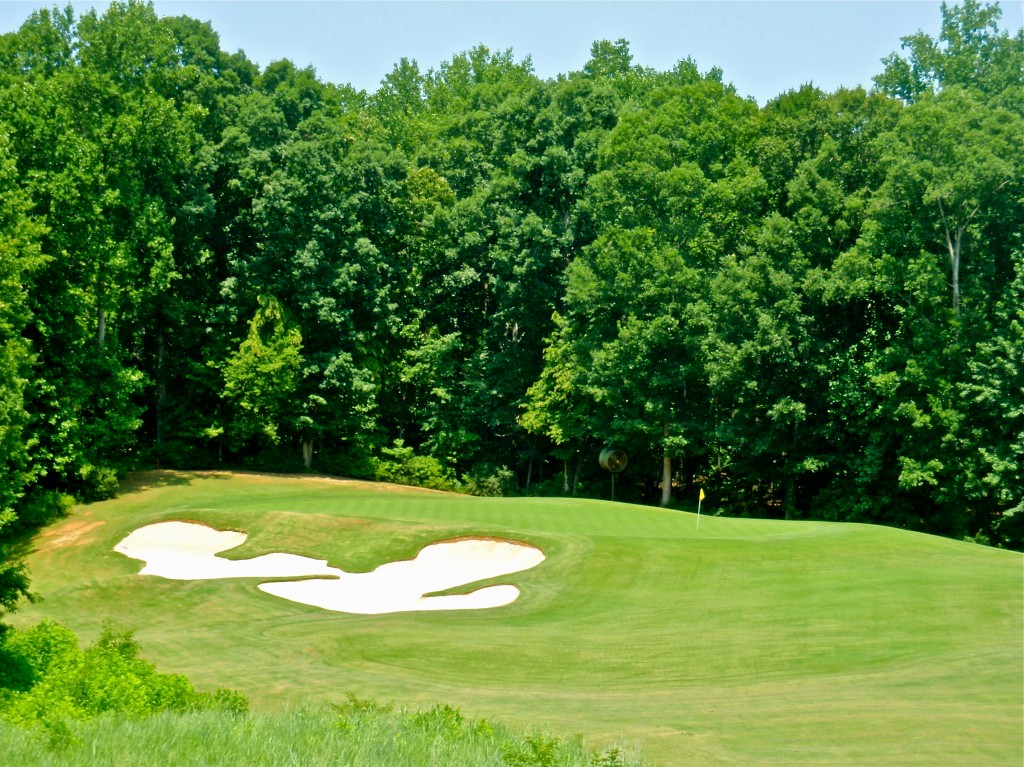 Every par-three at Dancing Rabbit plays from an elevated tee usually downhill, but sometimes across the valleys.  Shown here is the 16th on The Azalea Course.
The significant difference with the newer Oaks Course is that it is built on more rocky terrain so there was more blasting and subsequently zoysia grass was utilized for the fairways with Bermuda greens.
While the fairways on the Oaks are more narrow, the total drivings corridors are wider with thick woods bordering..  In contrast, the fairways on the Azalea are wider, but if you are off them, you are in deep trouble.  More than five miles of the Dancing Rabbit streams (named after the Dancing Rabbit Treaty) meander through the property that has an Augusta National-like look and feel and retain the grandeur of the great Southern woodlands.
Fagan Rating:  B+. This rating reflects my opinion that both courses at Dancing Rabbit are among the best in the region and as a duo compose one of the country's better two-course offerings.  Both are very playable, attractive layouts that I highly recommend.
Below is my favorite par-five on the either of the Dancing Rabbit courses – the all-or-nothing risk and reward fourth hole on The Oaks Course.