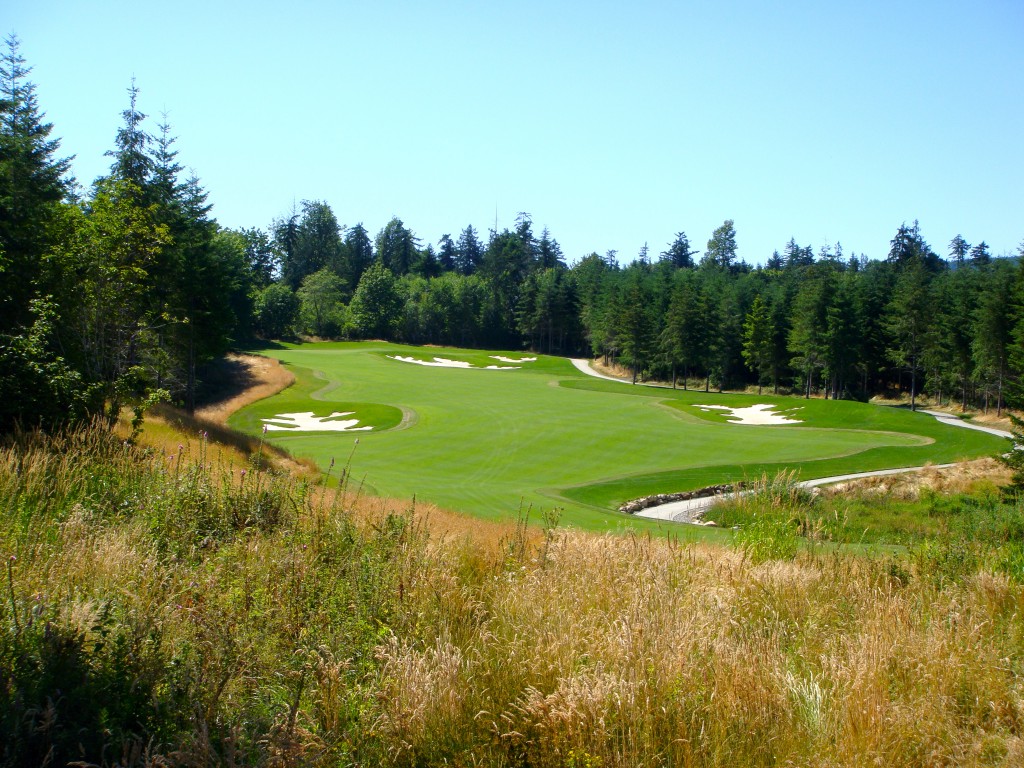 The par-four 15th is just one of many gorgeous holes to greet you at the brand new Salish Cliffs Golf Club in Shelton, Washington!
 In an era when American golf is closing golf courses far more quickly than it is adding them, Salish Cliffs provides an exciting departure from the trend.  "Exciting" is a good adjective because it also describes this new golf course located just west of Olympia, Washington – an easy 75-minute drive from the Seattle/Tacoma airport or even an smooth trek up I-5 from Portland.  In fact, Salish Cliffs is a jewel with many facets that adorns the rich array of golf that awaits one in the greater Seattle area.
The golf course is the newest attraction for the Squaxin Island Tribe that already operates the centerpiece Little Creek Casino Resort.  The golf course is conveniently located only a short golf cart shuttle away so that once you park your car; all the amenities are conveniently situated.  Salish Cliffs is one golf course you will definitely want to play – and more than once!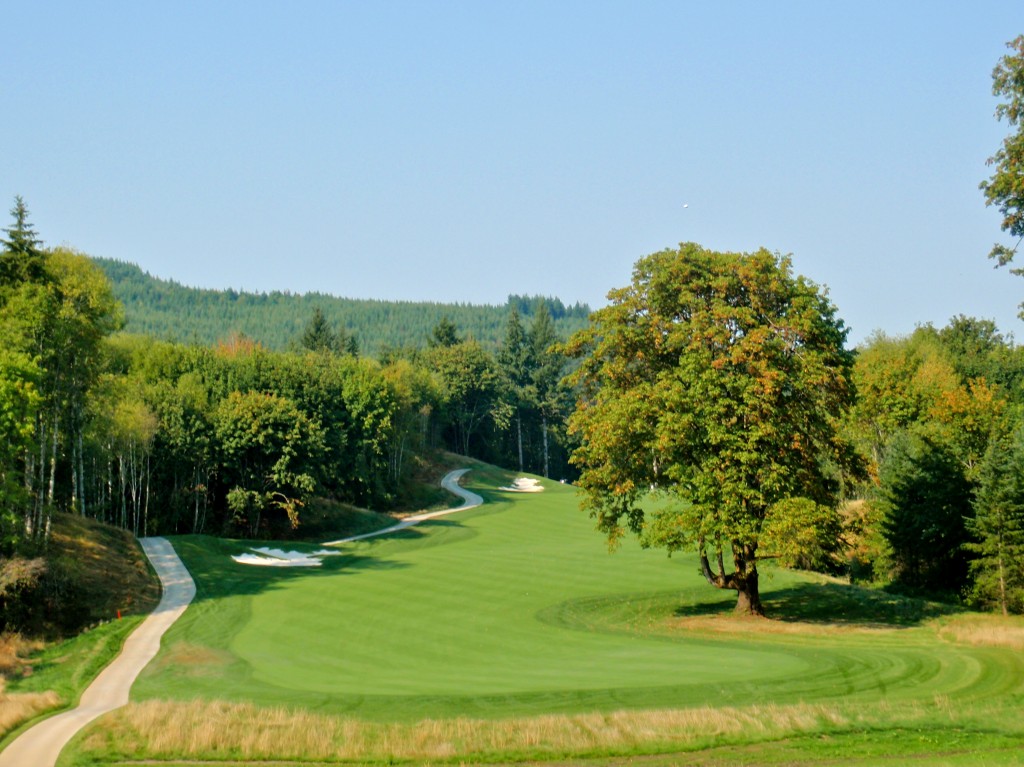 The opening elevated tee shot is an inviting way to begin your round at Salish Cliffs. (Photo by Robert S. Fagan)
The name is more significant for the tribal lore than it is descriptive of the actual layout, so you will be disappointed if you expect to find cliffs on the golf course.  That said, you will not encounter any other disappointments whatsoever.  This is a Top 100 caliber layout that spills over rolling forested terrain on a hilly site.  As such, golf carts are a prerequisite to get between the holes, but the holes themselves are mostly quite gently situated and completely unforced.  Without any interference from housing, buildings or traffic, and 360-degree views of Kamilche Valley, the setting is simply sublime.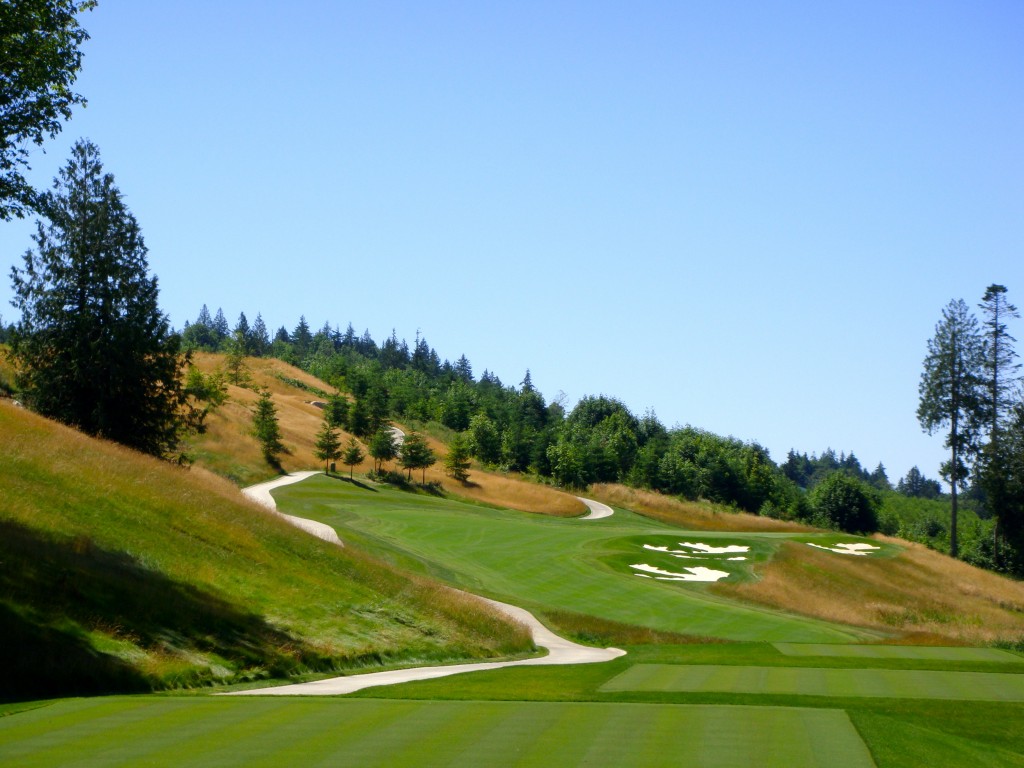 The short uphill 2nd hole is a drivable par-four for big hitters. (Photo by Robert S. Fagan)
Accomplished golf course architect Gene Bates crafted a layout that really impressed me for its versatility as well as its aesthetics.   Because Salish Cliffs can be stretched to nearly 7,300 yards, it flexes championship credentials with a 74.6/137 rating/slope.  It should sensibly be encountered at much less, and it should be noted that it sits in an area in which the wind can really gust there making it considerably more challenging.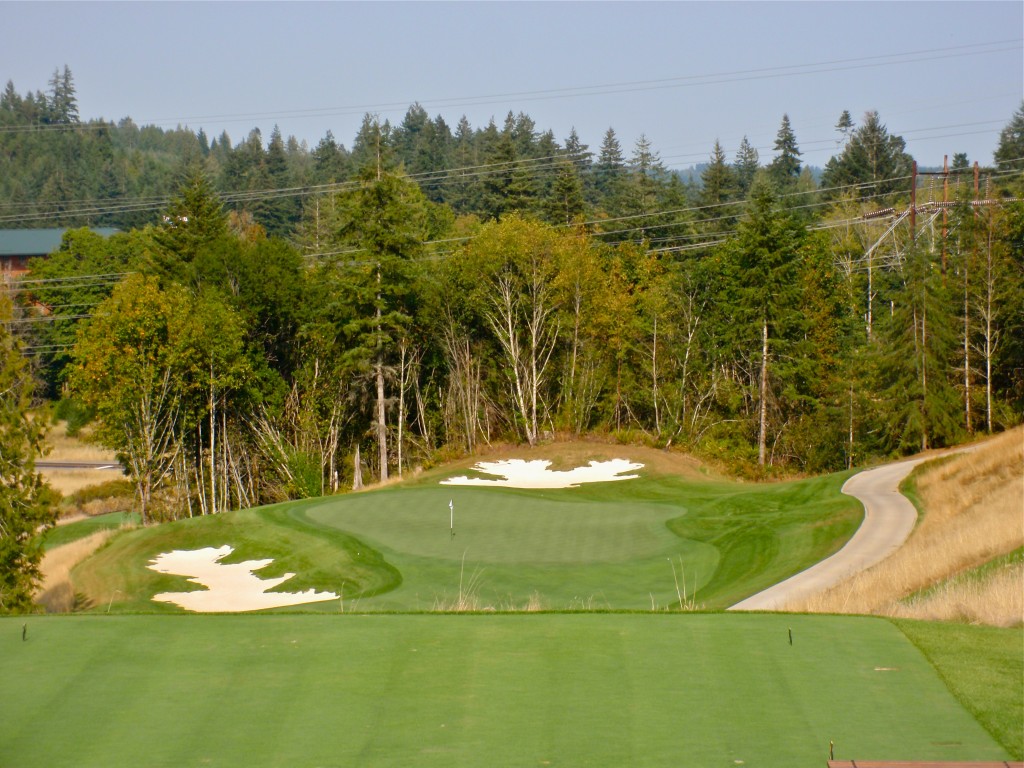 The downhill par-three third hole is an amazing test stretched to its full 291 yards! (Photo by Robert S. Fagan)
Some 16 of the holes are ensconced in the thick forests, but thankfully Gene Bates carved out expansively wide avenues so one never feels enclosed or restricted; and most of the holes invite the use of a driver.  He also provided ample chipping areas around the greens in most places so as to not be too penal for resort-style play.  Because of the rugged nature of the property, Bates also chose to deviate from his smooth-edged stylized bunkering that characterizes much of his previous work to that of raggedy-edged scalloped affairs that harkens back to the Golden Age of Golf Course Architecture popular in the 1920s and earlier.
Beyond the immaculate tees and fairways, architect Bates fashioned some wonderful putting surfaces that are generous in size and undulating enough to interesting with ridges and big sweeps, but not so much so as to be "overcooked." And they roll as good as they look.  Together with its long fescue grasses and expertly manicured landing areas, Salish Cliffs makes for most pleasing visuals and incredible playing surfaces.  When you add that there is only wildlife, and no housing or buildings to distract you, Salish Cliffs makes for a most soothing getaway.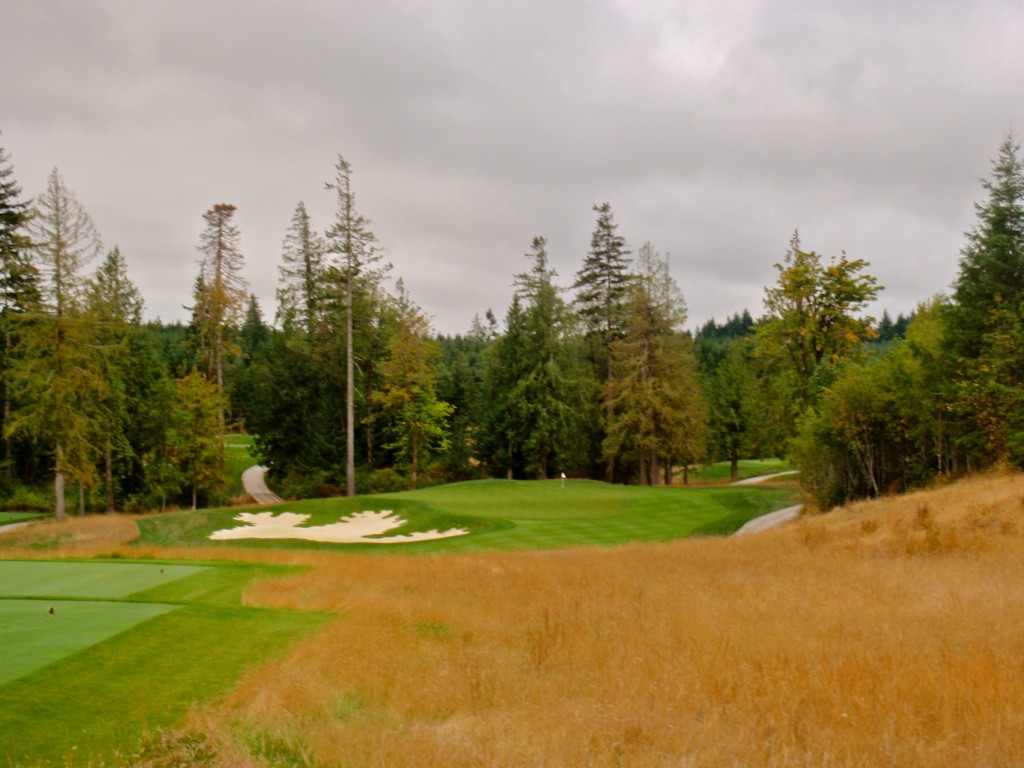 Ranging from 108-168 yards, the par-three 6th is a beautiful, but deceptively challenging little test! (Photo by Robert S. Fagan)
Bates begins your round with plenty of risk and reward, and variety.  The attractive par-five opener with its large inviting green is very reachable for longer hitters and a pretty easy start provided you simply keep you ball on the short grass.  The second hole is a fun drivable par-four whose yardage is nearly shorter than the par-three third hole from the tips (305 yards versus 291 yards).  And yes, that drop-shot third hole at any distance is an "Oh Wow!" par-three.   From the middle tees (recommended), the remainder of the front nine is fairly docile though I particularly enjoyed the par-five 8th and interesting par-four 9th.
As you have an opportunity to settle into your round, the back nine ratchets up the challenge a fair bit.  The test begins immediately with the ever-so-slightly uphill par-five 587-yard tenth that tends to play into the wind.  From there through the 17th, there is just one stout offering after another – many easy bogeys if you slip up in any way.  The 17th is another attractive drop-shot to a large green where club selection is among your challenges, and the 18th is a great risk-and-reward par-five with water that climaxes with the double-green shared with the 9th hole.
And after a round, I cannot think of a better place to enjoy a cold drink or a tasty meal than on the terrace or mezzanine of the tastefully appointed, native-inspired clubhouse watching play conclude on the double-green that accommodates the 9th and 18th holes.   And for working on your game, an attractive practice range and putting green area awaits.
If you want to stay-and-play golf, and you also enjoy gambling, food, and entertainment, choosing Salish Cliffs and Little Creek Casino Resort is a no-brainer.  The Little Creek Casino Resort features nearly 190 luxurious, well-appointed rooms.  The Indian-style gaming casino showcases more than 1,000 slots and table games, including poker, blackjack, craps, roulette and Texas Hold-Em.  Top-quality, live entertainment — comedy, music and other shows — perform in the new, onsite Skookum Creek Event Center that hosts business and other events for up to 2,000 guests.
As I mentioned earlier, this area of Washington is also rich with other fine golf courses.  If you want to visit Chambers Bay, Trophy Lake, or Gold Mountain among others, Little Creek makes for a great hub to stay and travel from.  That said, I would strongly venture to say that your "favorite course" and the one you will likely want to play more often will be Salish Cliffs – an outstanding golf experience!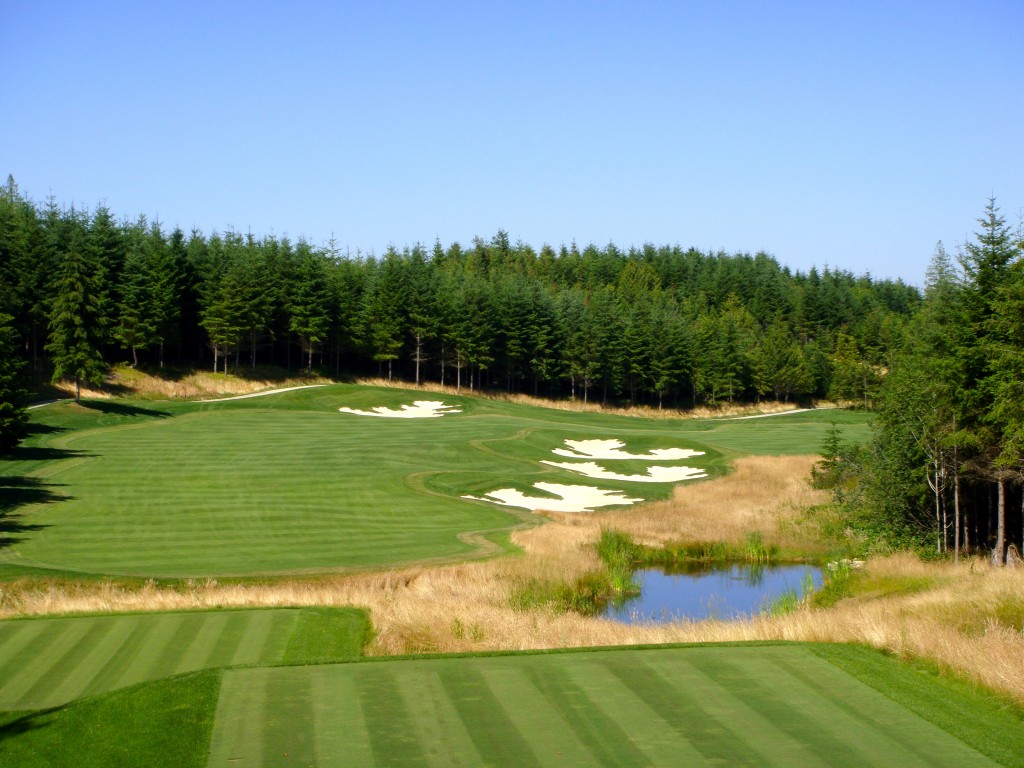 Then again, why would you want to play anywhere else when vistas like this continually greet you at Salish Cliffs?  Shown here is the dogleg right 16th measuring up to 455 yards.
As I look back on Salish Cliffs, the service was very friendly and impressive, and while the aesthetics and conditioning are superb, it was the pacing and flow of the layout that really impressed me.  Perhaps the best compliment of all is that Salish Cliffs is a golf course with no weaknesses and destined to be among the region's best!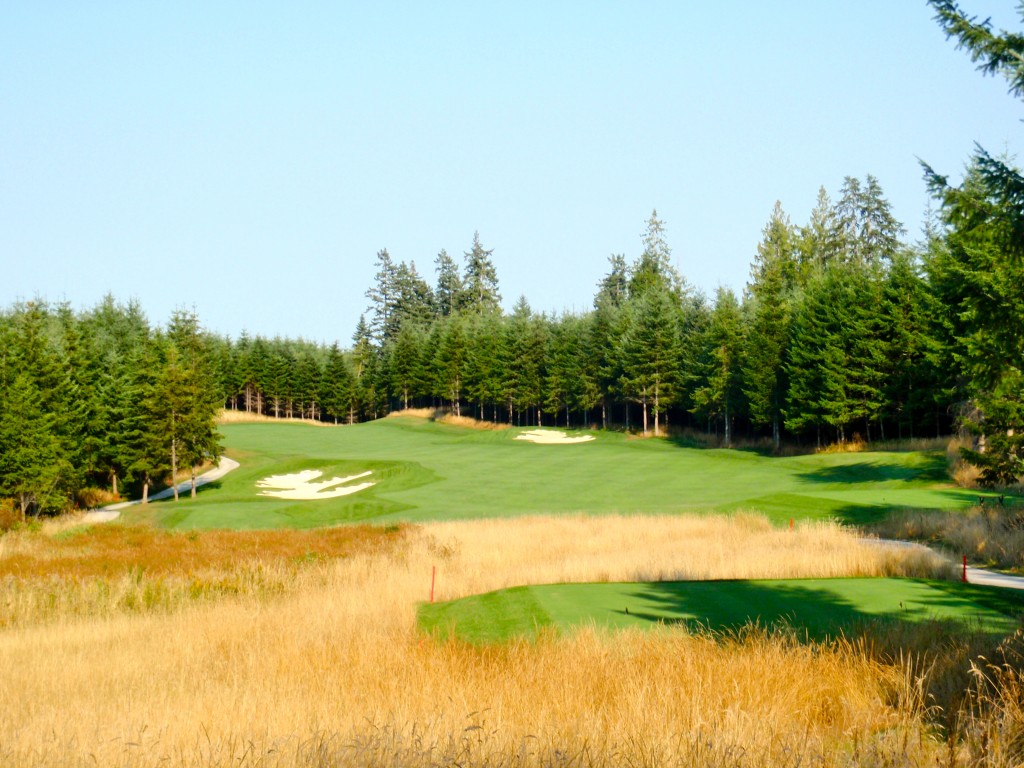 The par-five 8th hole measuring up to 601 yards vied for one of my favorites at Salish Cliffs.  (Photo by Robert S. Fagan)
For more information, or to book your reservation, call 1.800.667.7711 or visit www.little-creek.com and tell them that Bob Fagan recommended them!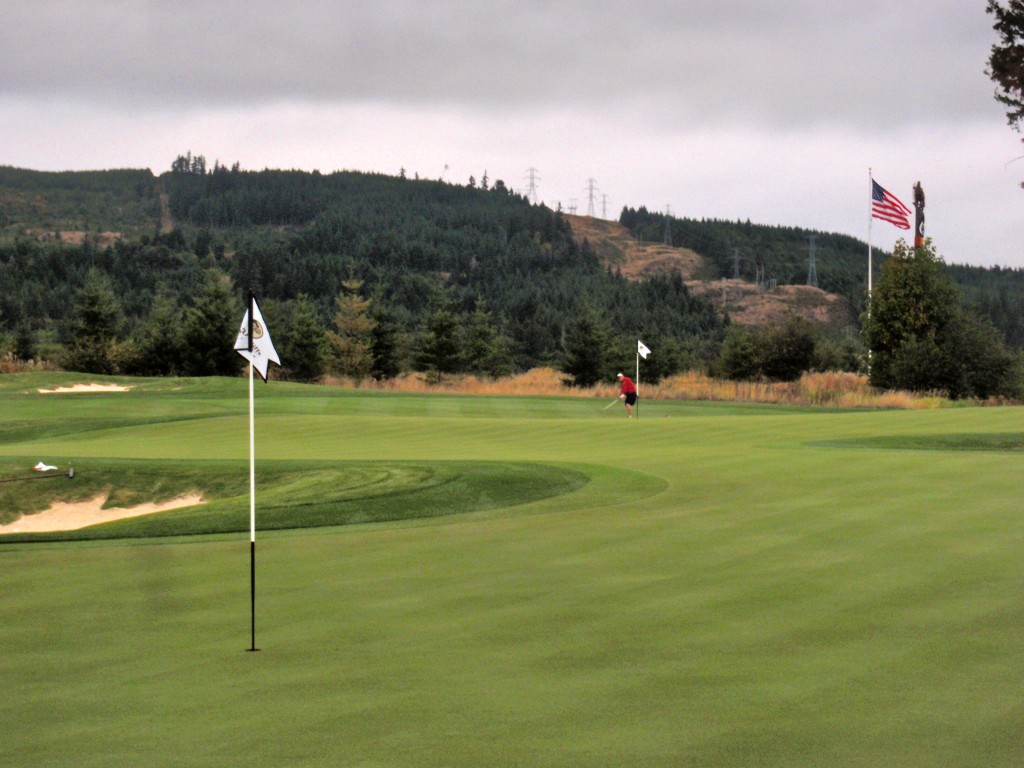 A golfer is playing to the 18th hole and viewed from near the 9th hole position on this massive double-green. (Photo by Robert S. Fagan)
Heads UP!
Fred Couples – a former Masters champion, and PGA TOUR and Champions TOUR standout — will headline an all-day, pay-to-participate event open to the public on Saturday, Sept. 17, 2011.
"I've known and worked with Gene Bates for many years designing courses, and he thinks the Salish Cliffs layout is exceptional," said Couples. "I can't wait to see it and look forward to meeting the players who will participate in the day and hear what they think about it, too."
The native of nearby Seattle and captain of this year's U.S. Presidents Cup team will be stationed on one of the holes, where he will meet and greet all 128 players during a "shotgun" format event. The cost for participating in the event – which also includes lunch and a clinic given by the 15-time PGA TOUR winner – is $500 per twosome, $1,000 per foursome.