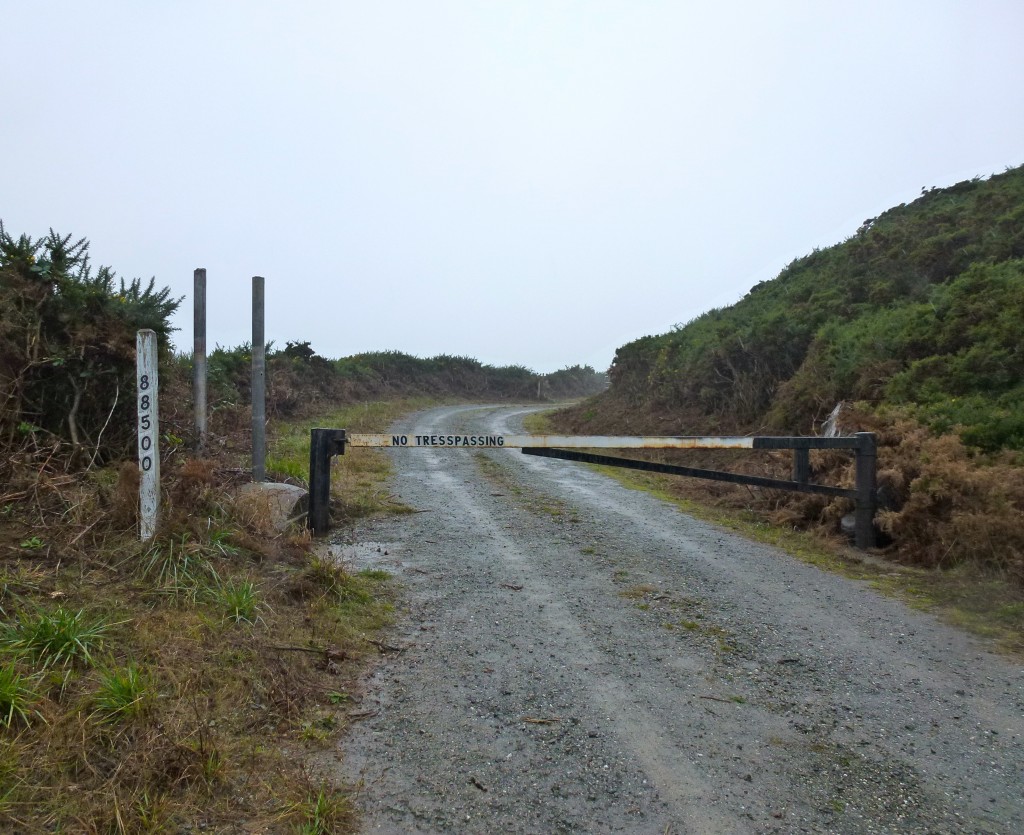 This is the grand entrance to The Sheep Ranch, one of American golf's truly great golf adventures!  Would you venture up this road on a cold rainy day to play?  I did and find out why.
Imagine yourself playing in the misty links of Scotland or Ireland.  You're on a lifetime trek for your golfing nirvana lest you forget you also want to capture and play in "the zone." It's so foggy you can barely see your irons land and each step unfolds a new glimmer of adventure on a course so exclusive and still so primitive and barely maintained, yet one of the most fun and coveted golf experiences you've ever had. What I am describing is the 13-green experience simply called The Sheep Ranch – golf's ultimate "build it and they will come, do-it-yourself" adventure.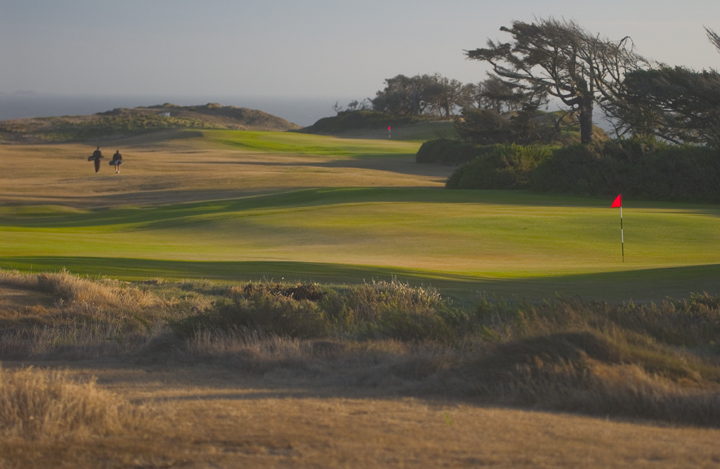 Near sunset, walking on The Sheep Ranch has its uniquely spiritual qualities. (Photo courtesy of Rick Schafer)
No there is not "Golf Club," "Club," or  "Country Club" in the name – it doesn't need one. There's not a single porta potty or a solitary shelter. Sheep Ranch is quite simply stated "an adventure." There are easily more than fifty golf holes out there if you want uncover or discover them.  Confused?  You will find out momentarily.
You may have heard rumors of The Sheep Ranch or actually know one of very few who have been privileged enough to play there – by numbers a select group far smaller than those guests who get to play Augusta National in fall and winter each year. If you have no idea of what I am referring to, you are safely in the vast majority.  Should you know of The Sheep Ranch and have played it, we're in that small fraternity that requires no further explanation – we know… the code, the handshake, the games and routing.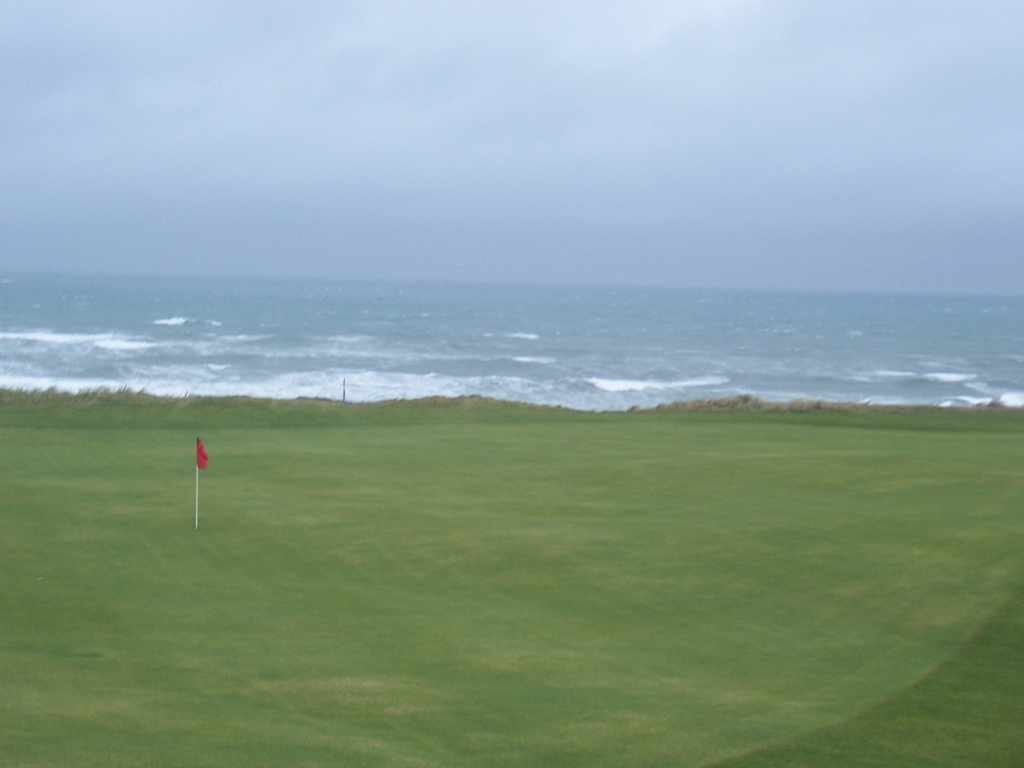 For me there's nothing quite like ocean or seaside golf.
The place is the southern Oregon Coast just about a mile or two north of Mike Keiser's Bandon Dunes Resort in Bandon, Oregon. (I am sworn not to reveal its exact location, but a hint, you can see its cliffs from the back of the 7th green at Bandon Dunes' remarkable Old Macdonald Course or the equally fabulous 13th of Pacific Dunes.)  Mr. Keiser is the steward of this property as well, but it has no connections to the Bandon Dunes Resort so don't ask the people there about it.  Your answer will be akin to asking about aliens and flying saucers;  "dunno, anything's possible."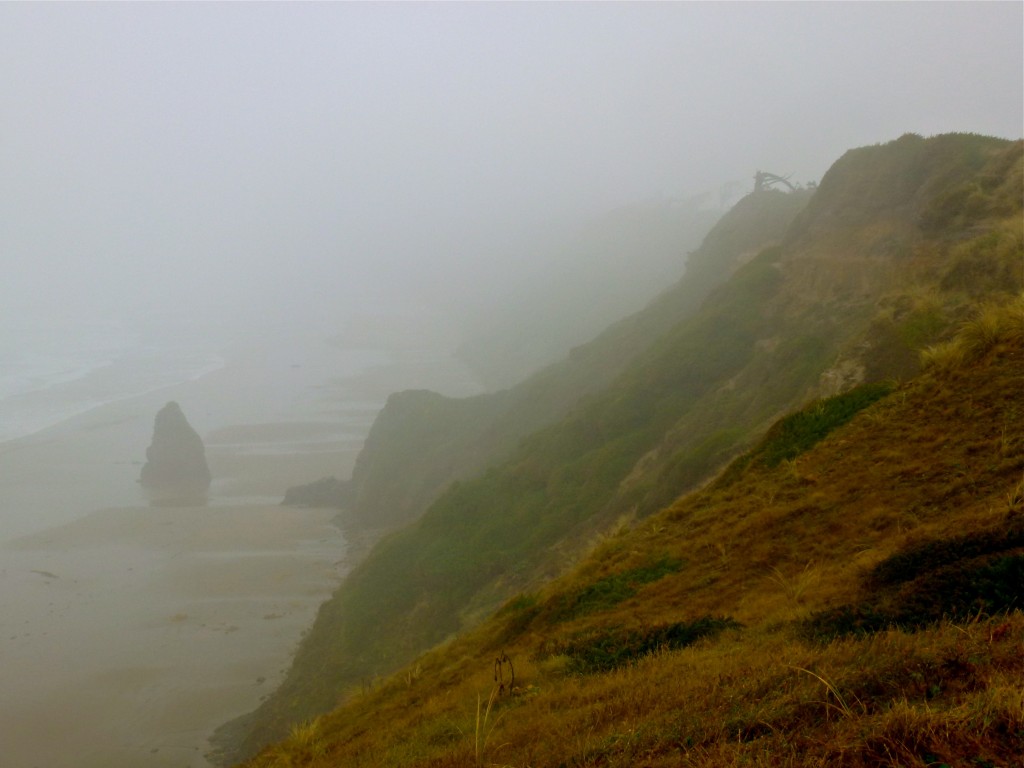 Through the gloom of fog and rain, the Pacific and the beach directly below one of the greens looks like a scene from an Alfred Hitchcock movie.
While golf courses usually are marked with a sign, adventures never are. A solitary ordinary locked metal gate stands sentinel to a gravely road that quickly disappears over a steep hill. You open the gate and close it behind you, not something you usually do at America's elite golf clubs, but The Sheep Ranch is vastly different. There are no markings whatsoever and nothing to signal anyone that one of golf's simple, but great adventures awaits.
As you figure your way past the gate and over the hill, the road meanders north and suddenly you catch glimpses of this barren tumbling linksland with clumps of gorse to your left. Trees border parts of three sides of the property, but there's barely a single tree within the golf course.  If you love links golf, your heartbeat will surely quicken. If not, you will wonder what all the fuss is about. Anyway, as instructed I proceeded down the old country path, my car pitching up and down until it ended. There was no parking lot so I simply parked my Buick on the turf among a few trees that bordered what looked to be a gathering of holes – not a golf course mind you.
The day of my adventure, it was cold and raw and a steady rain was pelting down almost, but not quite a downpour. There were no other cars or people in sight. It almost felt like I was trespassing. The rain was heavy, so much so that I needed my umbrella as my constant companion. Anywhere else, I may have not played and doubtless anybody else wouldn't anyway, but I'm a nut for this.  This was going to be my solitary adventure on one of the most exclusive mysterious links on Earth.
I spied a putting surface and was about to climb a hill in search of a tee when my host appeared out of nowhere. This gentleman tends to the grounds and apologized first for the weather and then the condition of the course – something that he manages to keep up on less than a shoestring budget. Who cared about that? He looked at me quizzically because no one plays in this foul weather, not even at The Sheep Ranch.  I was going to.  Getting to play The Sheep Ranch under those conditions might be akin to playing Augusta National and them apologizing that the tee markers had not been set and they experienced a sprinkle. Besides, I already knew that while there was a suggested routing to play the 13 greens there, at The Sheep Ranch you create your own course. It was about 10 a.m. and I had until about 4 p.m. to have the place all to myself. Even with the nasty weather and walking holding an umbrella, I figured I would play 30 or more different holes.  I did, and then some…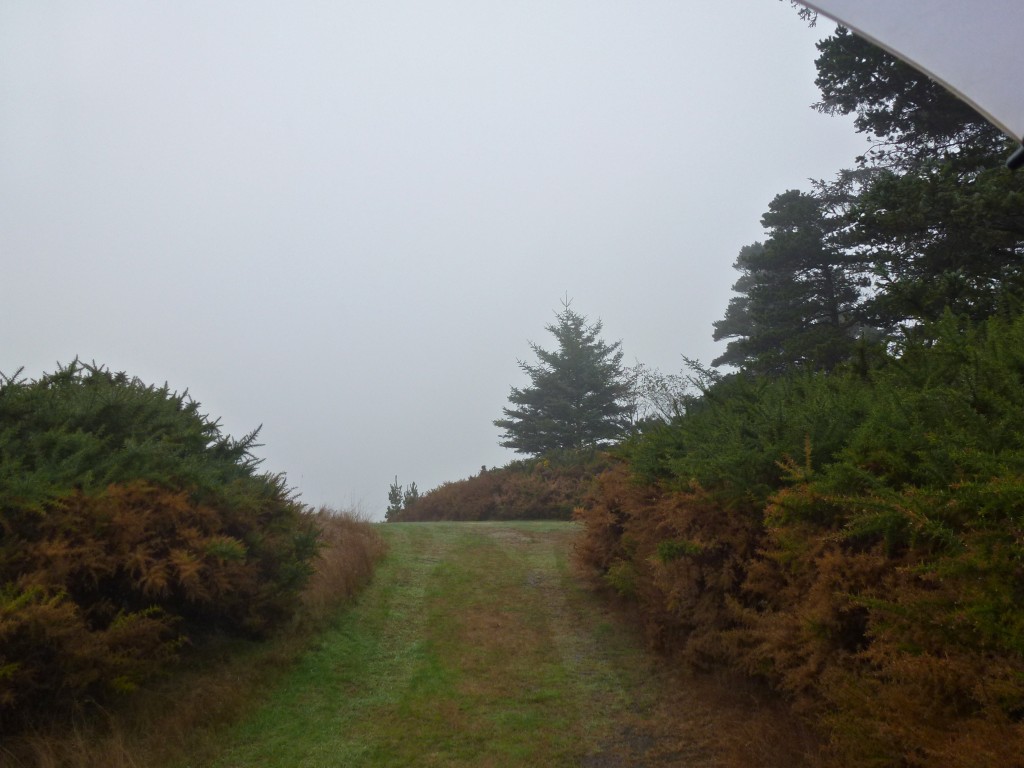 Leading from where I parked my car, this look like a natural teeing area.  Fortunately it was so I began.
Using a rudimentary scorecard and tentative routing that quickly disintegrated into a wet mess, I started out in the fog for what I assumed to be the medium-to-long par-four first hole, especially under the miserable conditions. After hitting a reasonable drive, a strong fairway woods, I was perplexed not to be at least near the green.  Ooops!  Here I had not observed the fairway turn and instead spotted the second green in the thick mist. My five-iron third shot left me another 70 uphill yards to the front edge of the second green. Here in the heavy fog, I turned a blind shot par-four opening hole into about nearly an 800-yard par-something else! This was only the start of my Sheep Ranch adventure.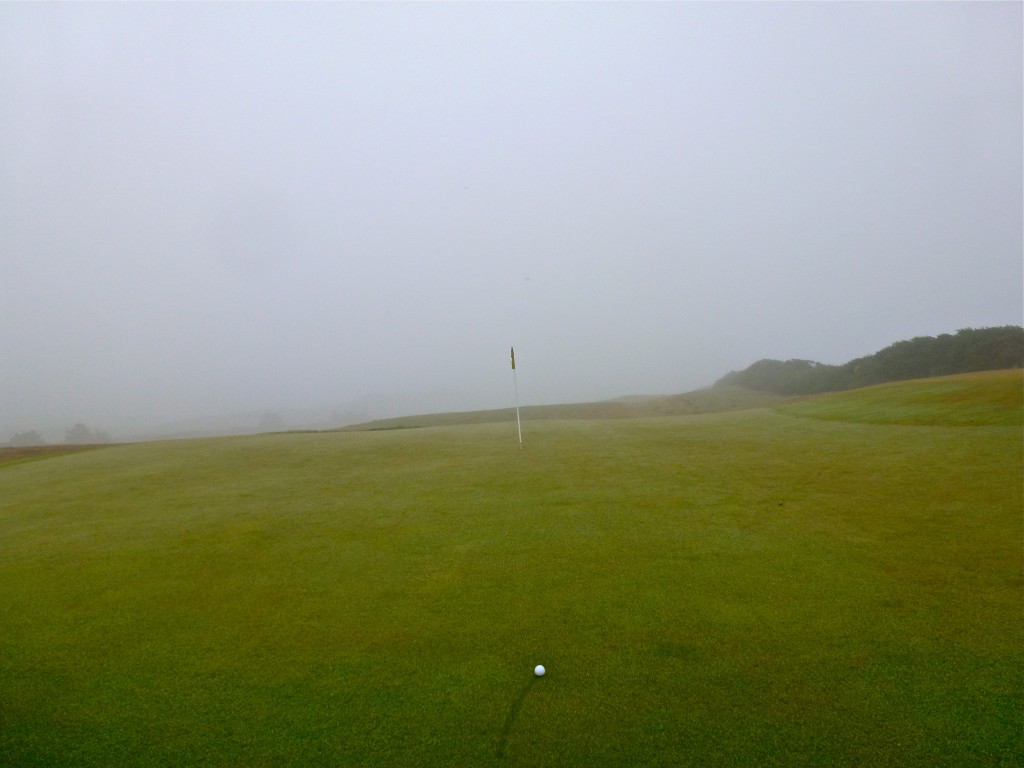 Given the conditions of the day, hitting with a hybrid or chipping with a five-iron soon became the best way to score on long putts.  It was nonetheless plenty of fun!
The putting surfaces had not been cut in about a week and the mist and rain made them play so very slow, but this was fun, damn fun. The stubborn fog refused to lift though eventually I could make out the landscape a good fairway wood away. Using my soggy rudimentary scorecard map, I followed the suggested routing and stopped to enjoy the engaging greensites that master golf course architect Tom Doak had designed. I hit dozen of shots in the rain, savoring each and every one of them. I was savoring one of the best golf spots on the planet!  Soon I simply started improvising holes: a pitch here, a driver par-three there followed by a par-six.  It was all fun.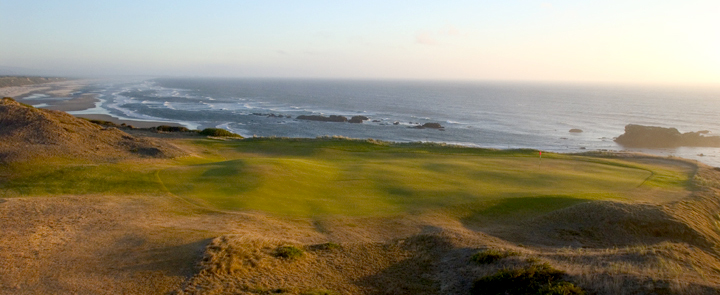 This is only one of many spectacular coastal views that would have greeted me on a clear day. (Photo courtesy of Rick Schafer)
I would be meeting my friend Tom Doak that night and would enjoy a weekend with him and our other pals as we usually do once
a year; and I couldn't wait to share my fascination with his work here. Many of the greens were huge and were imaginatively designed to be played from any angle.
Trudging over the hilly treeless cliffside terrain, the roar of the Pacific down below was my constant companion. I truly felt like Shivas Irons in "Golf in the Kingdom" and was not surprised in the least to learn that the film at been shot at this very spot.  Maybe I could capture some his spirit while I was here.
The Sheep Ranch is totally unstructured cross-country golf. While the scorecard lists a par-70, 6,500-yard golf course with a routing that has you playing some greens twice, that is merely a suggestion. There are no tees and the local rule dictates that the player who wins the previous hole walks off the putting surface and selects a teeing area and also selects where to play to next.  Without an opponent, I was winning everywhere. It could be a 110-yard pitch to one green, a 420-yard two-shotter  to another, or an 800+ yard hole like my first one. Yes, one hole might be the par-12 (or thereabouts) from one end of the property to the other!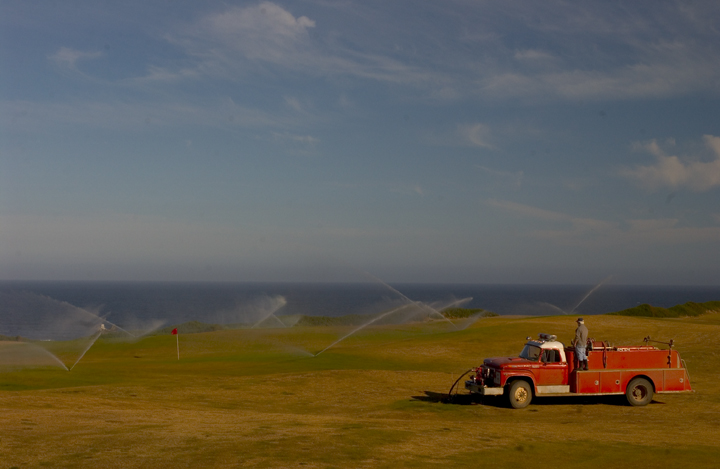 As explained below, this is how The Sheep Ranch waters their greens.  Makes for an interesting obstacle too! (Photo courtesy of Rick Schafer.)
So what about the sheep and the ranch? They exist in name only.  What you are more likely to find is an old fire truck used to sparingly provide water during the summer to the thirteen putting surfaces on the property. Of course, during my adventure it was not in use, but then again, how often do you get to hit over a fire truck to find your target?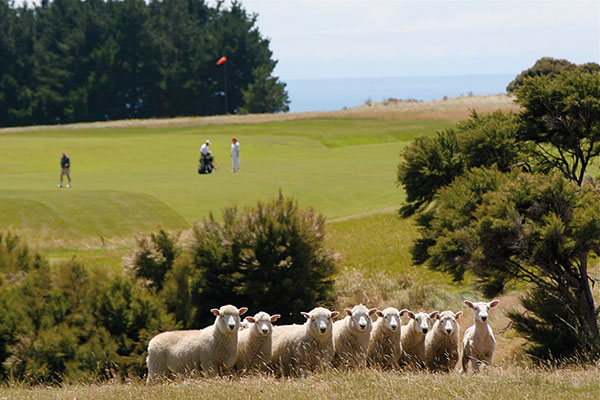 This is NOT The Sheep Ranch, but I couldn't resist adding it because it does happen to be another Tom Doak design – Cape Kidnappers in New Zealand.  Maybe Tom was a shepherd in a previous life?
So how exclusive is Sheep Ranch?  When annual play is estimated to be much closer to 180 players a year than 350, that's pretty private, but it is actually public.  (You just have to find the proper person to collect your fee and give you the keys to the course.) The course is not open in the summer because that's when the help goes fishing.  Nor is it open on weekends. If you can find the right connection to get you on, plan on a weekday only and bring some water (and maybe some toilet paper for emergencies). As I played around the property, I realized that it would not be practical or safe to have a busy day full of golfers picking their own holes and criss-crossing one another for a virtually limitless number of holes. I was tempted to say facility, but rather the land is simply not equipped for public golf as we know it.  Hence, as much as I would like to thank my host by mentioning him, I will not.
So how good is the golf course you ask? Well, it looks like it has always been there and then Tom Doak fashioned some wonderfully huge and interesting putting surfaces set on a world-class location.  You can play all sorts of combinations so that in effect, you become a part of the design. I'll bet you've never heard of or experienced that before. There are some elevated greens and teeing surfaces and some truly spectacular cliffside holes, but the format won't allow to even suggest what hole number they might be as only greens are identified by letters – another first! Suffice it to say, there are any number of world-class par-3s, 4s, and 5s – it's your choice so use your imagination.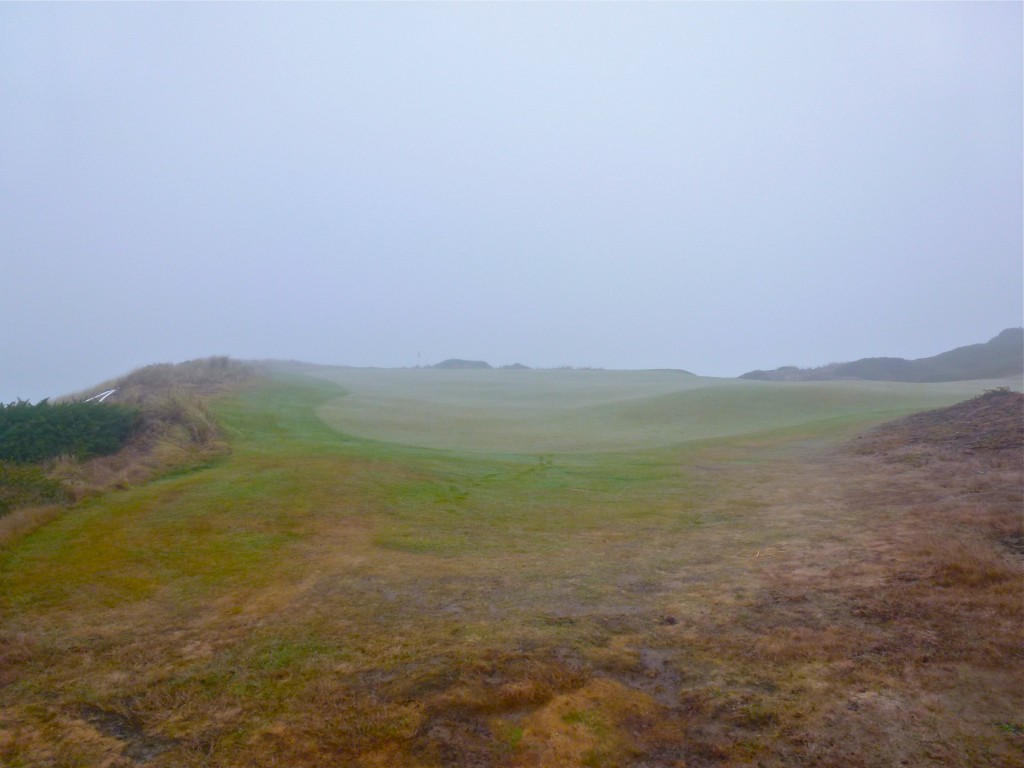 Note the huge undulations in this immense cliffside green.  Through the fog and rain, the flagstick is barely visible on the back left corner of the putting surface.
After I wrote my first few drafts of this story I had to circle back and add this.  Though there are no sheep on a place that's called The Sheep Ranch, the treks across the property are akin to a shepherd chasing a ball around with his crook.  Provide me with a featherie and hickory clubs and this is precisely what I imagine golf was like 200 years ago!
I would have loved to have had a companion or two or three or six with me for this adventure, but perhaps it was to be uniquely mine. It would have also been a very different experience to play on a clear windy day. Instead my adventure was more like the gloomiest of days on the coastal moors so common in the British Isles. I was determined to enjoy Sheep Ranch, and all its wooly bullishness.  What I discovered in my solitary adventure at "Wooly Bully" Sheep Ranch was the spiritual aspect of golf that dictates that the experience is always as good as YOU make it.  The Sheep Ranch proved sublime!
Fagan Rating:  A. This rating will not stand up to or be technically consistent with my other ratings because The Sheep Ranch is a one-of-a-kind golf experience, not a golf course in the conventional sense. Who cares?  The conditioning was delightfully scruffy and the holes and routing are what you make them.  For the golfers who must ride and want structure for their golf with their challenge defined, immaculate conditioning with GPS or yardage markers, the beverage cart, and a well-appointed clubhouse, The Sheep Ranch may rate a D- or an F, but for the low-maintenance golfing purist who wants to have the time of his life playing either a solitary round with Shivas Irons as I did or a most engaging match with friends, The Sheep Ranch is one incredible experience – what I would term "golf's ultimate do-it-yourself" routing.  It's definitely not for everyone and regrettably few will experience it, but it is wooly bully golf that any shepherd would feel right at home hitting and chasing a golf ball.
Below:  the carry is a bold challenge to what most would consider to be the spacious "Home Green" at The Sheep Ranch.