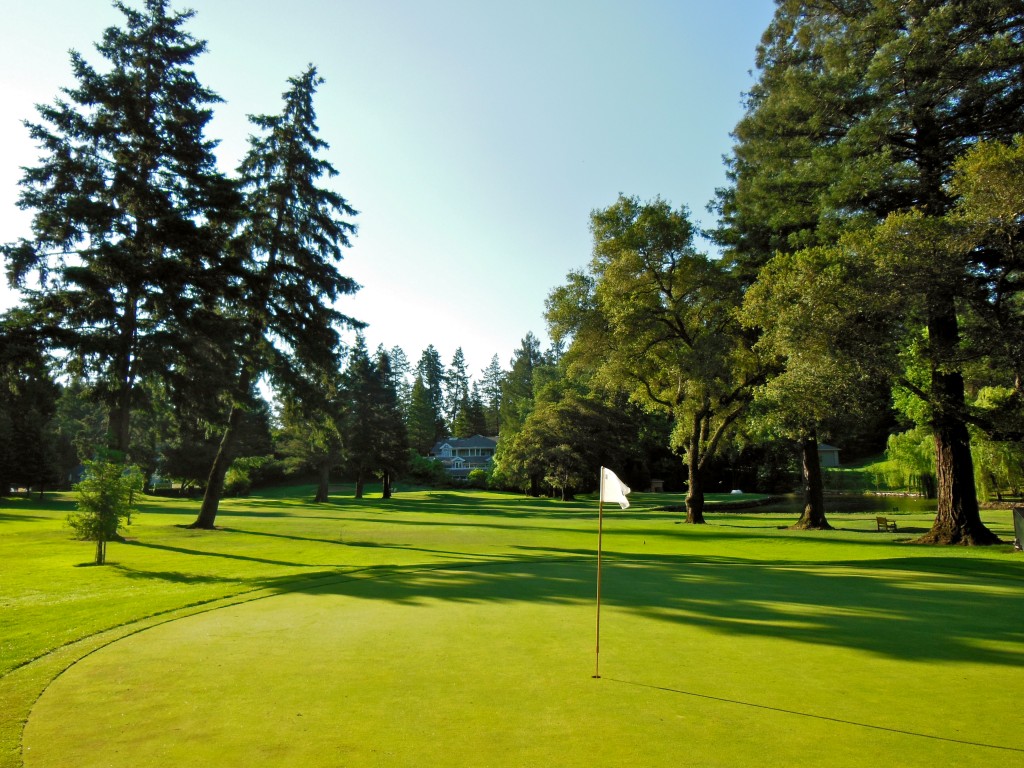 Golf is beautifully pristine and unspoiled at The Meadowood Napa Valley. Shown above the picturesque first hole from behind the green with the golf shop and The Restaurant in the distant background. (Photo by Robert S. Fagan)
By reputation West Virginia has The Greenbrier and Virginia has The Homestead, both wonderful old golf hotels. The Meadowood Napa Valley is Northern California's answer to the genteel sporting life defined by elegance, fine wines, and superlative food – and then there's the golf. If you are a discriminating traveling golfer venturing to the Napa area of California and seek excellence all in one location, look no further than Meadowood.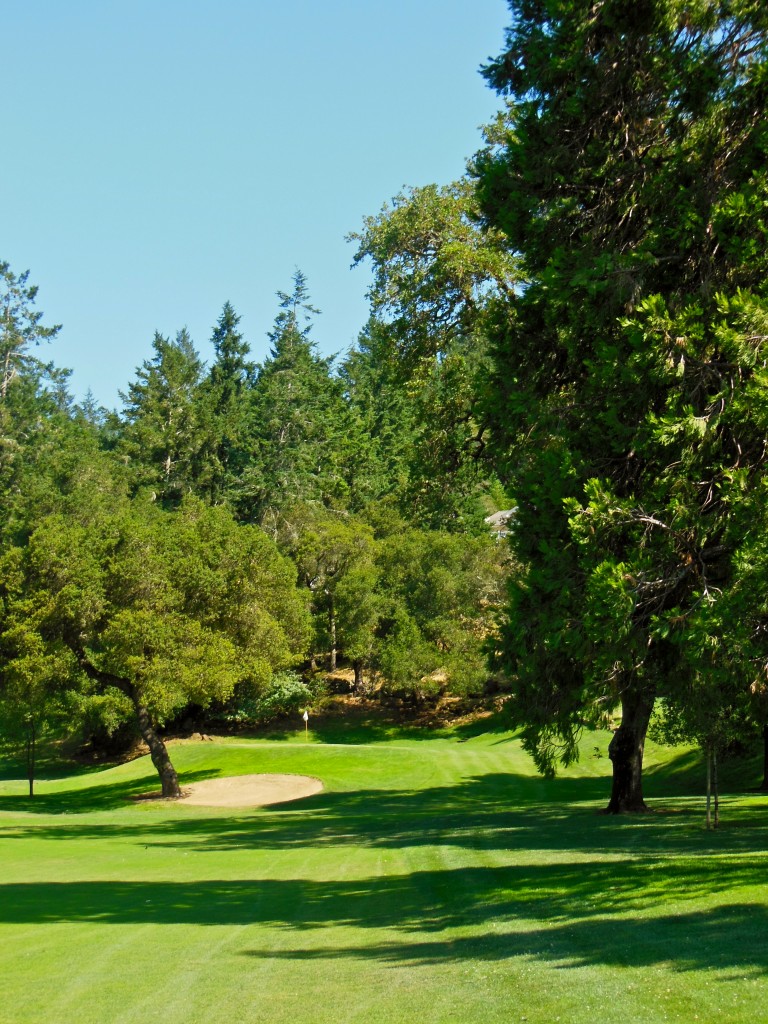 Putting for birdie is on the little 275-yard par-four 6th is anything but routine and requires two precise shots.  (Photo by Robert S. Fagan)
Hidden in the eastern hillside of the Napa Valley amid the pines and oak trees, entering the stately grounds at Meadowood is akin to discovering a dignified Shangri La that is unique to the area. It is a combination private club and resort, but definitely not what you might expect in either a country club or a busy successful resort. Rather it's intimate and cherished with its golf course recording only about 2,000 rounds a year – no you can not just show up to play without a reservation or being a guest of a member. The staff and patrons enjoy a close, high touch relationship with both respecting the traditions – a reason Meadowood remains so uniquely special.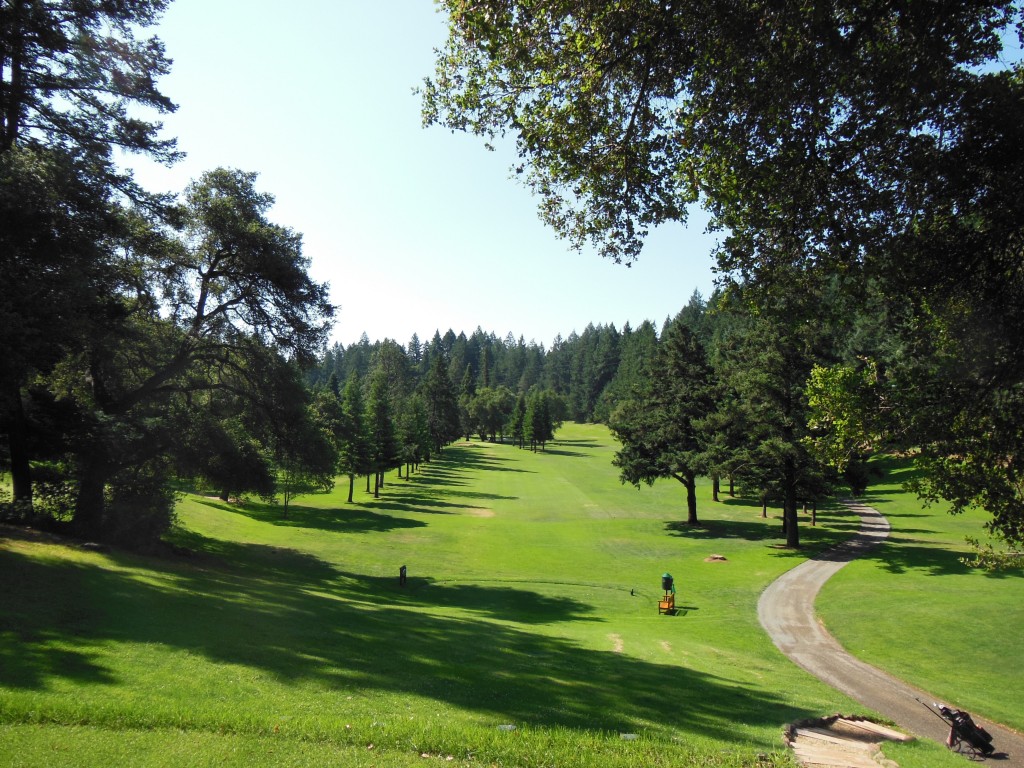 Trees define the challenge as shown from the elevated tee at the 325-yard fifth hole.  (Photo by Robert S. Fagan)
The nine-hole par-29 layout designed by the active Northern California golf course architect Jack Fleming, will hardly remind you of the rock-em, sock-em, expansive sculpted layouts you usually encounter nearby, but more of lost days when gentlemen wore ties and knickers when playing golf. And guess what? At Meadowood you can rent hickory clubs to play your entire round. How fun! In fact, during my first tour of Meadowood, I elected to play the hickory clubs along with an old style ball. Well, that's a story for another time, but I heartily recommend the experience.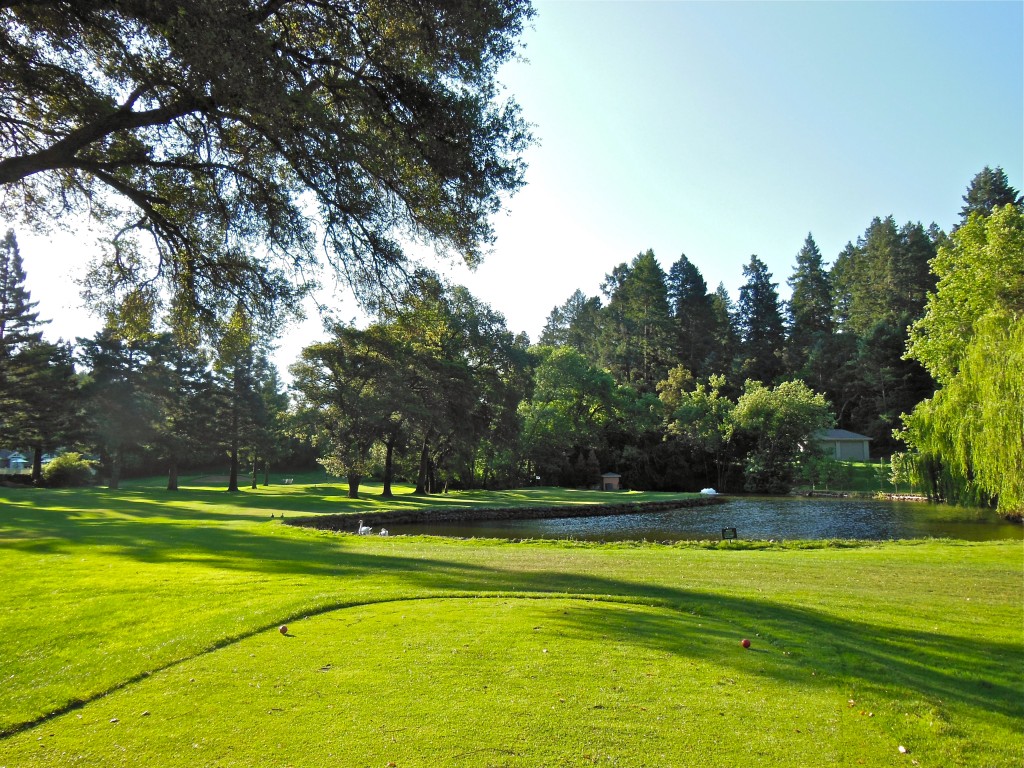 Water greets you at the 177-yard ninth hole – a wonderful conclusion to a most charming golf experience!  (Photo by Robert S. Fagan)
Meadowood is a very intimate wooded layout in which you walk on manicured lawns in the shadows of tall trees. The golf course plays in a wooded bowl that long ago in the 19th century was a rice field and prior to the course opening in 1964 was a Christmas Tree farm. While a few of the lodging units are barely visible through the trees, only the tasteful golf shop/restaurant and adjacent croquet lawn will signal that you are part of the Napa Valley civilization. The beauty of Meadowood is in its complete naturally peaceful ambiance. This along with the meandering wooded resort grounds immediately signaled for me why about a thousand members call the place home.
Two tee settings for each hole compose the 18-hole card, but the longer combination sets up at 1,649 par-29 for nine. The one-shotters range in distance from a 70-yard teaser to a 196-yard tester. You encounter the par-fours in the middle of the course with a back-to-back narrow combo of 325 and 273 yards at the fifth and sixth respectively. The shaping and bunkering are minimalist except for the new greensite on the 181-yard 8th with stylized mounding and bunkering. Mostly the greens are tiny slightly raised affairs and the fairways are guarded to the sky by mature trees. The layout is eminently playable for all, but don't expect to capitalize much on power here for accuracy is paramount.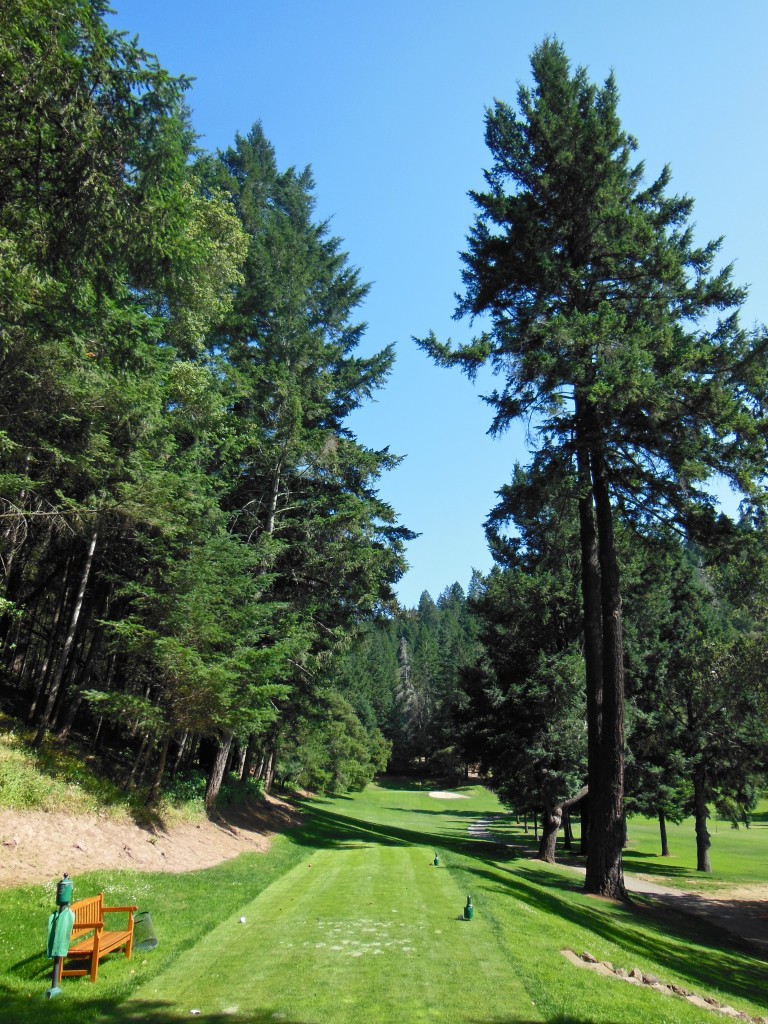 For me, the narrow uphill 196-yard 4th hole is the most demanding at Meadowood.  (Photo by Robert S. Fagan)
You will not likely travel to Meadowood solely to play golf. What will likely impress you and beckon you back is the peaceful little walk and subtle little holes. Your 9-hole round will only take 75 minutes or so in an unhurried fashion – and I cannot imagine wanting to make haste here. Here is a perfect spot to introduce someone new to the game, to enjoy a solitary walk or intimate conversation, and there is enough game in the layout to produce a cunningly interesting match. In any scenario, golf at Meadowood is peacefully serene and healing.
While the golf course harkens back to days of old, Meadowood features the most modern ways to improve your game. Golf professional Doug Pike can help you with your swing utilizing the state-of-the-art Trackman teaching technology in the recently built all-weather Golf Performance Studio. Pike is one of the busiest and best-regarded instructors in the region and with his modern comfortable facility, you have yet another reason to visit the Meadowood Napa Valley. Or if you would like to turn back the clock a hundred years or more, as mentioned you can rent one of the club's set of hickory shafted clubs along with retro golf balls.
Whether for its tastefully understated country style clapboard cottages or lodge, its world-class 950 wine selections highlighting California, or its Michelin 3-star restaurant that features the resort's garden and local produce, you are likely to find enchantment. (Meadowood Napa Valley is the only private club in the US to get such a high food rating.) Croquet, swimming, and tennis are a few of the other activities available.
Now for a piece of good news, the two restaurants (The Grill and The Restaurant at Meadowood) are available to the public. Outsiders are also welcome to take advantage of Doug Pike's teaching expertise, and for small group offering queries related to golf, you are welcome to contact Meadowood's Golf Pro Shop directly at 707-963-3646 – extension 309. Also, if interested in learning about becoming a Meadowood Member, you may reach out to Terri Shreve Pope, Membership Director, for more information at 707-968-3125 (tpope@meadowood.com).
From what I have observed of Meadowood, you should want to visit and stay at Meadowood; it's a treat! And while you're there you will find a wonderful walk on the nine little charming holes that make up the wonderful trifecta of the Meadowood Napa Valley – food, wine, and recreation.
Adjoining the golf course is the Croquet Court where all-white attire is standard.  (Photo by Robert S. Fagan)