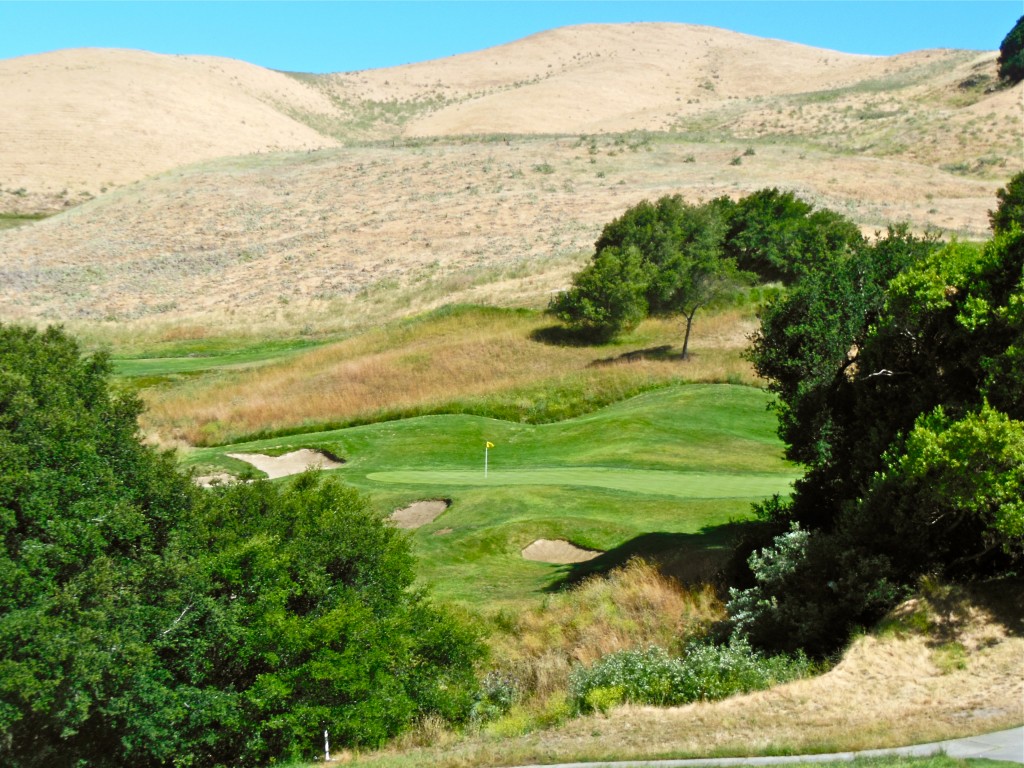 Hiddenbrooke Golf Club is one of California's great unsung courses as typified by the spectacular 171-yard 13th. 
What is the highest quality semi-private golf experience in the greater San Francisco Bay area? That's easy. It's the Hiddenbrooke Golf Club in Vallejo. Yes, there are many very good courses in the area, but  the Hiddenbrooke Golf Club proudly stands tall.
Don't take just my word for it. Golfers who play Hiddenbrooke absolutely love it. In The 2010 Golf World Readers' Choice Awards also recognized Hiddenbrooke as the #9 Best Public Golf Course in the United States and the only course in the San Francisco Bay Area that made the Top 50 list. The story on Hiddenbrooke is that this is a really excellent golf experience that compares to or exceeds many more high profile layouts!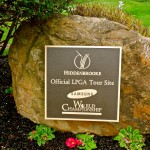 If you remember your golfing history, you may recall that the LPGA's Samsung World Open was held at Hiddenbrooke from 2000 to 2002 hosting an elite field of that tour's best twenty players. The event succeeded in producing local winners of Julie Inkster and Dorothy Delasin in addition to Annika Sorenstam. The course has nicely matured since then and ranks with the very best courses you can play.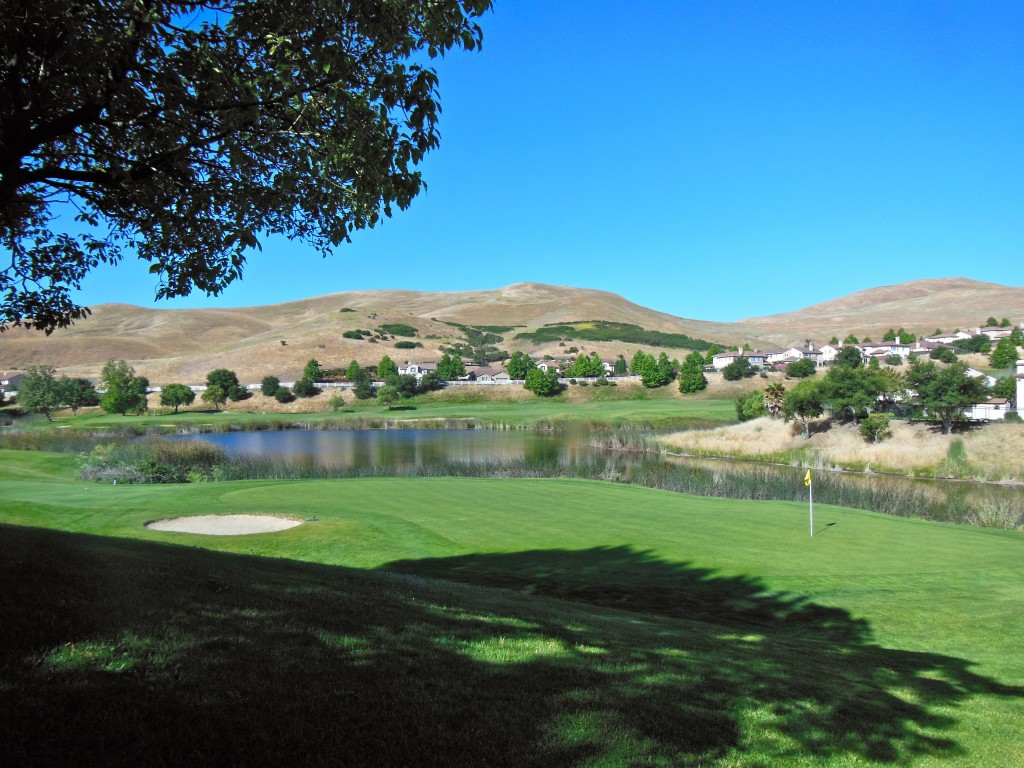 The 330-yard 7th hole in the foreground and the par-five 5th in the distance reveal the water that is ever present in the lower sections of the golf course.
Arnold Palmer and Ed Seay's only Northern California design rests in a uniquely pristine, yet conveniently located valley setting located just a mile and half off of Interstate 80. As such, Hiddenbrooke is convenient to both San Francisco and Oakland as well as those traveling to Sacramento and is just a few minutes from Napa. Besides the fact that the property is landlocked and receives virtually no drive-by traffic, entering the residential valley setting is like venturing into another world with valley streams and golden hillsides, yet the site is so nicely located and easy to access. Those wonderful hillside vistas and the valley floor ambiance make for a fun golf experience far in contrast to the noise and bustle that influences many other Bay Area golf settings.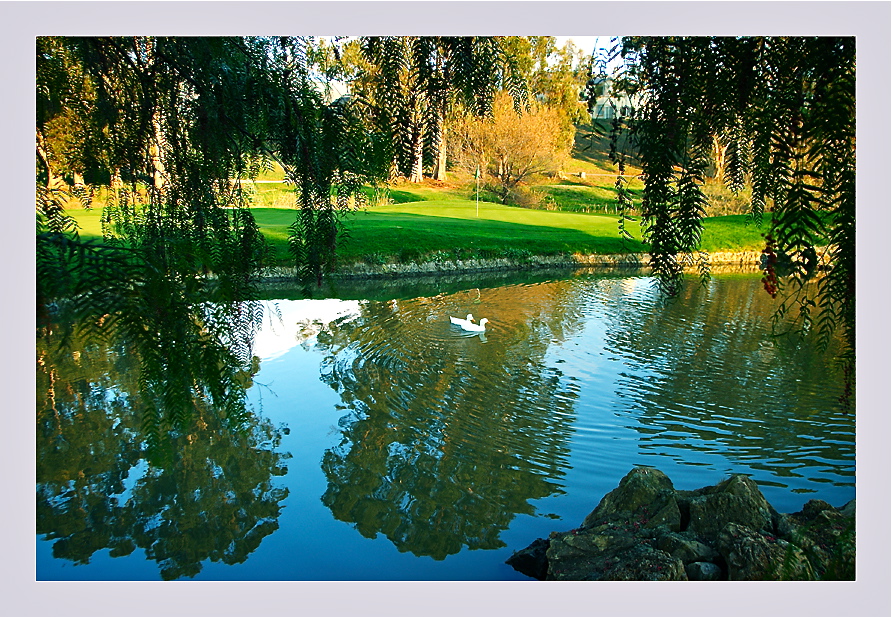 Once planned as an exclusive private club, Hiddenbrooke never actually adopted that model though the hype persisted and it is so impressive that it still appears the place to be the enclave of members only – not so. Opened in 1995, more than $47 million (not including the land) was invested in the infrastructure and it shows very impressively. The smartly designed clubhouse is most attractive and features three distinct, but connected buildings – a banquet facility, a golf shop/cart area, and a snack and locker room facility. (Hiddenbrooke does offer social and golf membership options that includes swimming and exercise facilities as well as golf.)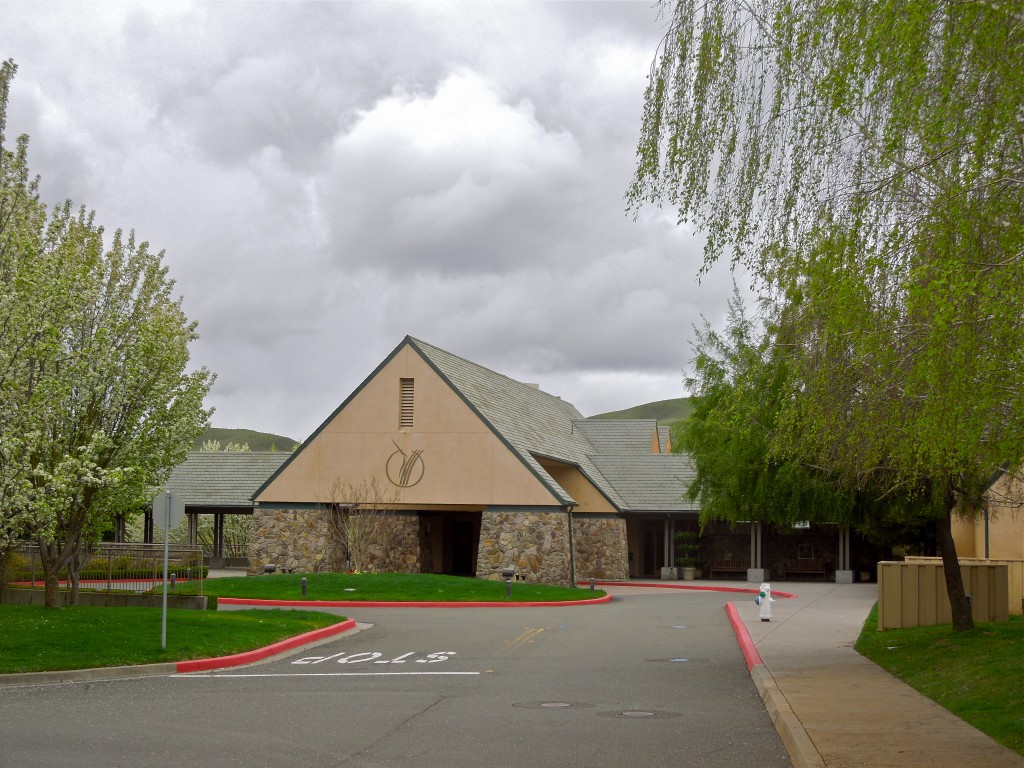 The 18-hole golf course is the centerpiece of a planned community that surrounds, but does not intrude on the golf experience. The course starts in the valley and quickly climbs up into the hillsides and back down again. Wooded meadowlands, hillsides, and streams and ponds along with abundant bunkering frame the bone structure of the layout that is completed with some sloped putting surfaces.
In a delicate way, architect Ed Seay of The Arnold Palmer Group utilizing different tee boxes and angles managed to craft a very delicate balance in making the course very playable for newer and less skilled players while challenging the best. That's an uncommon accomplishment these days that no doubt contributes mightily to Hiddenbrooke's elite national consumers' rating. There are few forced or problematic carries, and generous landing areas, yet from the tips the layout at 6,782 yards, Hiddenbrooke qualifies as one of the more challenging  courses in Northern California. You will encounter many exhilarating elevated tee shot vistas, a variety of lies, and a bucolic meandering stream and ponds on the lower portion of the property that adds to the natural ambiance of the property. The putting surfaces feature big sweeping contours in spots with no exaggerated terraces or severe slopes. It all makes for an usually delightful walk in the park, but enough of a shot-maker's course to still challenge the better player.
Reflecting upon Hiddenbrooke, it starts out in fine fashion, but ends even better as its last seven holes compose one of the best finishes in California if not beyond! The finish includes three magnificent and differing par-threes and three equally impressive par-fives, any of which would be "signature holes" on most other courses. They combine for a memorable finish that will have to yearning to return.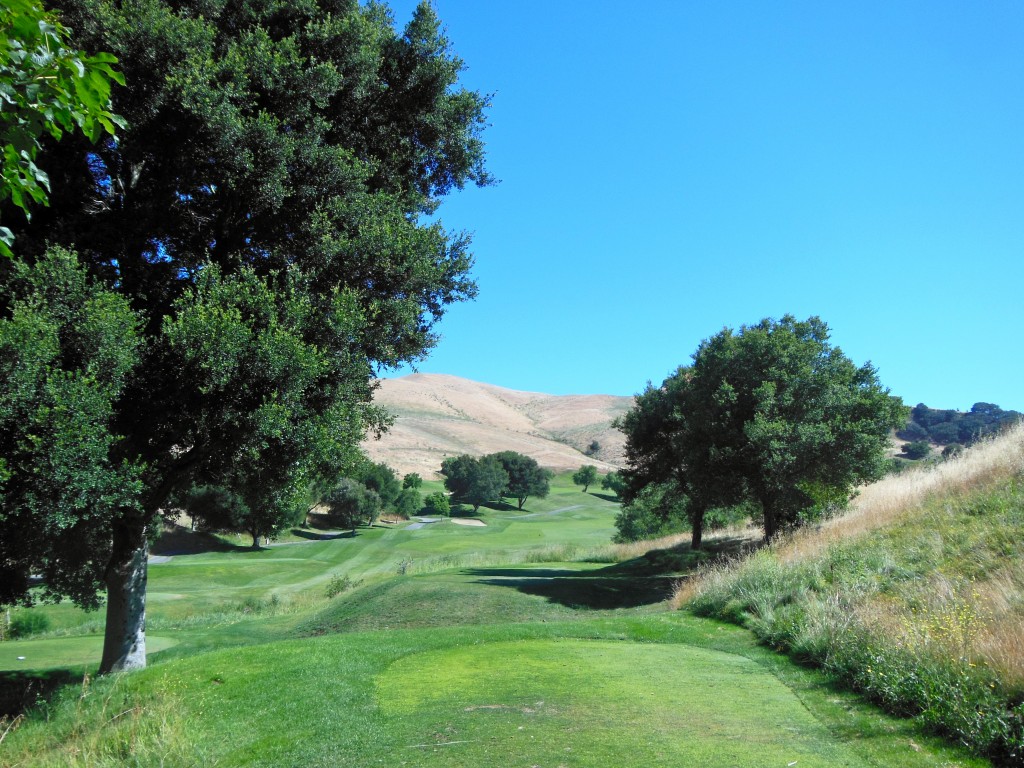 Above and below: The par-five 12th at only 478 yards plays uphill is a fun risk-and-reward hole.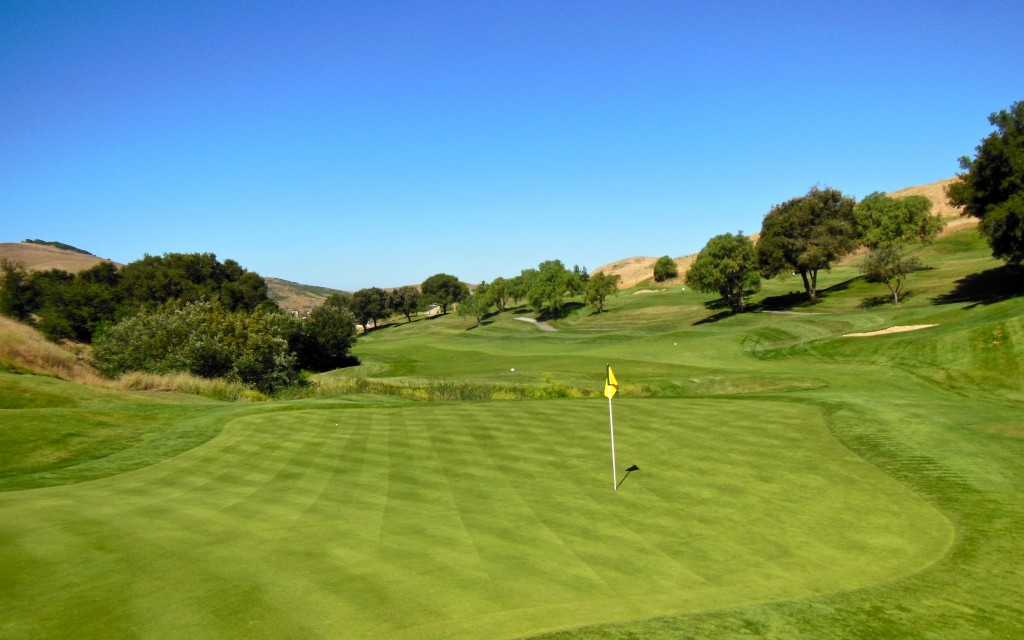 Overall, the set of par-fours are solid enough, but it is the five par-fives and five par-threes that really impress me. Though not particularly long, two uphill risk-and-reward par-fives are quite challenging and play considerably longer than their stated yardage, while the downhill 16th with its creek and pond never allows you to relax until to retrieve your ball from the cup. The five very attractive par-threes play in different directions and feature very differing looks and topography including flat, downhill, and slightly uphill. And by the way, Hiddenbrooke's conditioning usually is comparable to the fine private clubs.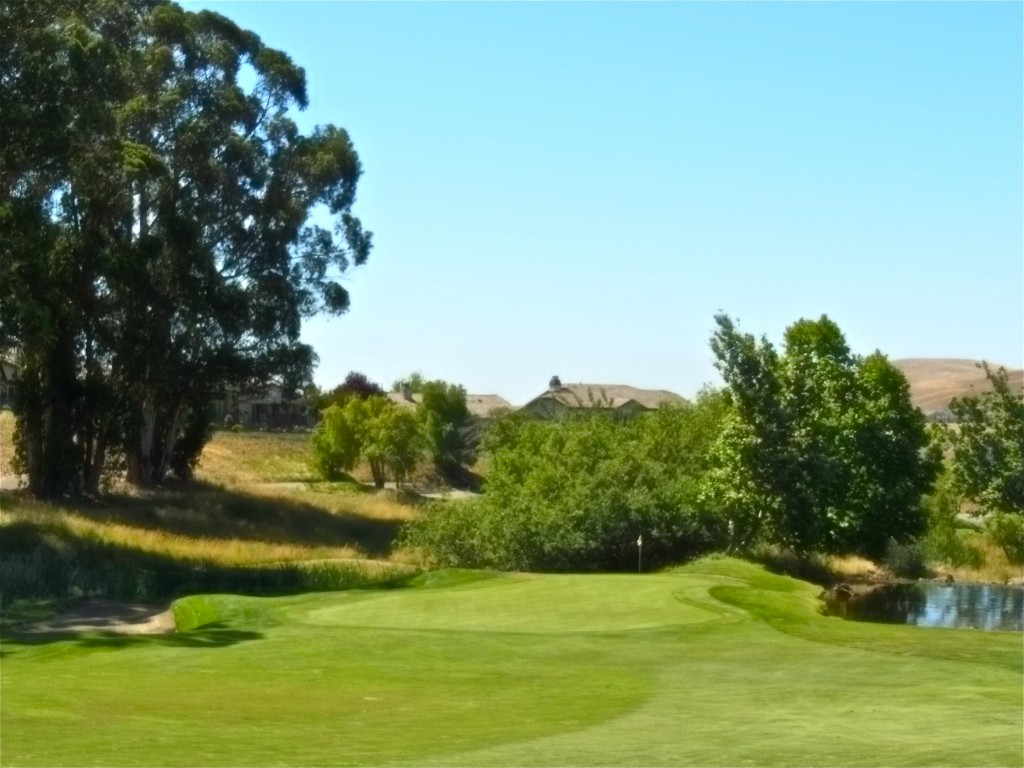 The par-five 16th green is guarded by water on the left, right, and rear and severely narrows in the back making for a very challenging approach shot when the hole is cut there! 
The golf course has garnered many honors in addition to my appraisal. "Golf Digest" ranks Hiddenbrook with 4.5 Stars out of five while "Golf World" has named it one of the Top Fifty Public Courses in America! "Golf Today Magazine" placed Hiddenbrooke as a Top 10 in California. From the distaff side, "Golf For Women" lauded the layout as one of the best women can play. Yes, the honors just keep coming though Hiddenbrooke has remained a bit of a "secret."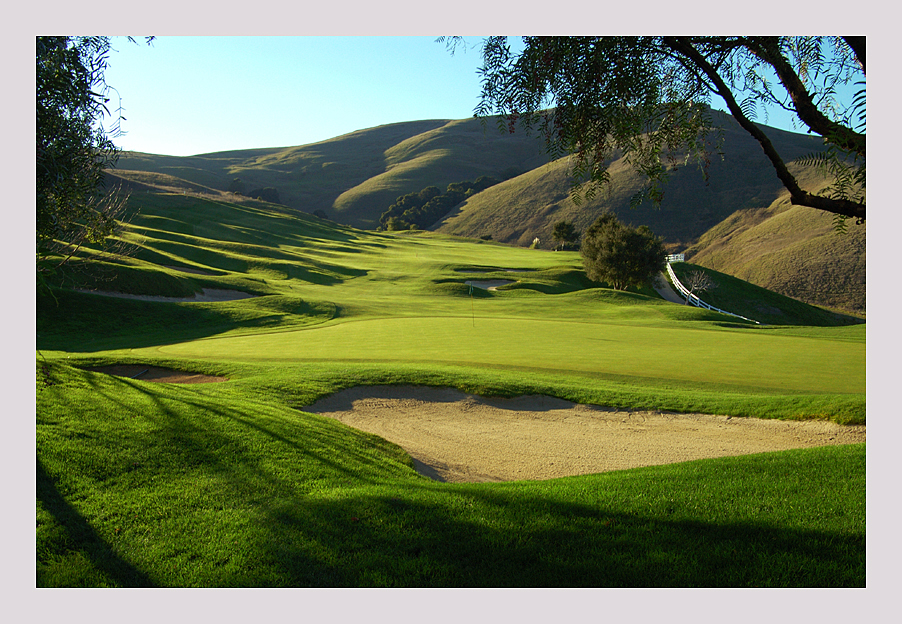 The gorgeous downhill 351-yard 4th hole (as pictured from behind the green) will tempt big hitters to drive it, but it is best played conservatively.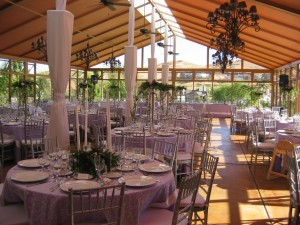 The golf course is not the only delightful surprise you will encounter – Hiddenbrooke features gorgeous amenities! Additionally, Hiddenbrooke features a short game practice area, and a rare (for the area) full driving range as well as a swimming pool and exercise room (for members). Of particular note is the dining/banquet wing that makes for a prime location for weddings or other larger gatherings.
So the next time that you are looking for a golf treat, you should consider the Hiddenbrooke Golf Club in Vallejo. Not only is the golf course an especially good one, but the facilities and service make for an offering that will delight the most discriminating. When you add that even Hiddenbrooke's peak rates are under $100 and that there are many time and frequent user discounts, it all makes for a destination that both locals and traveling golf connoisseurs will want to experience – again and again!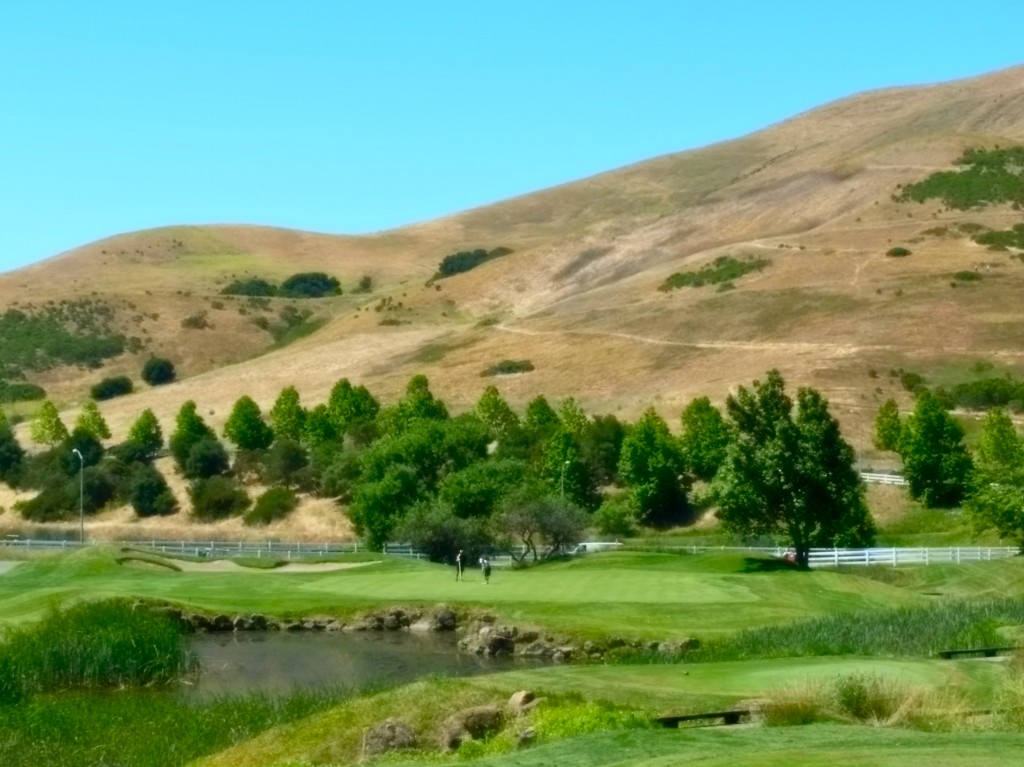 At 227 yards from the tips, the 17th requires a well-executed shot. Below the 560-yard 18th artfully sculptured with bunkers offers a chance to close with a birdie!