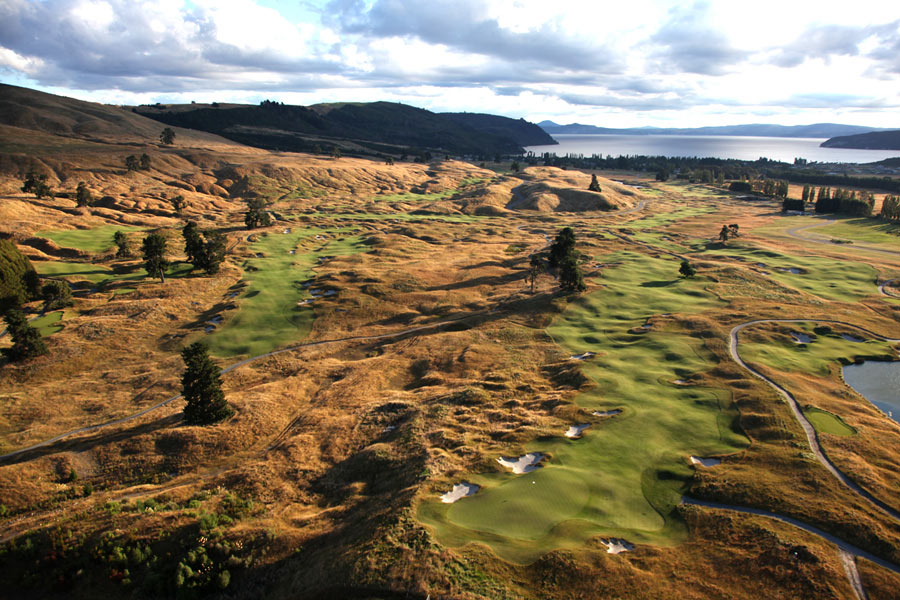 The Jack Nicklaus-designed Kinloch Club that seamlessly unfolds over the New Zealand countryside adjoining Lake Taupo may be New Zealand's best.
As I meet fellow travelers, I always ask them their favorite countries in the world. Fully half of them name New Zealand (probably the other half haven't visited there yet) and everyone who doesn't call the place their favorite still love it among their favorites. Did you know that New Zealand also has more golf courses per capita (400 plus) than any other country? I've played 10% of them and by all consensus the best ones. There are about 8-12 world-class ones and many, many more good and entertaining layouts. In my twenty days there several years ago, I also stayed in some magnificent lodging – some among the best, most magnificent I've ever enjoyed. With that backdrop, The Kinloch Club was recently named the Best Course in New Zealand and adjoining this stalwart layout's par-three third tee, the Dunalistair House owned and hosted by my friend Alistair Tod has likewise won national architectural awards. Now that's heady stuff!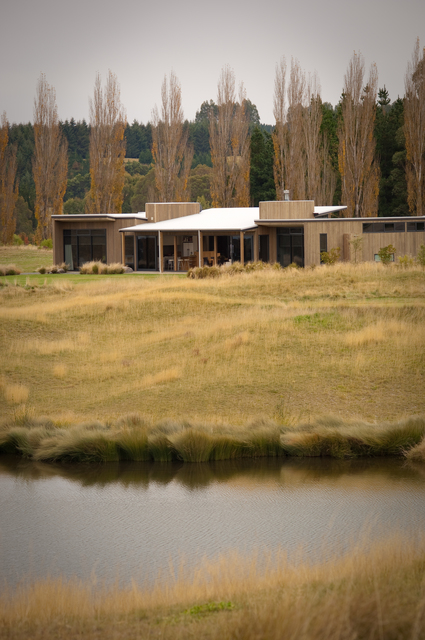 The award-winning Dunalistair House enjoys a rustically natural setting immediately adjacent to the beautiful par-three third hole at The Kinloch Club.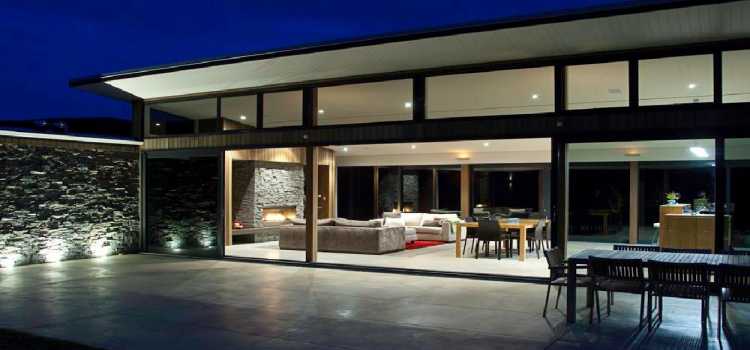 From the front of the home, you can look right through the modern living areas to the golf course beyond!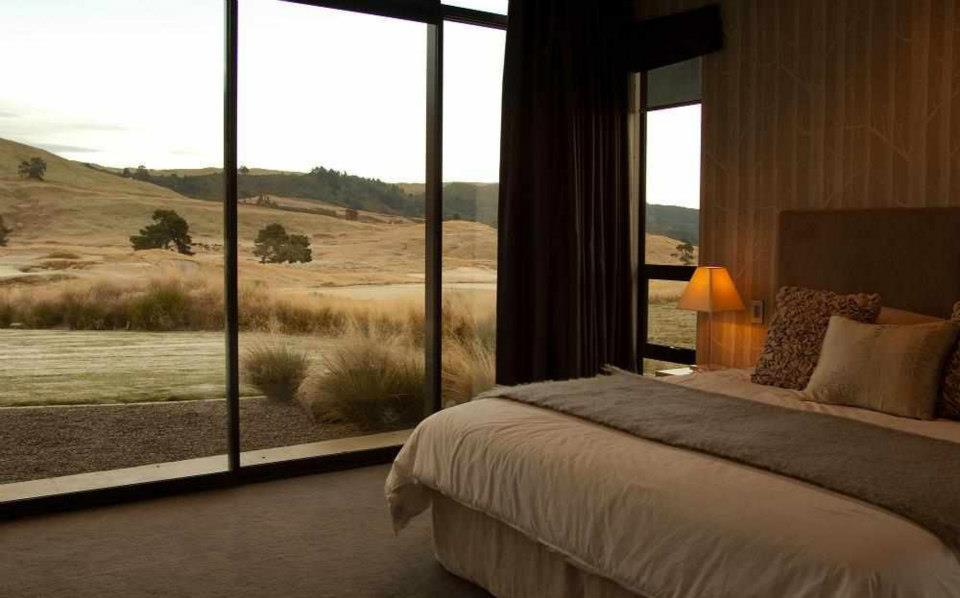 Four like-sized bedrooms with adjoining bathrooms at The Dunalistair House feature the best in luxury while inviting the magnificent outdoors in.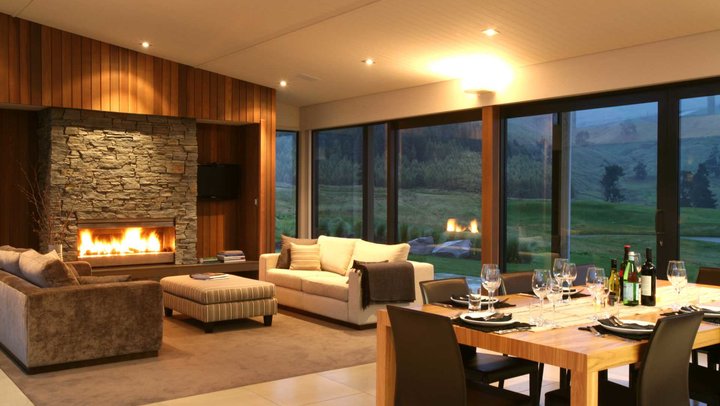 A dedicated media room adjoins the main living room/dining room and top of the range gourmet kitchen area.
And did I mention that I LOVE, LOVE, LOVE  NEW ZEALAND? I enjoyed the trip of a lifetime there several years ago, one so full of beauty, adventure, good new friends, food, drink, and the outdoors that it's safe to say I'll never again approach. It included not only playing forty different golf courses from the tip of the North Island to the bottom of the South, but included four wine-tastings, two helicopter rides, a jet boat river adventure, flying over the Southern Alps, three airline trips, golf with a rugby legend, dinner with one of the world's most esteemed anti-aging scientists, and the list could go on. To say the logistics were complex would be an understatement. Incredibly the trip that was both hosted, but mostly on my own, went off without even a momentary hitch. Putting aside the golf, the gracious Kiwi's were the nicest and most hospitable people and the array of outdoor pursuits and breathtaking scenery are nearly mind-boggling. As I'm wiring this, I long to return, maybe even relocate there.
Who could coordinate such a flawless trek? It was Alistair Tod of Greenfernz, Ltd. A transplanted Scot (and avid golfer) who married a lovely New Zealand lass, he heads a company that creates customized golf and leisure activities for clients from around the world. And now it gets better. Tod constructed and owns the Dunsalistair House on the Kinloch Golf Club. Located just 15 minutes from Taupo and 45 minutes from Rotorua in the center of the North Island (three hours south of Auckland and 4 hours from Wellington), it is an equally proportioned ensuite, modern 4-bedroom holiday house in its rustic, natural setting that is simply sublime. Luxurious privacy and the latest comforts await you within and you're only literally a step or two from the third tee and a short walk from the Kinloch clubhouse.
I have since confidently referred other avid travelers to Alistair Tod and Greenfernz, some who have no interest in golf, and they too have called their experience with him the best ever. As wonderful as New Zealand is, Alistair Tod and Greenfernz are every bit just as good! For golfers, my experience was that Alistair Tod knows all the best places to play and stay over the entire country, and just how to make it happen. An for an important added benefit, Greenfernz's services do not add to the cost of a trip over what you might spend organizing it yourself.
As for the celebrated Kinloch golf course, this Jack Nicklaus-design (his only in NZ) opened in 2007 and immediately received accolades for being the best in the Southern Hemisphere. It's not only arguably New Zealand's best, but easily its most difficult. Situated in the natural hills overlooking Lake Taupo, it rumpled terrain spills out over its mostly treeless landscape and appears links-like, but with elevated undulating putting surfaces, punishing fescues, and diabolically deep bunkering, it requires an aerial approach. At 7,367 yards from the tips, even Jack Nicklaus played an up tee for his second round and advised others that it's a much more enjoyable course played forward. Regardless, The Kinloch Club is a layout you will want to play often not only for assessing the strategy that Nicklaus suggests you employ, but for the amazing unspoiled views. Its an amazing golf experience, particularly for experienced and accomplished golfers.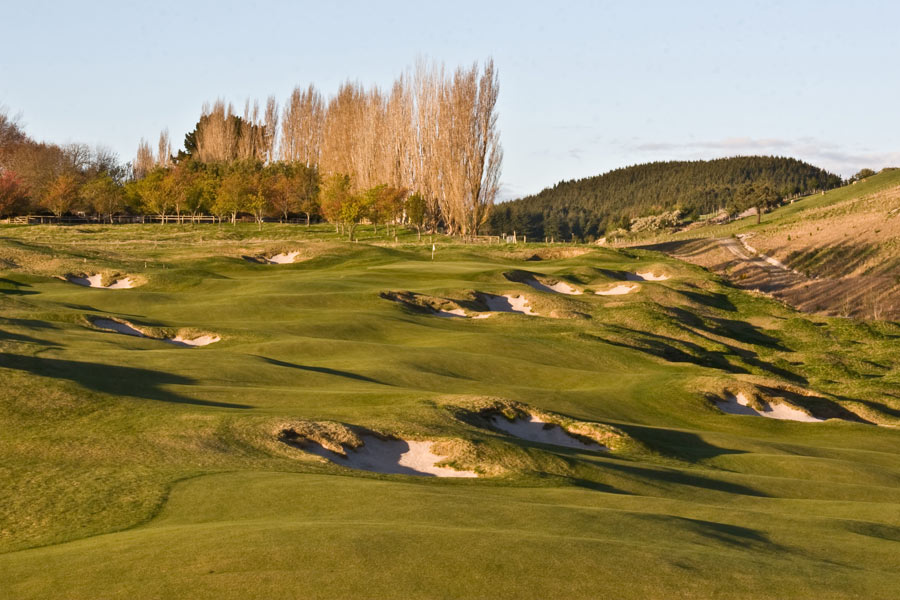 The par-five 2nd hole at The Kinloch Club is typical meaning that you must plod your way around the bunkers and fescue and not try to overpower the course. This challenge demands respect.
Golfers will be hard pressed to pick a favorite hole at The Kinloch Club. Nicklaus alternatively teases you and then downright challenges you to produce. With a nice ebb and flow, wonderful bucolic vistas, and firm, fast conditioning, there is so much to enjoy about this layout.
As attractive as The Kinloch Club is, the exceedingly comfortable Dunsalistair House makes for a great hub from which to also enjoy nearby boating, world-class fishing, mountain biking, and more. And did I already say that I LOVE, LOVE, LOVE NEW ZEALAND? Of course I did. Well, the same goes for The Kinloch Club, The Dunalistair House at The Kinloch Club, and the service of Alistair Tod and Greenfernz, Ltd.
Here is a link to Jack Nicklaus revisiting the club in 2008.  www.nicklauskinloch.wmv
For further information, refer to:  www.greenfernz.com and www.thekinlochclub.com

The gorgeous finishing hole at The Kinloch Golf Clubs immediately beckons you to want to return!