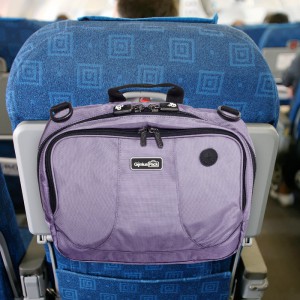 A better way to travel even smarter – the High Altitude Flight Bag!
Are you a frequent flier who wants to manage your luggage more efficiently? Maybe you simply want easy access to your tablet, magazine, passport, book, business cards, head phones, tickets/receipts, pens, inflatable pillow, and other critical documents right in front of you and not in the overhead bins? Or perhaps you're like me and many other passengers. At one time or another,  you've left one of those items in the seat pocket as you've exited the plane. Well, I have the answer for you!
The "High Altitude Flight Bag" by Genius Pack is a crafty little travel bag that slides over your carry-on luggage. You detach it and then it simply and easily fits over the tray in front of you no matter the tray position using some velcro straps. Believe me, in that position, you'll never leave it behind. Pull down your tray, and you can enjoy your food and beverages as usual!
With the High Altitude Flight Bag neatly fitting onto your carry-on luggage, I just detach it when I'm read to sit down and keep it with me. It doesn't count or even look like another piece of luggage, but I can keep my tablet, cell phone, books, etc. right in front of me instead of either stuffing them into my pockets or placing my larger carry-on under the seat in front of me taking away valuable leg room. And this durable polyester luggage weights only a pound and comes in a variety of colors.
The velcro straps that attach the unit wrap around the tray in front of you quickly hide away when not in use and included is a detachable padded shoulder strap as well to carry this pocketbook-size accessory. There is a sleek tablet case included. Why, you can even charge your mobile device inside the compartment if you choose to purchase the optional charging unit. The most reassuring aspect is that I know I won't forget it as I leave, and my valuables are conveniently and safely located in front of me whenever I should need them on the flight.
The High Altitude Flight Bag is one versatile piece of luggage that will now be joining me on every trip. Check it out at www.geniuspack.com. You'll thank me!
P.S. The High Altitude Flight Bag can also work on a bicycle!