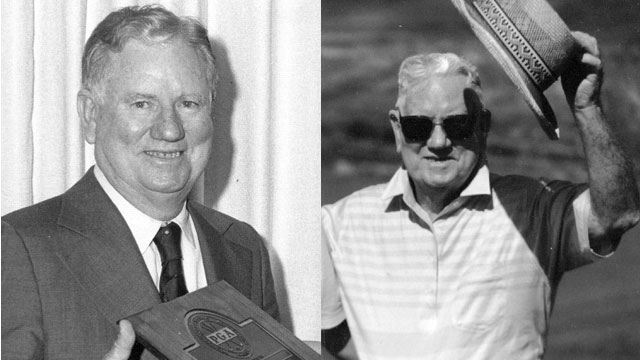 A few days ago, a PGA of America member passed away.  Normally that would not be particularly newsworthy, but this one, Mr. Bud Lewis, was the oldest member and gave my father lessons among thousands of others.  I knew Bud, though not particularly well.  He was probably the first PGA member that I knew of.  As you read the following obituary announcement by The PGA of America, you may appreciate that quite a golf professional has passed.  My hat is off to the Lewis family, the Manufacturers Golf & Country Club community, and his fellow Philadelphia Section PGA members for they all helped Bud as he did them!
"Joseph "Bud" Lewis of Wyncote, Pa., the oldest living and longest serving member of The PGA of America, died Nov. 22. He was 103.

Lewis was elected to PGA membership on May 13, 1931, and became the first to reach 80 years membership within the Association. At the time of his five-year apprenticeship to become a PGA member, America was in the "Great Depression." In 1930 John Edmundson, the professional at Llanerch Country Club, couldn't afford to pay Lewis, who took a job working in the locker room. That service at the club did not count toward PGA membership.
With Lewis' passing, Samuel Henry "Errie" Ball of Stuart, Fla., becomes the oldest living PGA of America member. Ball, who was inducted into the PGA Golf Professional Hall of Fame on Nov. 2, celebrated his 101st birthday on Nov. 14. Ball was elected to PGA membership on June 20, 1931.
Born Aug. 30, 1908, Lewis grew up in West Philadelphia. At age 12, he was introduced to golf as a caddie at the Llanerch Country Club, the site of the 1958 PGA Championship, the first conducted under a stroke-play format.
In order for Lewis to caddie, he had to take the trolley to 69th Street and then the elevated railroad to Llanerch. By age 15, Lewis was working in the golf shop for then-professional John Edmundson. After working at five different clubs as an assistant and head professional, he became the head professional at the Manufacturers Golf & Country Club in 1943 and settled in for a tenure of 37 years. For many years, Lewis was one of the leading players in the Philadelphia PGA Section, and one of the leading instructors.
His most notable pupil was Bill Hyndman III, a runner-up in the U.S. Amateur and the British Amateur. When Lewis retired at age 71, it was estimated that he had given more golf lessons than any other golf professional in the history of the Section. He spent 30 years giving lessons indoors during the winter months. After he retired, he stayed on at Manufacturers as the pro emeritus and gave lessons there for another 20 years. Lewis won the Section Championship in 1943 and 1948, and was runner-up to his boss Gene Kunes in 1934.
He won the Philadelphia Open in 1942 and 1950 and he finished second twice. Lewis qualified for the PGA Championship four times and the U.S. Open three times. He served as a vice president of the Section from 1948 to 1952. For nine years, Lewis was the Section's pro-junior chairman and he initiated a pro-junior tournament, which was held each year at Manufacturers.
In 1996, Lewis was inducted into the Philadelphia Section PGA Hall of Fame.
Lewis is survived by sons Joseph Jr., Dan, a daughter, Jean, 12 grandchildren and 18 great grandchildren.
When asked prior to his centennial birthday about his secret to longevity, he repeated what he called a "simple lesson" that he had received early in life.
"You've got to be happy no matter what it takes," said Lewis, "and you have to keep smiling no matter how much it hurts."
Since 1985, Manufacturers Golf & Country Club has honored its longtime servant by hosting the Bud Lewis Invitational, attracting many of the area's prominent amateur golfers."