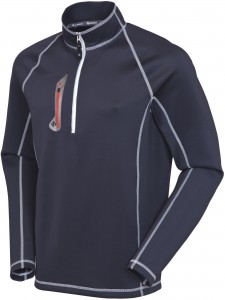 If you are like me, you may play golf in the off-season or you simply enjoy the outdoors. Crisp mornings and cool afternoons require a bit more warmth yet you want to maintain your flexibility and freedom of movement in golf or most anything. Well, have I got a perfect piece of clothing for you – the Sunice Allendale SuperLite FX™ Pullover!
Modern elite golfers have found "layering" of several pieces of clothing to be the most advantageous method of adjusting to the varying conditions that greet them during a round of golf. Like them, you want pieces that can easily be added or shed to keep you at the optimum comfort level without bulking you up and impeding your range of motion. Dressed in such a manner, you can quickly see how this might ultimately improve your golf game. In other words, this is not your Father's wardrobe.
Recently I received the gift of the Sunice Allendale SuperLite FX™ Pullover; it's terrific. Just a few years ago this entire genre of clothing didn't exist, but with advanced modern technology, lightweight layering has really obsoleted or enhanced certain parts of my outdoor wardrobe. Now you will see the touring professionals wearing light stretching fabric all the time – and I love this Sunice Allendale SuperLite FX™ Pullover.
The Allendale SuperLite FX™ Pullover is light and comfortable, breaths, stretches, and moves seamlessly with my movements – not confining at all, which is precisely what I want when I play golf or do anything athletic. Best of all, it looks sharp!
Isn't it about time you took advantage of smart looking new fashion technology? Give this Sunice pullover a try and you'll be glad you did!