(Augusta, GA) For friends lucky enough to attend the Masters I always urge them as they enter the grounds of Augusta National to immediately pick up a pairing sheet and a Spectator Guide. Along with a small pair of binoculars, these three items are essential to watching the play at the Masters.
Often, I'll give them a Spectator Guide from the previous year to help prepare them for the tournament. 
Another innovation of co-founders Clifford Roberts and Bobby Jones, the Spectator Guide is akin to a tournament program but void of ads and in a pocket-size format.  Not only does it provide an array of handy tips and the 'do's and don'ts' of being at the Masters but it offers a short history of the tournament, its landmarks, its records, and services. 
It also provides a list of players, mini-bios, and how they qualified for the Masters. If you're sitting in an observation stand, you can use the pairing sheet and guide to identify and get acquainted with players as they come up to the hole.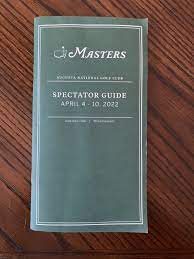 Here are some of my favorite items and factoids of the Spectator Guide:
—There's a message from Bobby Jones, President in Perpetuity (love that honorific) written in April 1967 that reads in part:
"In golf, customs of etiquette and decorum are just as important as rules governing play. It is appropriate for spectators to applaud successful strokes in proportion to difficulty but excessive demonstrations…are not proper because of the possible effect upon other competitors. Most distressing to those who love the game is the applauding or cheering of misplays or misfortunes of a player."
I thought of this last sentence when some of the fans at Austin CC during the Dell Match Play cheered a few of the misplays of the opponents of Scottie Scheffler, the gallery favorite.
—"Running is considered to be unacceptable behavior." And it's enforced by security, too.
— Although large bags or purses are prohibited, a fanny pack is allowed so long as it's no larger than 10"x 10"x 12."  Highly recommended.
—"Please note that patron tickets are valid for two (2) gate entries per day. Additional entries will not be permitted." This allows family or friends to share a ticket/badge once per day. 
—Under "Services and Spectator Conveniences:
Check Stands  (ideal for early morning shoppers at the ever busy Golf Shops)
Lost and Found
Parking (free at the Masters lot only)
Patron photography (free, taken and sent digitally by Masters staff near the front of the clubhouse)
Telephones (because of no cell phones, banks of phones are located at several course sites)
Also, you can ship purchased merchandise using UPS at the course.
—"During Tournament week, Masters patrons can tune into WGAC (580 A/95.1 FM) for updated traffic and parking reports and weather delays."
—"The permanent Masters Trophy, which depicts the Clubhouse, was introduced in 1961. It was made in England and consists of more than 900 pieces of silver…in 1993, a sterling replica  of the permanent Masters Trophy was first awarded to the champion, along with a gold medal."
—Augusta National members' green coat began in 1937 and in 1949 the first Green Jacket was given to that year's champion, Sam Snead. By the way, Augusta's minor league baseball team is fittingly called the GreenJackets and its logo is a green-striped bee. Clever. 
—As their certificate of membership in the Masters Club, champions receive an inscribed gold locket in the form of the Club Emblem.
—In a brief history of ANGC, "this club would be open during the winter months only." That's largely true today but it generally opens around November and stays open until June. The summer and early fall are when course improvements are made.
—At the par-five 13th hole, there are approximately 1,600 azaleas from tee to green. Since the course was built, "it's estimated more than 80,000 plants of over 350 varieties have been added."
—About the Eisenhower Cabin: Built in 1953 for the former President, he visited ANGC five times before his Presidency, 29 while in office, and 11 times after leaving office. In 1965, it was used for the first time as a TV studio for the CBS broadcast.
—About the Clubhouse, it's considered the first cement house constructed in the South.
—About Rae's Creek: Named after John Rae who died in 1789. Rae's house was the farthest fortress up the Savannah River from Fort Augusta and it kept locals safe from Indian attacks when the fort was too far.
—About aces during the Masters: There's been only one at the par-3 fourth hole and that was by Jeff Sluman in 1992 with a 4-iron. He now covers that hole for the CBS digital team.
—Fitting end quote for the Masters Spectator Guide:
"The chief objective of all the Masters is to stage a golf show that is enjoyable to all—our members, patrons, and player guests, and to interested golfers generally. We would also like, if we can, to contribute something to the game."
That's a masterful mission statement.
Images courtesy of the Masters