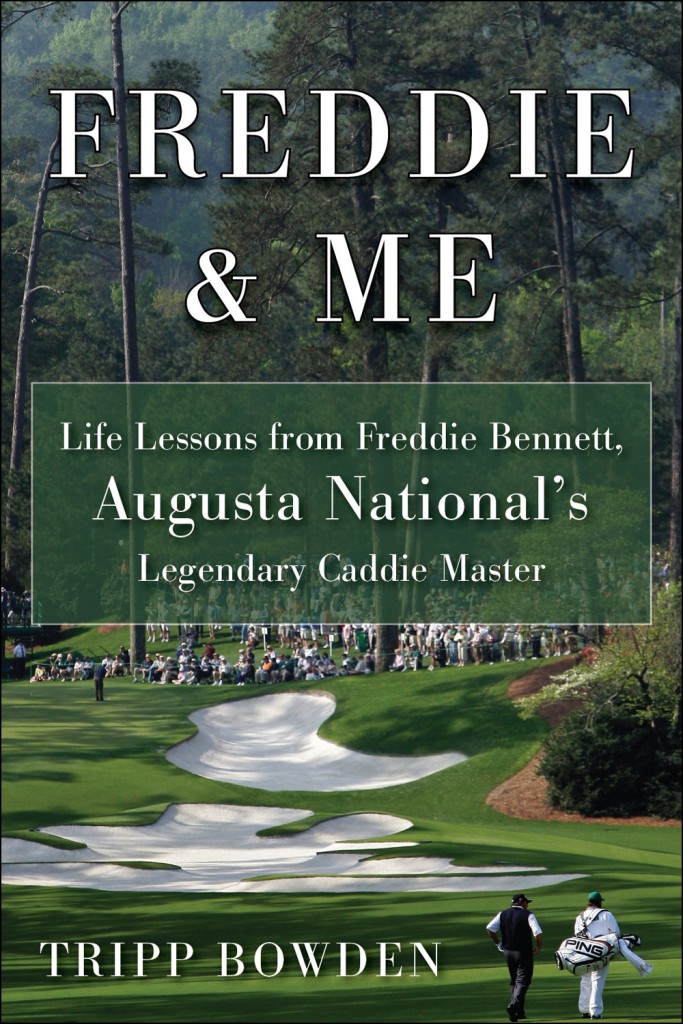 Writer's note: I originally planned to share this book review the week before the Masters. But the pandemic reared its ugly head and the world suddenly changed. At first, I thought about holding it back until the new tournament date was determined. Yet with so many unknowns going forward and with many people now having more time to read good books, maybe this is the ideal time to share it. Besides, thinking about the Masters and Augusta National is a tonic for one's mental health.
One of my routines to prepare for the Masters is to start reading various previews only a few weeks beforehand. That routine may include re-reading the excellent Masters recap in hard cover format received the previous summer. This year, thanks to an old high school friend now living in Dayton, OH (thanks, Bob Rice!) I was tipped off about "Freddie and Me." It's a ripping good book by Tripp Bowden that came out in 2009. (Flog me with an azalea branch for missing it until now.)  It's an essential read about Augusta National and the Masters. But it's more than that, too.
The book's subtitle sums it up well: "Life Lessons from Freddie Bennett, Augusta National's Legendary Caddie Master."
Son of an Augusta physician, Bowden was befriended by Bennett, a patient of his father. Not only did Bennett introduce the young Bowden to the game but he provided him with his first set of clubs. As Ben Crenshaw once said, after his emotional Masters win in '95, about his beloved teacher and mentor Harvey Penick, Bennett became the 15th club in Bowden's bag.
The book traces Bowden's arc as a golfer and as a young man trying to find his path in life. He had his ups and downs as a competitive golfer best reflected when named as a Augusta College freshman as its Player of the Year and then, as a senior, its Most Improved Player. Tellingly, he also earned a degree in English with a minor in Psychology.
The book takes off when Bowden is invited, by Bennett, to become a caddy at Augusta National, making him the first white caddy (aka "grass smasher," "bull," "bag toter") at the storied club. Before that, Bowden was a forecaddie during the Masters. Along the way, Bennett imparts a wealth of course knowledge and homespun wisdom. Most notably, "You don't read these greens, man, you remember them" and "Good bags don't mean good players, man. A good bag is one that drops it (a "tip") like it's hot."
Bowden excels as a deft writer of dialogue, an art that often separates the average writer from the highly polished one. He also has a nifty way with similes and metaphors, a comic gift he undoubtedly learned from Bennett. Two of Bennett's gems are, "Man, it got so quiet you could hear a rat pissing on cotton" and "That bunker is deeper than a drunk philosopher."
Bowden's flair is seen in such nuggets as, "A summer's day in the South is longer than a Rockette's legs" and "Nervous as a preacher without a sermon." 
Through Bennett, Bowden shares some little known (or not publicly revealed) items about Augusta National and the Masters. I certainly knew Augusta National's co-founder Clifford Roberts fatally shot himself on the Par-3 course but I didn't know his ashes were buried under a dogwood on a ridge overlooking the 9th fairway. And I didn't know there was an Indian burial mound once buried on the 12th green.
I was particularly fond and surprised to learn that during Masters week, the players' bag are stored with and among the members' bags.
Also, it was a nice coincidence to read how PGA teaching pros Mike Shannon and Mike Hebron interacted, in different ways, with the author. Shannon (a past assistant pro at Augusta National) gave Bowden one of his first lessons while Hebron gave him a Wilson 8813 putter. Both pros became nationally known and ranked instructors whom I met when they were headliners at the West Michigan Golf Show in Grand Rapids.
In another inside bit about the Masters, Bowden related to me in a recent email how the custom (or edict ) of only using Augusta Nationals caddies during tournament week finally ended. I always heard it was due to the intervention of Tom Watson with then club Chairman Hord Hardin, an attorney. Watson said Hordin surely wouldn't argue an important court case without his own assistants and paralegals. Neither should Masters competitors be without their most trusted assistants, their caddies. Duly convinced, Hardin ended the caddie custom. 
But Bowden amplified the story via an email to me, explaining the matter came to a head in 1983 when Friday's round was postponed until Saturday due to weather. Thinking the Saturday tee times would be the same as the day before, many caddies stayed out late expecting the pre-set afternoon times. Instead, tournament officials opted for split tee times off no. 1 and no. 10 beginning in the morning. According to Bowden, Bennett found himself on Saturday morning wildly scrambling to get his caddies back in the yard. One of those caddies was Hickey, Watson's man on the bag. When Watson arrived on the practice range, Hickey was nowhere to be found. Bowden says that's when all hell broke out about the caddie "tradition."
As enlightening as some of the Masters "reveals" tend to be, the heart and soul of this compelling book—told through snappy, short chapters—remains the bond between the author and Bennett. Bowden reaches deep within himself to repay the debt of this unlikely friendship, one that helped him find his calling. At times during my reading, I wished the author shared more background on Bennett, providing further details on his upbringing, how he earned his position in Augusta National, and his family. 
But overall, Bowden honors Bennett and pays its forward with all of his muster. He drops it like it's hot.
Personalized and signed copies of "Freddie and Me" by the author may be ordered directly at www.trippbowden.com  Also, check out ordering via your local bookstore or Amazon.