In this season of gift-giving, the writers at golf's leading website offer presents to themselves-and give back to the game they love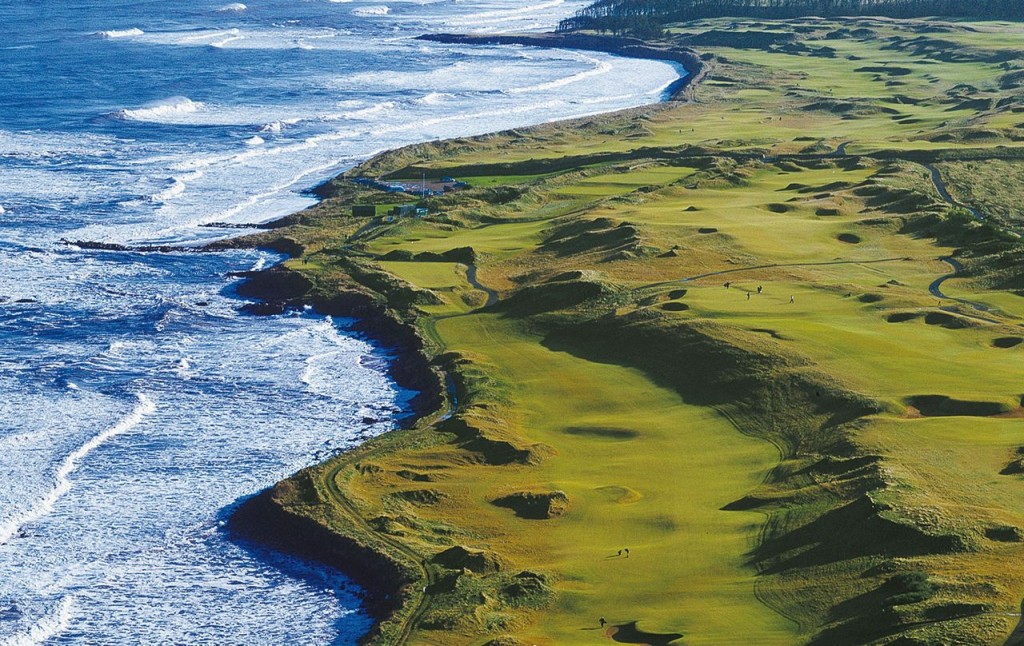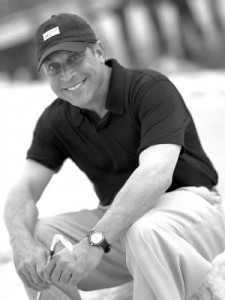 I love links golf, have since the moment I ran a shot onto the second green at The Old Course the first time I played the old gal. What fun! And that's where we spend the ten thousand, going to and playing the great game in Scotland with my two sons and my son-in-law, whom I actually like. (We got lucky.) During this past Thanksgiving, I played with the three of them, ages 30, 29, and 22, almost every day of the week. The weather was glorious, the company sublime, and the experience magical. So here's the plan: We fly to Edinburgh, play Muirfield, play North Berwick and a couple of other gems, then head north to St. Andrews in a van large enough for us and all of our stuff. I'm thinking a couple of bed and breakfast rooms. I'm thinking New Course and Old, Kingsbarns (that's it, above; amazing, isn't it?) and Crail, and the Jubilee. I'm thinking about meals at The Dunvegan. And I'm thinking of beating the kids, big time. We stay until the 10 grand runs out—then I reach into my own pocket and off we go, north to Dornoch!
—Peter Kessler, peterkessler.com
I don't want to come off as sounding uber-altruistic but I had the opportunity this past summer to work with youngsters involved in the First Tee program at a municipal course near where I live. To see the joy on these kids' faces as they learned to get the ball airborne or hole a 10-foot putt is something truly precious and special. But where do these inner-city kids go once the program concludes? For all the good intentions of such initiatives, golf remains an expensive sport to play, a game not many low-income kids can afford. I'd take that 10 grand and get as many kids as I could junior memberships to allow them to continue to learn and enjoy the game and carry it with them through their adolescent and teen years. I know it sounds cliché, but kids really are the future of the game. Without benefactors and the generosity of golf course owners, managers, and head pros, kids like the ones I worked with this past summer likely have no future in golf. It's just a matter of putting money where our mouths are when we talk about making golf inclusionary.
—John Torsiello, torsmangolf.com
With $10,000 in hand, I book PerryGolf's deluxe "Kruger & Cape Town, Golf & Wine" South Africa tour. At Jock Safari Lodge, situated in the heart of Kruger National Park, I enjoy high tea prior to an evening game drive in Africa's premier wildlife preserve. I tee it up at Leopard Creek, a bushveld course—flanked by the Crocodile River—that doubles as a game park. Heading south, I savor a three-night stay at Fancourt, a majestic resort located along the Garden Route east of Cape Town. When I'm not sampling vintages at the region's historic wineries, there's golf to play at The Links at Fancourt, host of the 2003 Presidents Cup; and nearby Pinnacle Point, a jaw-dropping layout perched on cliffs where several shots are played across deep chasms to greens that appear to float in the Indian Ocean. After a revolving cable car ride to the top of Table Mountain for a bird's-eye view of Cape Town, I stroll through Cape of Good Hope National Park to see colonies of African penguins. An extra $10K in my stocking enables me to bring my golf-happy wife on this trip of a lifetime.
—Brian McCallen, brianmccallen.com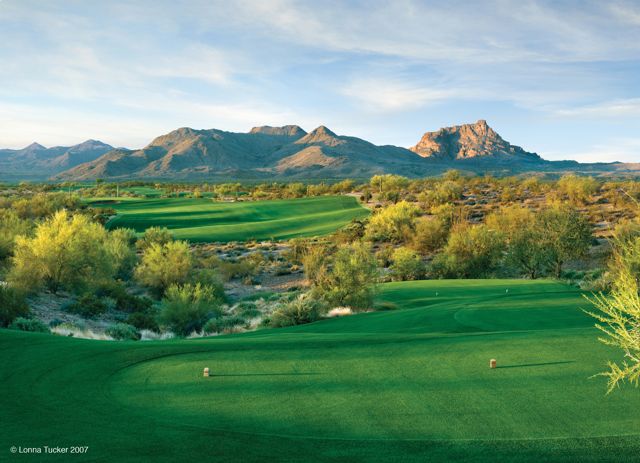 One word: Scottsdale. Which the Robb Report once called the best place to live in the US for golf. I'll fly business class and begin my trip with a warm-up round on the Kierland Golf Club just because it's fun, then make my way to a Kiva suite (outdoor shower, fireplace, plunge pool) at the Four Seasons Resort, where I'll walk the two terrific Troon North courses at least twice or until I'm out of golf balls. I'll eat pillow mints to make the money last longer and begin checking world-class courses off my list: We-Ko-Pa (the Saguaro course is shown above), Grayhawk, The Boulders, TPC Scottsdale, and every course with the word "desert" actually in it, including Desert Canyon, Desert Forest, Desert Highlands, and Desert Mountain. When I've tried all the dinner entrees at the Four Seasons' Talavera Restaurant I'll move to the beloved Fairmont Scottsdale Princess and squander the rest of my funds at the Willow Stream Spa. I won't leave until my pockets are empty and security escorts me to the outer gate with a stern warning.
—Jeff Wallach, jeffwallach.com
For most golfers, the top of the bucket list is playing someplace like St. Andrews or Pebble Beach. For me it is playing in a PGA Tour pro-am. This combines everything the typical fan loves about golf: great courses under the best conditions, quality time with one of the world's best players, and lots of "free" drinks, swag, and VIP parties. If you have never done it, splurge—it's truly once in a lifetime. I've had the good fortune to play in five PGA Tour pro-ams and it never gets old. So I would take my ten grand and buy an entry into the Harbour Town event (formerly Verizon), the best bang-for-the-buck, including a rare second practice round and a Tuesday Am-Am tournament on another course (around $5,700). Then I'd buy a spot in the Tour player's favorite, the Zurich Classic of New Orleans, famed for obscenely good and copious food and partying (about $1,800). I'd use the remaining $3,500 to pay for my airfare and lodging for the two events, finishing with a lifetime of memories from time spent "Inside the ropes!"
—Larry Olmsted, larrygolfstheworld.com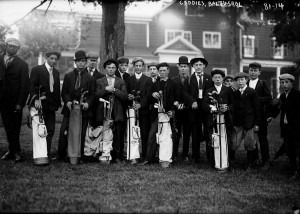 If someone gave me $10,000 to spend strictly on golf, I would give it to my home club with one stipulation: that they start a caddie program. They could use a portion of the $10k to subsidize the potential lost income from golf cart rentals and use the rest to implement a formal caddie recruitment and training program. This could provide a productive outlet for local youth looking for extra income and would also be a way to introduce golf as a sport to a wider group of individuals. I believe that after one year, the members would love it, the local youth would flock for the opportunity, and the club would find that it would enhance their ability to attract and acquire new members, which is far more important than extra cart rental income.
—Casey Alexander, caseyalexandergolf.com
On balls.
—Timothy Nolan, tgpnolan.com
For several years, I've belonged to a small organization called The Keepers of the Green. Based in St. Andrews, Scotland, it holds a pair of "meetings" in the spring and fall to play golf on either the Jubilee or Old Course with a small set of vintage hickory-shafted clubs, raise money to buy powered wheelchairs for the disabled who can't afford them, and then drink fine Scotch before dinner, over dinner, and probably afterward in the clubhouse behind the Old Course's first tee. For a variety of reasons, I've never been able to attend. Handed $10,000 for a singular golf experience, I'd be at the next meeting without question, selfishly having the time of my life and yet able to give at least half of the money or more to a very worthy cause.
—Jay Stuller, jaystuller.com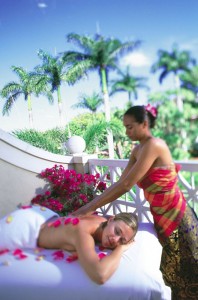 Shuttling three aching-body-excuse-laden friends to Miami, I'd book four nights of plush accommodations at the eternally tropical Fairmont Turnberry Isle Resort. There, the revolutionary Bommarito Performance System is churning out miracles: We'd go through the program's Advanced Biomechanical, Medical, and Neuromuscular Screening Analyses, undergoing dozens of tests to find out why we can't hit like we used to and what to do about it. After the recommended therapeutic fixes and 60-minute Golf Performance Massage at the Willow Stream Spa (left), we're off to THEgolfacademy for three days with Top 100 Teacher Bill Forrest and his Four-Building Blocks Program, along with daily golf at the stunningly beautiful Soffer and Miller courses. After a three-course organic filet mignon repast at Bourbon Steak, the Miami skyline observes as we learn Mojito-making techniques with Chef Buss' homegrown sugarcane and mint. All while pondering that, indeed, Ponce de Leon actually did discover the Fountain of Youth here.
—Janina Jacobs, janinajacobs.com
When 20-year-old Francis Ouimet won the US Open in 1913, the USGA was younger than the new champion. By the middle of the 20th century, America had overtaken the UK as the ascendant force in world golf. The axis is shifting again, this time to Asia. China has its own Francis Ouimet, an unassuming professional named Cheng Jun. In 1997, just 13 years after China's first modern course, the Arnold Palmer-designed Chung Shan Hot Springs course in Guangdong, opened, Cheng Jun became the first Chinese golfer to win an international professional tournament—the China Open. In gratitude to his country for allowing him to aspire to a career as a golfer, Cheng Jun donated his purse to China. In honor of Cheng Jun's gesture and to thank China for keeping the golf industry alive in the 21st century, I would contribute my $10,000 to the China Golf Association.
—John Strawn, johnstrawn.com
With ten large in hand, I'd strap myself and two others from the MOTO Research Team (also known as the usual foursome) into a plane bound for Edinburgh. The fourth I'd book on the Queen Mary, giving him a head start, for the simple reason that he has a medical condition that prevents him from flying. But that's not cheap, and he has to get back, too, so I figure we'll have to leave the wives home this trip, sorry, Honey, but it's only $10,000, maybe next time. Figuring we have about $4,000 left for golf, lodging, and food, that leaves $1,000 for beer. That should do it, but now thrift enters the equation. The perfect solution is to avoid the pricier golf shrines and head for East Lothian, where we'll gorge on links golf at North Berwick, Dunbar, Gullane, maybe even Muirfield, and return home richer than Croesus.
—Tom Bedell, tombedell.com
Watching the "The Bucket List" movie recently got me thinking about my own list. No, I do not have the "Big C" like the two movie characters, but when approaching the "Big 7-0" it's not a bad idea to dream about what you would do if you had $10,000 to spend on golf. I'd check with PerryGolf or Haversham and Baker to buy a package to New Zealand. Ever since watching the Kiwi Challenge matching Hunter Mahan, Anthony Kim, Camilo Villegas, and Sean O'Hair on television in the fall of 2009, I've wanted to play the Tom Doak-designed Cape Kidnappers, featuring holes never seen anywhere else along the edges of deep ravines with awe-inspiring views of the sea. Once would not be enough, but I would want to make time to play other courses like Kauri Cliffs. I wouldn't want to miss seeing the spectacular mountains and fjords in what everyone calls one of most gorgeous places in the world.
—James McAfee, jamesamcafee.com
"Having fun" has become a well-worn trope among professional golfers and others, used to characterize a state of mind effective in plying their trade. Trouble is, they seldom sound like they're actually having fun. The Henebrys— Jeannine and John, the brother-sister team responsible for an awful lot of the most stunning golf-course photography in existence—convey the palpable joy of people who really enjoy what they do. (An interview with the Henebrys is scheduled for a later posting at www.tomharack.com.) As a 35mm photographer whose photos have sometimes accompanied magazine articles I've written, the Henebrys are Mozart to my Salieri, without the vitriol. Of course, you can't buy such creativity, but the $10K would cover the cost of a large-format view camera, sturdy tripod, and so forth, all camera technology that's changed very little as smaller-format equipment has experienced quantum leaps in complexity. New piano, Salieri?
—Tom Harack, tomharack.com