New clubs? New swing? New attitude? Every year the holidays provide golfers with the chance to renew, repair, and revive their love affair with the game.
For 12 long months, the writers at The A Position—golf's leading website—have been looking toward the season of giving hoping to get something that will magically lower their scores and lift their spirits. So in the spirit of Christmas, Hanukkah, and Kwanzaa—and with an eye toward boosting the world's sagging economies—the celebrants at TAP were asked: "What golf-related gift do you want?" Their answers run the gamut from a set of new irons to more time with old friends, putters to precipitation, Mulligans to marital bliss.
Adding to our wish list is the ultimate granter of fantasies, the Porky Oliver of the North Pole, the Commissioner of the Professional Gift Association: Santa Claus himself. An avid golfer—he actually adopted the red-shirt-on-Sunday look long before Tiger—Father Christmas drives the ball as well as he drives the sleigh and is as comfortable on slick greens as he is on sloping rooftops. (He's also a big proponent of the belly putter, chuckling, "For me, every putter is a belly putter!") But you don't want to be playing behind his group when he's using the reindeer-powered golf cart.
Saint Nicholas—who after a particularly good round recently began referring to himself as "Saint Nicklaus"—also joins all of us at The A Position in wishing everyone a joyous holiday season, Peace on Earth, and 10 more yards.
The A Position.com is a network of websites featuring the world's best golf and travel writers. The term "The A Position" refers to the best place a golfer can land his tee shot. On the web, it refers to the site readers will want to land on for great golf and travel journalism.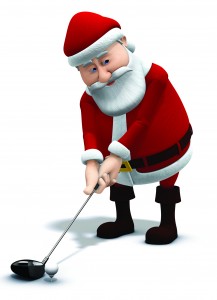 I'd like to thank whoever had the smart idea of asking me what I'd like, golf-wise, for Christmas. Because I'd like to stop getting stupid requests from golfers. Give me a break! To those of you who ask for lower scores? Let's say I let you shoot, oh I don't know, a 77 one day: You'd be miserable the rest of your lives thinking you could do it again when your normal score is 102. Take a lesson. You want a new driver? Go buy one: Technology has never been better and prices never lower. Open your wallet, cheapskate. Speaking of which, does anyone care that I travel 24 hours straight in some old sleigh that is less adjustable than Old Tom Morris' niblick? Yeah, give a thought for Old Saint Nick some time, willya? Sorry to be snippy, but I've only got a few days left to get ready for my annual world tour (take that, Greg Norman!) and the elves just hired the NBA's attorney to discuss their no-cut clause. Actually, that's what they call me: No-Cut Clause. But that's another story. As is that weird guy from Encino who keeps asking for a date with Paula Creamer. I've got two words for you, fella: As if! So what do I want in my stocking? How about when I get back to the North Pole on December 26, the sun is out, it's 85 degrees, there's no back-up on the first tee of the Red Course at Rudolph Links—and they haven't just aerated the fairways!
—Santa Claus
The greatest gift on my holiday wish list would be an iron-clad commitment from my wife to carve out a couple of hours each week to play nine holes together. While we've golfed for more than a decade, it's never fallen into a routine. But we have the time and opportunity. What's more, unlike a lot of guys I actually enjoy being on the course with my spouse. We laugh at bad shots, coo at good shots, and seldom keep score for more than the first three holes. It's golf with my best friend. Even better, I get to play from the forward tees.
—Jay Stuller, jaystuller.com
All I want for Christmas is rational thought from golf's putative brain trust. PGA Tour: When POY voting is set to conclude after Tournament Y, don't extend the deadline simply because a non-American might be in the lead. Grumps' and Gals' Tours: Majors happen. They don't come via corporate checkbook. Manufacturers: You made my 7-iron go as far as grandpa's 4-iron by giving it the loft of that 4-iron. That simply means I have more jacked-up clubs with larger numbers on the sole. It doesn't mean I've improved. Magazine and TV Pundits: Tiger did not "carry the day" at the President's Cup, he did not "win" the Cup. He played a hell of a Sunday match. He also finished T-8 in points on a 12-man team, equaling a 40+ dude with a bad wing. Finally, Feherty: How about penning two grafs without an ass, fart, or shit quip?
—Ken Van Vechten, kenvanvechten.com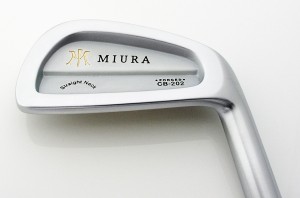 Normally I don't ask anything of Santa Claus. Some say I already have it all, and they'd be correct. However, this year is an exception as I am way overdue for some new irons. Sounds mundane but not when you consider my last clubs were Joe Powell custom irons along with persimmon woods fashioned for me over 20 years ago. I know what you're thinking: it's unbelievable that a tournament competitor hasn't embraced recent technological advances in all that time. But the truth is I've been remiss in getting new ones simply because 1) I couldn't fathom wading through the equipment quagmire and 2) my handicap remains at 4. Guess that's an argument for properly fitted clubs going the distance. My preference? Another custom fitted set, but this time I want the elegance of Katsuhiro Miura's Tournament Blades or the CB-202 Cavity Backs. Is that specific enough, Santa Baby?
—Janina Jacobs, janinajacobs.com
This holiday season, I'd like a clean slate. A fresh start. A conscience not plagued by past missteps, a mind not bedeviled by incessant swing tips. For the upcoming season, I'd wish for a carefree, optimistic outlook. Like the kind I had as a kid, when I couldn't wait to get to the golf course to see what would happen, in a good way. Back then the golf course was a liberating place. A place to be creative, imaginative, competitive. A place where I could stride across the grass and smell the earth and enjoy the company of my friends. Most of all I'd like that tingly feeling of anticipation I used to get before a round. Santa, can you make a new mindset fit into my stocking?
—Brian McCallen, brianmccallen.com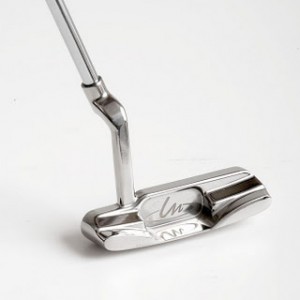 All I want for Christmas is a new Liquidmetal putter. I had one many years ago, but it met an untimely death at Richmond CC in Rhode Island after an uncharacteristic three-putt suddenly put it in harm's way. That club was the sweetest short-stick I ever had, but because of the way it snapped that fateful afternoon—right at the hosel—it could not be repaired. Since then, I've used a Scotty Cameron, an Odyssey, a Rife, and even my trusty old Bullseye from time to time. But none have equaled the feel that old Liquidmetal putter offered. If Santa brings me one, I promise that I will never take out my aggravation on a golf club again.
—David DeSmith, daviddesmith.com
I would like to receive a Gift Certificate for one year's unlimited supply of Mulligans. As entertainer Willie Nelson said, "If you never have a bad lie, you never have to tell one." If Santa doesn't send that, I'd like to play a round of golf with dinner, etc. at the Queenstown Golf Club in New Zealand. The Dalai Lama would caddy for me and my foursome would include Condoleezza Rice (left), Laura Baugh, and Teri Hatcher if anyone remembers who they are. (They all play golf.) Come to think of it, I am just hoping to be able to still bend over to tee the ball up and be able to see the damn thing.
—Bob Fagan, robertfagan.com
What I'd really like Santa to slip into my stocking this year is one of those Harry Potter-like magic wands, the sacred tool that most of my students believe I somehow possess so as to transform those folks into better learners, like the one and only Dan McLaughlin of The Dan Plan (thedanplan.com) Dedicated, determined, focused, open-minded, patient (for the most part), that's Dan in a nutshell, and yes, perhaps a bit loony as well to undertake such an endeavor. Granted, that's pretty much all he's got on his plate when he awakens each morning; nonetheless, any golfer could adopt those traits if interested in truly taking his game to the next level. So, dear Mr. Kringle, should I be fortunate enough to receive such a magical toy, I promise to use it not to fix my students' crappy set up or over-the-top downswing but rather to impart those traits necessary to expedite the learning and improvement process.
—Christopher Smith, christophercsmithgolf.com
All I want for Christmas is a complete set of the Infamous 18 Holes painted by artist Bud Chapman. I fell in love with Chapman's works when I was at Golf Digest in the 1970s after the publication introduced his imaginary golf holes to the public. A print of Victoria Falls hangs in my office right now. I hear new Giclee color processes have made them even better. His surrealistic illustrations certainly influenced architects like Pete Dye to expand the way they designed modern golf courses.
—James McAfee, jamesamcafee.com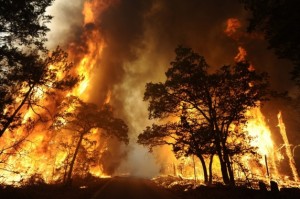 Having learned that "gift" is another word for "thing," I humbly submit instead a Christmas "favor" to ask of Kris Kringle: When you and Prancer and Rudolph and the bunch have reached your highest pinnacle across the Gulf of Mexico, will you please perform some sort of magical, atmospheric moisture extraction for our friends in Texas currently suffering through their worst drought in history? Eric Claxton is the director of golf at the glorious Hyatt Lost Pines Resort in Austin and one of the finest people you will ever meet. Though Eric and his family were spared losing their home in nearby Bastrop (right) during this past summer's drought-induced wildfires, neighbors surrounding them did. Recovery continues, yet so does the drought. So for Eric, Hyatt Lost Pines, and the rest of Texas, I hope Santa can make like Jimmy Fallon in a Capital One promo and "Make it rain!"
—Brad King, bradkingwrites.com
All I want for Christmas is Louis Oosthuizen's two front teeth. And Paula Creamer's smile, Rickie Fowler's hair, Camilo Villegas's arms, Sandra Gal's legs, Dustin Johnson's length, Aaron Baddeley's stroke, Geoff Ogilvy's attitude, and Adam Scott's little black book.
—Jeff Neuman, neumanprose.com
My only Christmas wish would be to spend 5 minutes with the deceased Robert Trent Jones so I could ask him, "Why Did You Have Such Reckless Disregard For The Classic Era Architects When Renovating Their Courses?"
—Anthony Pioppi, anthonypioppi.com
I have been playing golf with the same thieves for a long time. We have gotten to know each other fairly well over the years and have gotten to know each other's game very well, and it seems that we keep taking and giving back that same $50 after each round. We have a hell of a lot of fun even though we are serious players. The one thing I would like to give them all for Christmas is a continuation of the great feeling of camaraderie that we have developed over the years. It means being able to laugh at your partner when he leaves it in the bunker or making fun of your opponent when he misses a 2-footer for the win. When you add up the scorecard and it's ugly, everyone can still enjoy a laugh or two and say they've had a great time. That's a great feeling.
—Dennis Silvers, dennisluvs2golf.com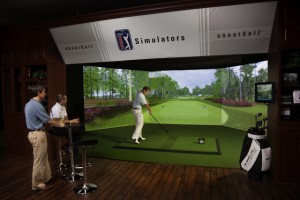 When it comes to golf technology, I'm somewhere between a traditionalist and a Luddite. On-course gadgets pulled out by playing companions tend to evince a cringe rather than a spark of curiosity, even as I recognize that GPS reconnaissance comes in handy when one's shot is, say, 150 yards off line. So it's in that sense odd that I'd choose as a gift one of the most elaborate, technologically sophisticated (and expensive) golf-specific contraptions extant: a simulator from aboutGolf. And since I expect such a gift would get plenty of play from friends and neighbors, I view it as a bequest to the community that just happens to occupy a third of my office. These simulators have many diagnostic and training applications, of course—I was fitted for a set of Henry-Griffitts irons using an aboutGolf model, for example. But even if you lack dedication to game improvement, the famous-course experience is dazzling, exceeded only by golf itself.
—Tom Harack, tomharack.com
The narrator in Nicholas Baker's novel The Fermata has the ability to stop time and drop into the "fold," or "fermata," a state of suspended animation through which only he can move. This holiday season I'm asking for any one of the many toggles he uses to trigger entrance into that timeless dimension. The narrator utilizes his gift primarily for sexual adventure (who wouldn't?); I will use mine to actually play golf. With two kids under the age of 2 this year I don't have the opportunity to write, much less travel and play golf (it took all day to scribble this out). In fact, if I could I'd give to all parents of young children the gift of time. It already takes far too long to play 18 holes and is nearly impossible to do with babies. So, toggle switches for all!
—Derek Duncan, the duncanlist.com