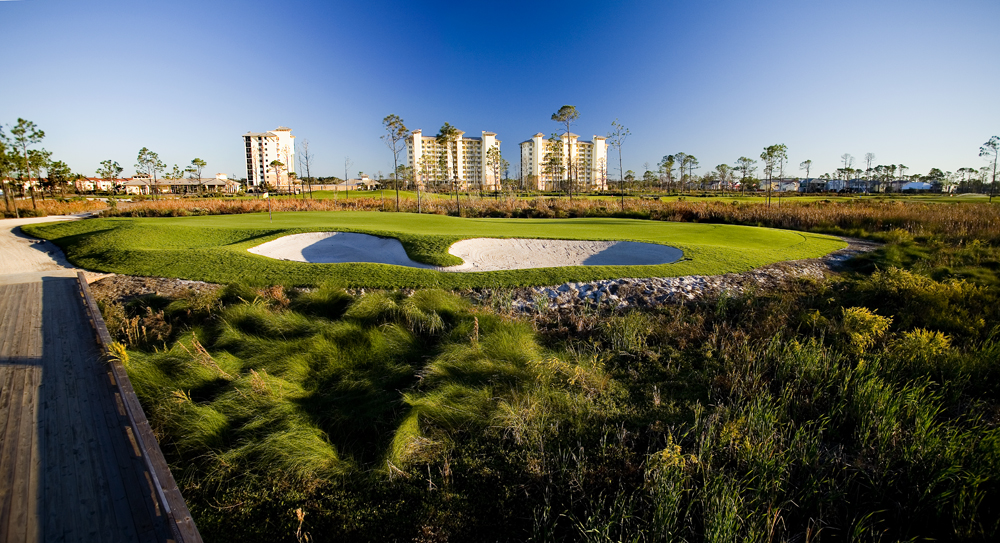 Hurricane Ivan cleared out most of the trees, and a good amount of ambiance, at Lost Key.
In 2004 Hurricane Ivan ravaged Lost Key, located on Perdido Key between Pensacola and Gulf Shores, and the damage necessitated a full renovation. The old incarnation was either feared or hated by most players because it was brutally tight and unforgiving, built over murky coastal wetlands with holes cut from a claustrophobic forest of sand pine and scrub oak (you know it might be challenging when the scorecard recommends 5-handicaps play from the 6300-yard tees). Hitting it crooked was not an option.
Lost in all the complaining was the fact that the course had a fantastic set of highly contoured green complexes set at angles over evocative cape-and-bay style bunkering.
The hurricane eviscerated most of the suffocating tree cover and the reconstruction did the same to the bunkers. To put it another way, they've been Palmerized.
Once smaller and more scaled to the intimacy of the holes, the refurbished bunkers–including new bunkers and "beach" bunkers that bleed into water and native sand–are engorged and stereotypically nebulous. The element of restraint and proportion has been sacrificed.
If anything was gained from the changes, and that's arguable, it might be a sense of continuity. Instead of taking a heart of darkness voyage through the trees, the entire site is now opened up, and while that does allow you to get a wider sense of the whole property it also means you can better see from just about everywhere the high-rise condos that were built post-Ivan. Perhaps not the ambiance trade-off one would wish.
While the holes are now much more exposed the omnipresent wetland barriers are no less forgiving and have to be directly breached at 9, 12, 15 and 18. At least there's no longer the feeling that balls are going to be knocked out of the air by branches, which was a possibility around the greens at holes like 10 and 11.
The only structural change is the new par-3 16th carved from the old par-5 16th (the new 17th is a par-4, the old 17th is gone), probably because the owners, WCI, wanted a "signature hole" to show off to the neighboring condos. Still, for all the criticisms the experience is memorable and I'd nominate this as one of Team Palmer's better overall efforts. Or it was, before Ivan blew through and gave them a reason to screw with it. (86)
Perdido Key/Pensacola
Architect: Arnold Palmer Design
Year: 1997/renovated in 2006