Ken Blust, a bartender when he's not off teaching school, pointed out the wall of refrigerated units behind the bar and said, "We have 110 different beers, including a whole door just for Michigan beers–about 40 from seven or so different breweries."
In my mind that makes The Sports Bar at Treetops the perfect place to wind down after a long day of golf. There's plenty of good beer, great pizza, or a more refined menu if so desired upstairs in the Hunter's Grill Restaurant.
It does call for more brain stretching in terms of beer choice strategy, although this was made a little easier for me with ten beers on tap. Blust said, "We have four staples–Bell's Oberon Ale, the ESB Amber from Saugatuck Brewery, Guinness and Coors Light–and six rotating taps."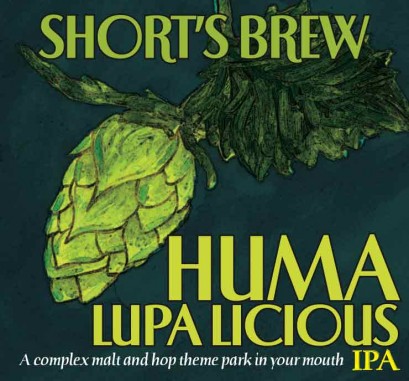 They could rotate the Coors right out of there as far as I'm concerned, but then I'm not selling scads of it to thirsty golfers. Since I like to drink local when I can—particularly on a Golf Road Warrior trip, I was just happy to see all the Michigan beers, along with other craft beers from around the country and some excellent imports.
The Huma Lupa Licious is from the Short's Brewing Company in Bellaire, which started up as a brewpub about an hour east of Gaylord in 2004. Though we weren't going to have a chance to visit it, the pub and brewery is most assuredly still there, dispensing about 20 different tap beers daily and operating a gourmet deli as well.
There's also a production brewery in Elk Rapids, about 40 minutes further east from Bellaire, where five year-round beers are bottled and various seasonals, like the Good Humans I later tried. As a winter beer, it was probably reaching the end of its shelf life. But, as an 8% ABV, Dry Hopped Double Brown Ale, it still had legs.
A pair of legs in shorts, looking a little like a reveler in a Breugel painting, serves as the tap handle (and logo) for the brewery. But it's all a takeoff on founder Joe Short's name, and the man clearly has brewing chops. The Huma Lupa Licious was pretty much as advertised, a strong IPA loaded with hops, and delicious. From the tap the aroma and flavor are like hops barely out of the harvester, piney and fruity, nearly overpowering a hearty malt backbone. Not that I'm complaining, mind you.
My only complaint was being unable to try some of the other wild-sounding concoctions Mr. Short has come up with: a Key Lime Pie Golden Ale, a Black Chai Cream Ale, a Chocolate Wheat beer or the double red Aorta Ale.
The Golf Road Warriors ordered up a few pizzas and were joined by Treetops director of golf Kevin McKinley, who regaled us with some of the history of the resort (see my earlier post with some of this material here).
That gave me time to try the Good Humans, and it unquestionably made me into a better person.
Name: Huma Lupa Licious
Brewer: Short's Brewing Co., Bellaire and Elk Rapids, Michigan
Style: IPA
ABV: 6.8%
Availability: Michigan
For More Information: www.shortsbrewing.com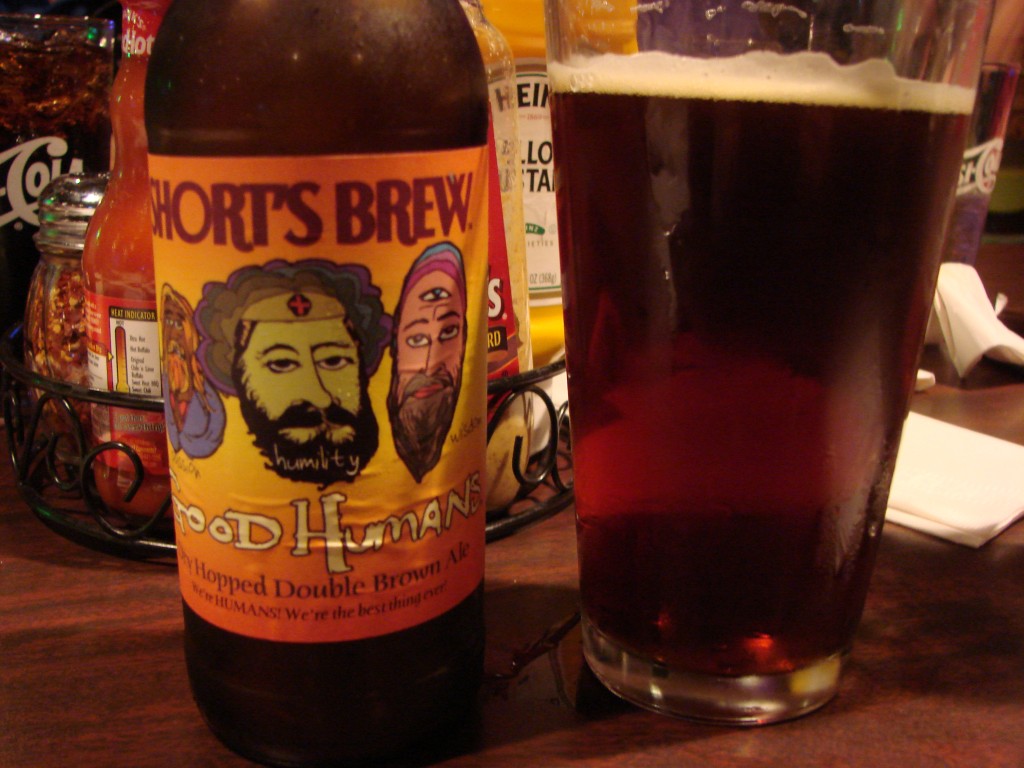 Previous: Premier Time (and Space)