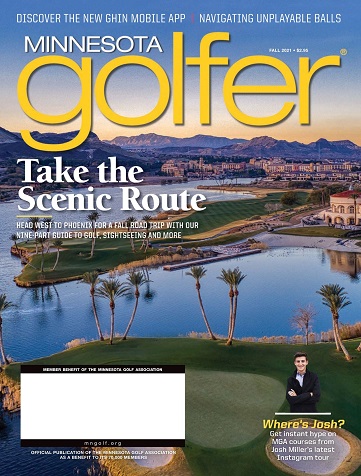 [This piece first appeared, in slightly different form, in the Fall 2021 issue of Minnesota Golfer magazine. It managed to win a 2022 Outstanding Achiever award from the International Network of Golf in the Travel category. Which is nice.]
Sure, you snowbirds can replace your masks, hop on a plane and be at your winter headquarters in or near Phoenix in hours. But why not line up some tee times, pack the sticks into the wagon train, leave the mask off while driving, and take a more leisurely, golf-laden journey?
We've mapped out a route that let's you smell the roses, a blend of interstates and prettier scenic routes, trying to keep any day's driving to five hours or under, leaving time for a round and maybe some sights before hitting the pillow. There's also a fork in the road, and the good news is that you can take it (well, one tine going, one coming).
MN to SD:
Assuming you're leaving from somewhere near Minneapolis your first stop is a mere four hours distant, west on Route 212, stepping your way down to scenic Route 23 through Marshall (pondering a stop at the Pipestone National Monument), polishing off your last leg on I-90.
First road trip tee time is at Prairie Green Golf Club in Sioux Falls, a Dick Nugent design, one of the best bargains on the trip. Loaded with sprawling bunkers, wetlands and suitably waving prairie grasses, the course is approachable with a 125 slope even from the 6,667-yard Championship tees. An excellent warm-up round.
Head directly into town to see why Sioux Falls is named Sioux Falls, and wander around SculptureWalk, one of the largest collections of public sculptures you'll find anywhere.
SD to NE:
Golf in the Cornhusker State is worth hitting up on both ends of your trip. South from Sioux Falls, find Highway 12 in Nebraska, named the state's Outlaw Trail Scenic Byway thanks to Doc Middleton, an old horse thief. You'll pass over the Niobrara River more than once, creating a plethora of waterfalls worth investigating—notably the Stair Step Falls, part of the Nature Conservancy's Niobrara Valley Preserve.
Valentine, about 4.5 hours from Sioux Falls, is where you'll bunk in at The Prairie Club, a Great Plains can't-miss golf oasis, a private club and resort. Stay long enough to take advantage of the Tom Lehman (and Chris Brands)-designed Dunes Course and the Graham Marsh-designed Pines Course. And the Gil Hanse and Geoff Shackleford-designed ten-hole free-form Horse Course. And the Chris Brands-designed Old Wagon Putting Course. It's not cheap, but think Bandon Dunes without the Pacific Ocean and you get the drift.
Valentine to Gothenburg, NE:
If your club has decent reciprocals, by all means try to get on the private Sand Hills in Mullen. It was that minimalist links-style course that in 1995 put the state on traveling golfers' radar.
Soon set sail for Wild Horse Golf Club in Gothenburg, taking Route 2 past the Nebraska National Forest to Broken Bow and thence to the course, about three hours. Course designers Dave Axland and Dan Proctor learned their lessons well when helping designers Bill Coore and Ben Crenshaw construct Sand Hills. In a flat panorama, with its sense of breadth, vast sky and benign nothingness, with old style windmills in the infinite horizon and cattle skulls as tee markers, an utterly enjoyable round of golf awaits.
>>> Decision Point Interlude <<<
Now: continue on a northern southwest route, through Utah, or a southern southwest route through Colorado and New Mexico? We'll use the latter for now, but you can take the other reversed when homeward bound.
NE to CO:
Use interstates for the five-hour plus trip to Colorado Springs, stopping in Denver at the Wynkoop Brewing Co., which helped kick-start the craft brewing movement in Colorado, not to mention the political career of John Hickenlooper, first Denver's mayor, then a Presidential candidate, and now a U.S. Senator.
Have the kids along? Take a free half-hour tour of the Hammond's Candies factory, where sweet stuff has been manufactured for just shy of 100 years.
Go high-end sweet in Colorado Springs at The Broadmoor, which has surpassed a century of existence. Contemplate a stay of a couple days to get in rounds at both the East and West courses, blends of work by Donald Ross and Robert Trent Jones, Sr. The East will add to a hefty list of hosted tournaments with the U.S. Senior Open in 2025.
CO to NM:
Tackling three of New Mexico's top courses in New Mexico begins about 4:30 from The Broadmoor. South of Raton in New Mexico, take Route 64, part of what is called the Enchanted Circle Driving Tour, toward Taos. Ponder a wander in the charming town of Eagle Nest (and what the heck, a quick pint at the Comanche Creek Brewing Co.). Time for one sight in Taos? Make it the Taos Pueblo, a Native American Community that has been around 100 years times ten.
In Española, settle in for the pleasures of the Black Mesa Golf Club, a Baxter Spann design from 2003 which seems timeless, and about as close as a course can be to links-style when it's located in the valley of the Sangre de Cristo and Jemez Mountain ranges.
A mere 90 minutes away, near Albuquerque, is the top-rated Paako Ridge Golf Club, a Ken Dye design on the east side of the Sandia Mountains so appealing they added an extra nine holes. Renovations of all 1-18 tee boxes is just completed and 19-27 should be finished around November 22. Your first right move here is pick the correct tee; the slope rating for men can range from 129 to 148.
It's a straight shot, about 3:40, to Las Cruces, though a stop at the 230,000-acre Sevillita National Wildlife Refuge is worth a slight detour. The Visitor Center is closed, but trails are open to those hoping to catch sight of pronghorn antelopes, mule deer or some 80 other mammal species, not to mention 250 bird species.
Birdies may be tough to come by at the Red Hawk Golf Club, but it's clear that Ken Dye has done it again, a high desert course of beauty and challenge, at the foothills of the Organ Mountains.
NM to AZ:
Last stop before Phoenix is four hours away in Tucson, the first Tom Fazio courses on the trip. Plural, as the master of look-hard-play-easy (some say) has created the Mountain and Canyon courses at The Lodge at Ventana Canyon. The par-three third hole on the Mountain Course may be the most photographed hole in the west, with good reason: an uphill poke over rocks surrounded by a veritable cathedral of cacti.
The resort might repay one last stay and play, especially with a package now being offered with wellness maven Canyon Ranch.
Homeward Bound
AZ to NV:
When spring beckons and you've had your fill of PHX's golfing splendors, detour north to Las Vegas, because, well, Vegas, and its limitless lures. Rather than take out a second mortgage to play Shadow Creek, pull up in Henderson for a round at Reflection Bay Golf Club, the only Nicklaus Signature design in the state. Playing stunningly along Lake Las Vegas, the course was frequently the home of the late (if not overly lamented) Wendy's 3-Tour Challenge.
NV to UT:
Okay, so we really only went to Las Vegas so we can then zoom in under two hours toward St. George, Utah, for its hiking, biking and Zion National Park canyoneering possibilities. But also because it's loaded with wonderful golf—Sand Hollow, The Ledges and Entrada at Sand Canyon to name a few. (David McLay Kidd's ten-month and $7 million renovation at Entrada should be completed later this year or early 2022.)
But if you haven't quite gotten Vegas out of your system and want to hazard putting your amateur status in jeopardy, there's a nine-hole Skins tournament every Wednesday at Copper Rock in Hurricane with $500 and side bets on the line.
UT to CO:
Even on the interstate it's a hefty five-hour plus trip back through Colorado to Grand Junction, but it's a pretty drive, especially on I-70 through Fishlake National Forest. More National Park wonder awaits at the Colorado National Monument, including the stunning 23-mile Rim Rock Drive. The Monument even serves as a backdrop for your golf drives, at Jim Engh's boisterous design at Redlands Mesa.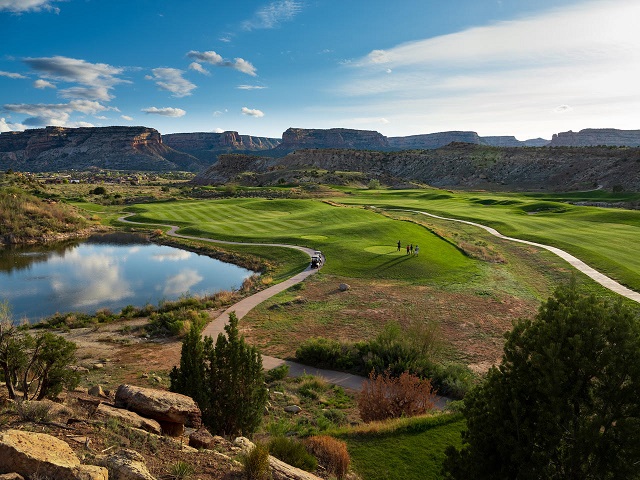 After one more stop in Denver, it's time to retrace your miles through Nebraska and play the courses you missed—or play them again—before heading home.
But let's put a cherry on top of that Denver stop—a round at the Commonground Golf Course in Aurora, a Tom Doak design for (and the home of) the Colorado Golf Association. The course slogan is, "Located at the intersection of Mission and Masterpiece," and while few would rate the course among Doak's finest, it certainly fulfills the mission of fun, including a nine-hole short course aimed at younger golfers.
After many a mile and not a few rounds, we may be somewhat older golfers after our great exodus and return. But just think—that in about six months we could start plotting a new route—or do it all over again.