You can't be everywhere at once, and since I'm heading to Georgia to catch the end of the McGladrey Classic and play a few rounds at Sea Island, I'm forced to miss what would normally be a no-brainer for me—a beer festival held at a world-class golf destination.
Though the main action is really tomorrow, the fifth annual Baytowne Wharf Beer Fest opens this evening (6 p.m.) at the Sandestin Golf and Beach Resort, with the session that most intrigues me, "Beers From Around Here." Since "here" is Destin, on Florida's Emerald Coast stretching along the Gulf of Mexico, I don't normally get to try the offerings from the Grayton Beer Company, the Pensacola Bay Brewery, Lazy Magnolia (Mississippi's first brewery) and the like.
True, I may get to try some of the offerings of Red Brick Brewing of Atlanta when I'm in Georgia. But if I were at the Baytowne fest I probably would have tried to hunt down their Brick Mason Vanilla Gorilla, a smoked porter. (If anyone finds it, let me know how it goes down.)
Visitors will be able to hunt down and try upwards of 200 craft beers and imports during Saturday's tasting, from 2-6 p.m., though as always, quality is recommended over quantity. Many of the recognized stars of the U.S. brewing world will be pouring—Bell's, Anchor, Abita, Dogfish Head, Rogue, Terrapin, Sweetwater, Sierra Nevada and Stone Brewing, to name but a few.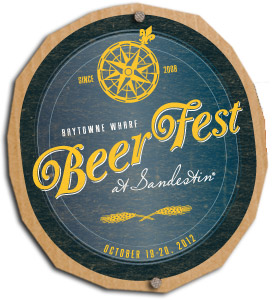 Imports from Samuel Smith, Young's and Ayinger round out a tasty portfolio. And the uninitiated can take a minor pilgrimage by trying Belgian ales made by Trappist monks from Chimay, Orval and Westmalle.
Since the tasting doesn't get rolling until 2 p.m. and the resort abounds with stay-and-play packages, I probably would have been trying to figure out how many holes to sneak in before lifting the first sip. There are plenty to choose from, since there are four courses at the resort.
Ideally—and I'm frankly thinking about next year, now—I could cover them all in a weekend and squeeze in the festival, too. Not too sure how steady the putting stroke would be on Sunday morning. But I'm willing to put it to the test.
For more information on events and to purchase tickets visit www.baytownebeerfestival.com.