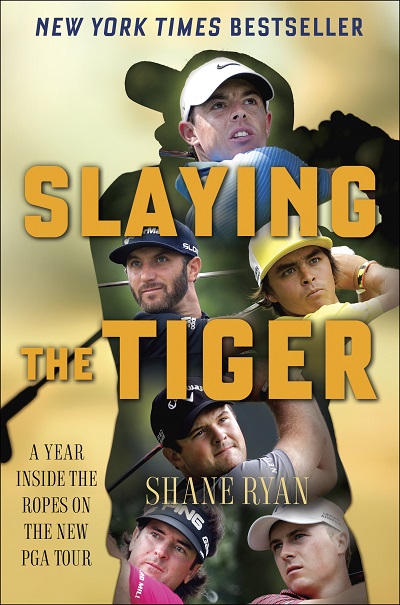 It's a minor annoyance to me when traveling to distant courses that few of the hosts seem to know what kind of trees we're playing alongside of (or into). Once past coniferous or deciduous I don't know what I'm looking at or bouncing balls off of, but I'd like to.
So to give credit where it's due, Shane Ryan really knows his trees. One of the many virtues of his Slaying the Tiger: A Year Inside the Ropes on the New PGA Tour (Ballantine Books, $29) is a painterly use of arboreal description to set his scenes.
And scenes are what we have here in his report of chasing Tour players around for an entire season, adding up to a compellingly readable narrative of the stars most of us know only from television or golf magazines, and then usually in a hagiographic way.
Ryan takes a no-holds-barred approach. He strips away the veneer that often clings to players in an age when agents keep the media at arm's length. He even beards the agents, such as Sam MacNaughton, so stingy in giving away time to talk to players like Rickie Fowler that the press calls him "Dr. No."
Along the way Ryan characterizes Bubba Watson as a religious hypocrite "and a prickly narcissist." Keegan Bradley is a player who "catalogs insults" and "uses his resentment as fuel." Even Jordan Spieth, in 2014, is observed having petulant meltdowns.
Most of the portraits are even-handed and admiring, of players like Rory McIlroy, Jason Day, Martin Kaymer, Adam Scott, Matt Every, and Ryan has clearly dug deep for some of his revelations.
The book really catches fire with incendiary material about the mysterious Frenchman Victor Dubuisson, the combative Patrick Reed (in a chapter called "The Villain"), and more dirty linen surrounding the troubled (for the U.S. team, anyway) 2014 Ryder Cup.
Some of the Reed material—going back to his college days and accusations of cheating—made its way onto the internet before the book's publication. Threats of lawsuits quickly followed but, interestingly enough, seem to have died away even while the accusations have not.
That the 2014 season fulfilled the book's premise perfectly—new young stars like Spieth, Day, Dustin Johnson, and particularly McIlroy taking the stage as a fading Tiger Woods drifts to the wings—was great good luck for Ryan. Lest it sound like he's merely pushing nouns against adverbs to blow things up, rest assured that the book is loaded with good humor, an abundance of terrific behind-the-curtains anecdotes, and suitable momentum.
With his less-than-laudable comments about Augusta National and the Masters Ryan has also probably insured he will never receive credentials to the event again. But readers are the richer for his audacity. Especially those who like trees.
* * *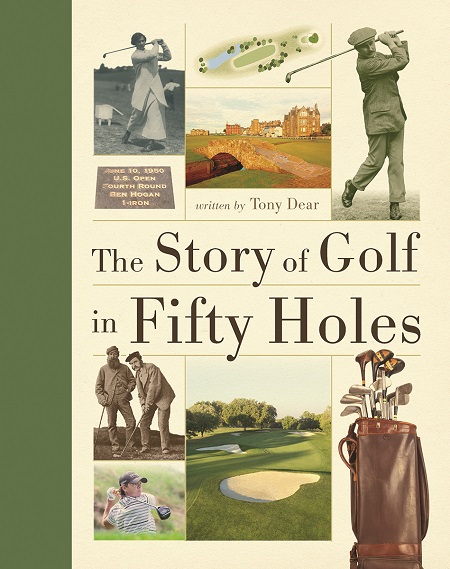 Tony Dear's The Story of Golf in Fifty Holes (Firefly Books, $29.95) shows how a book with almost no narrative momentum can still be a good read. The trick is to take it in smaller doses, so packed as it is with a profusion of detail.
Dear has run with a notion that 600 years of golf history can be packed into the description of fifty specific golf holes. Consequently, he starts with the 11th hole at the Old Course in St. Andrews, where golf purportedly began over 600 years ago, and ends with a handful of more modern tracks.
The chronology is straightforward, and therefore a thread of architectural history can be discerned. More often certain holes are used as a springboard to consider the careers of some designers—Charles Blair McDonald via the 15th (Redan) hole at North Berwick, or Donald Ross via the 17th at Pinehurst No. 2.
Many of the events that really put the holes on the golfing map—dramatic competitive ones—are random in a calendar sense. So what we basically have is a series of fifty articles looking at the holes from a variety of angles, most at least two pages long but some as many as six (the 18th at Turnberry's Ailsa Course, for example) or eight (the 15th at Augusta National) or ten (the 13th at Pine Valley).
It must have been a devil of a thing to write, but caps off to Dear for making each entry so diverting. There's a template including the year the hole was created, the original course designer (in St. Andrews' case, "The Good Lord"), subsequent alterations, a hole diagram and its vital statistics. There are various callouts with telling quotes, ample illustrations, and the essential thing, or things, that make the hole so special.
There's the 1st at Cherry Hills, which the 30-year-old Arnold Palmer drove (340 yards) in the fourth round of the 1960 U.S. Open; the 15th at Augusta, when Gene Sarazen hit his Shot Heard Round the World—a double eagle at the 1935 Masters; the island green 17th at TPC Sawgrass; the 10th at Colonial in Fort Worth, where Annika Sörenstram first teed it up with the men at a 2003 PGA Tour event, or the 18th at Royal Birkdale, where Jack Nicklaus famously conceded a putt to Tony Jacklin in the 1969 Ryder Cup.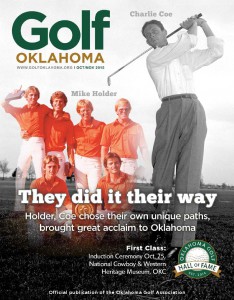 In an introduction Dear rightly acknowledges that his selection of the fifty holes is, "…a personal, albeit carefully considered list…," that will naturally exercise some over what he included or those holes he left out. But he then opens the floor for genial debate at any 19th hole that happens to be on hand. A wise move, since in the history of golf, that's always been a part of the fun.
This piece originally appeared in the October-November 2015 issue of Golf Oklahoma magazine, in slightly different form.