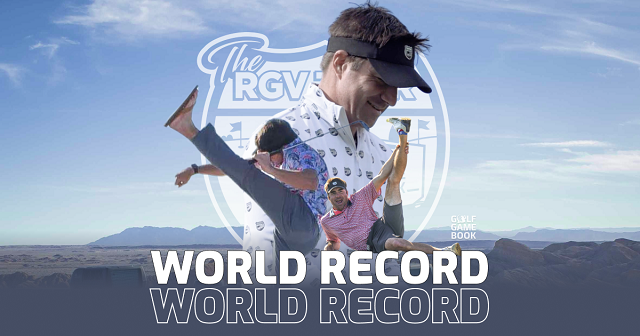 By George, he's done it. On Tuesday, October 17, Patrick Koenig played his 450th round since January 3 of this year, all at different golf courses, to set the world record for that achievement: the most 18-hole golf courses played in one year.
According to one of Koenig's sponsors, the apparel and lifestyle company, RSVLTS (rose-uh-velts), and its Breakfast Balls golf apparel brand, the previous world record of 449 was held by Cathie and Jonathan Weaver for more than 14 years, which they achieved on March 31, 2009.
No word yet from the Weavers about ceding the crown. But when Koenig dropped his final putt Tuesday at The Golf Club at Omni Interlocken Hotel in Broomfield, he was pelted with a volley of water balloons from supporters, just as he was when he hit the opening tee shot of the RGV Tour 2.0 in early January.
I have plenty of background on Koenig and his mind-boggling endeavor in a piece I wrote for The First Call (available here: Playing 500 courses in a year? No problem … so far), because I had the pleasure of playing with Patrick in early August, when he rolled into the home course, the Brattleboro Country Club, for round #348.
I left myself out of the piece, even though I shot an 88 for the day, splendid for the level of my game this year. It was an on again off again rainy day, but we soldiered on, as Koenig has done throughout his marathon (as I note in the piece, at one point he played through 22 straight days of rain).
BCC director of golf Mike Zaranek joined in for a number of holes, and we all dried out in the RGV later, the "recreational golf vehicle" supplied by Koenig's main sponsor, Golf GameBook. (He's also been wearing shoes from ECCO Golf, and using a remote-control golf trolley he calls Stewie from Stewart Golf.
Later we went drove out to a few holes so Koenig could get out his camera and drone, taking some splendid shots of the course, which he later characterized as, "… one of The RGV Tour's favorite stops on the east coast."
Then he revved up the RGV and motored on, gradually heading west and racking up more rounds. Still in Colorado yesterday, he finished round #455. He's setting a new world record every day now, still shooting for 500 before it all wraps up on January 2 at Chambers Bay in Washington state.
Only 45 to go.
[October 21, 2023]