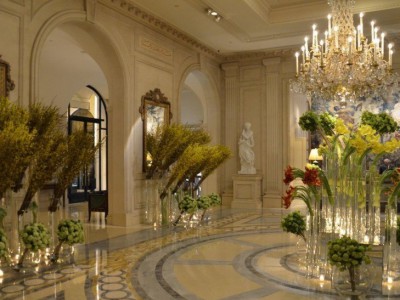 The Academy of Motion Picture Arts and Sciences presents the Oscar for film categories such as direction, cinematography, casting and special effects. If there isn't an Academy Award for settings, there should be. Sometimes the location and scenery are the real stars on a reel of film.
While Kevin Costner was watchable as an aging spy in the sometimes awkward, unrealistic "3 Days to Kill," I couldn't help but wonder if he took the role, at least in part, because the movie was shot in and throughout Paris. Costner, who appears to live in the colorful old Montmartre area of the city, both dogs and dodges the bad guys while riding a purple bicycle – meant to be a gift to rekindle his strained relationship with his teenaged daughter. He belatedly teaches her to ride the bike on the terraced stairway leading to the towering, ornate Sacre Coeur – its' white, Byzantine domes surrounded by fanciful architecture including frightening gargoyles peering and sneering at Paris below from the highest point in the city.
Costner himself pedals along the esplanade du Trocadero, which provides perhaps the best photo spot for tourists to capture a backdrop of the Eiffel Tower, and then, on an evening alone, pauses to reflect on the Pont de Alma – a bridge across the Seine River – just in time for the tower to shimmer during its' glimmering hourly electric light display.
Without the bike, Costner is nearly done in a subterranean Paris Metro station, a place almost every visitor experiences without any danger at all. His enemies have exquisite taste, as evidenced by their stay at the Four Seasons George V. Desperately underdressed, Costner glides under the gilded entrance and through the elegant, flower-filled lobby of the hotel many consider to be the world's finest. "We rarely host movie shoots because they are hard to accommodate without disturbing hotel guests, but it was exciting to host a few scenes," says Caroline Mennetrier, senior director of public relations for the lovely, subtle and quiet cradle of comfort and cuisine just off the Champs Elysees. "The hotel hosts a lot of high-powered businesspeople, heads of state, sheiks, and fashion designers," says Larry Olmsted, an American who writes for USA Today.
"And the flowers in the lobby have become so elaborate that people have added the George V as one of their sights in Paris to see and take pictures of themselves with the flowers."
For other Parisian Hollywood screen experiences, try Woody Allen's film "Midnight in Paris," which opens with a three-minute montage of Paris scenes and attractions; or the award-winning "Amelie," starring an impish Audrey Tautou. For an animated treat, Disney's "Ratatouille" is a cute, if clichéd charmer.
Michigan-based travel writer Michael Patrick Shiels may be contacted at InviteYourself@aol.com or via www.TravelTattler.com His morning show is heard weekday mornings in Lansing on 92.1 FM.