I don't have much in common with World Welterweight boxing contender Kell Brook but I can claim to share his personal trainer.The English boxer, known as "The Special One", has hired Sheffield Hallam University's Dave Hembrough as his strength and conditioning coach as he prepares for his IBF title fight against defending champion Devon Alexander in Detroit on February 23.
Brook, pictured here, is unbeaten in 29 fights and that includes 19 knock outs so he's no mug. He's not taking any chances though in his maiden title tilt so he has hired the best team possible, including Hembrough, who is putting him through his paces. Brook is on fillet steak for breakfast and is champing at the bit to get into the ring now he has recovered from the ankle injury that led to the bout's postponement this month.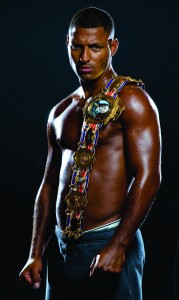 I have less lofty ambitions; all I want to do is to get down to single figures for the first time in my life after playing golf for more than 30 years and counting.  This account is part of my series in attempting to achieve that goal, which can be found under the heading #getunder10. My personal story is good reading for anybody wishing to improve their golf scores and get more personal satisfaction from their game.
My recent posts concerned a little practice at the range but that came to an end due to heavy snow. I have not stood still however, I've enlisted Hembrough to encourage me with an essential fitness regime to get stronger, fitter and lose weight. He is a very experienced and dedicated coach and I'm very lucky that he took time to talk to me. I don't exactly fit the elite Welterweight Championship category being more than 13 stones and aged 60.
Hembrough is experienced enough to realise what he is taking on but even for a man of my age he was both inspiring and challenging. He said there was no reason why I should not be able to get fitter and more flexible as long as I put in the effort.
He has designed a twin track High Intensity Interval Training programme for me and I started yesterday. This will run alongside a stretching programme to assist balance and flexibility – two important components of the golf swing.
Everybody needs to be certain of their health limitations before embarking on an exercise programme, so if you are uncertain, consult your doctor. But for me I'm doing the following. Programme One: Three minutes warm up on a cross trainer to be continued by 90 seconds hard work, 60 seconds rest. This is repeated six times, so including warm up I'm on the cross trainer for 18 minutes. I'm told I have to work at a pace that feels "uncomfortable" and that I have to "get comfortable with feeling uncomfortable." I am recording the work-out data and aiming for constant progression.
Programme Two:  Three minutes warm up followed by four minutes hard work and three minutes rest, repeated three or four times. Following Hembrough's advice I am having photographs of myself standing in differing orientations taken every two weeks so I can see my body shape change and give me encouragement to carry on. This is only a start – there will be more to come. I am already feeling better having lost a stone on a low carb diet.
I will be recording the sessions aiming for progression.
In addition have have been told to stock up on supplements –  probiotics, vitamin D, omega 3- rich fish oil and ZMA.