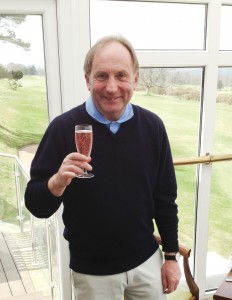 It's worked already! A winter of preparation and hard work on a strategy to get my handicap down to single figures has paid off. I carded a 69 in the first handicap qualifier of the season yesterday and my handicap has tumbled from 9.6 to 9.0 meaning I have achieved a lifetime ambition before I could even blink.
The plan for the first competitive match was to take it steady and aim for the buffer zone. Having dropped 7 shots on the first 9 (which isn't too bad at my course, Hallamshire, in Sheffield) I felt that I could hit that target if I kept up the concentration.
A birdie on the 12th made me think that in fact I might actually break par and crack the magic number. This was followed by par, birdie, par and all of a sudden the pressure was on.
In previous rounds I would have folded. But after a winter of preparation I felt in better control. Nerves showed however with a double bogey on 16 and a bogey of 17 leaving me needing a par on the last to break par by one shot and come down to 9.4.
A good drive found a fairway bunker but I knew I could get out and put myself in range to reach the green in three on this final par 5.  An 8 iron out of the trap found the fairway and sure enough a rescue club found the green leaving a five foot putt. In it went and I had done it. With CSS one above our par of 71 I'd achieved single figures with shots to spare.
I'm sure you are not too bothered about that but what lessons are there here that can help your game?
I think you need to work on a combination of improved technique, better course management, enhanced fitness –  and in particular – a much stronger understanding of how you can control your emotions.
For me the psychology has been the key. I have learned how to calm myself down when things get tense and how to deal with over-ambitious expectations. Several of my friends could learn a lot from this. My understanding of my own feelings and emotions has developed  through reading a mind management book called The Chimp Paradox, by Dr Steve Peters. I can't stress how important this has been.  The book is not really about golf but read it and you will see it can improve your game. I'm going to talk about this in more detail in a later blog. For now though, it's back to the Champagne!
You can read the entire strategy of how I reached my goal at the first time of asking under #getunder10 on my website.