It's easy to understand why Turnberry is such an iconic golf resort and high on the wish list of any golfer from anywhere in the world…
Home to four Open Championships, loved by the greatest players and celebrities, it is one of those places you simply have to play.
And when my first opportunity came the other week, after 35 years playing golf, it proved irresistible despite having to drive for six hours to get there in the middle of a very wet Autumn.
I must admit to feeling sorry for myself as I took the long drive north from England to Scotland knowing that I could have flown to  New York in about the same time.
By road, Turnberry is about as isolated as you can get from the rest of the UK. But it is easily reached from Glasgow if you are able to get a connection to Prestwick Airport, which makes it such an attractive proposition to American visitors flying into Europe.
Turnberry itself is a small seaside village tucked on the Ayrshire coast in Western Scotland. Apart from its beautiful setting and the golf, there would be little reason to visit the village.
But its shoreline seemed perfect for golf, and worked started on the construction of the famous Ailsa course shortly after the club was officially formed in 1902. It wasn't long before a hotel was built, served by a newly constructed railway line. A second championship standard golf course was added in 1912.
The famous hotel, which stands on a hillside overlooking the course, is now a Westin Turnberry Resort offering visitors a choice of rooms in the fine hotel building itself, or the lodges at the bottom of the hill.
If you are lucky enough to arrive at Turnberry when the sun is shining your spirits will be lifted from the top of the hill where the road begins its descent into the resort. From here you will catch your first glimpse of the dome-shaped island of Ailsa Craig, out in the Firth of Clyde, and the famous Turnberry Lighthouse on the coast close to Turnberry Point.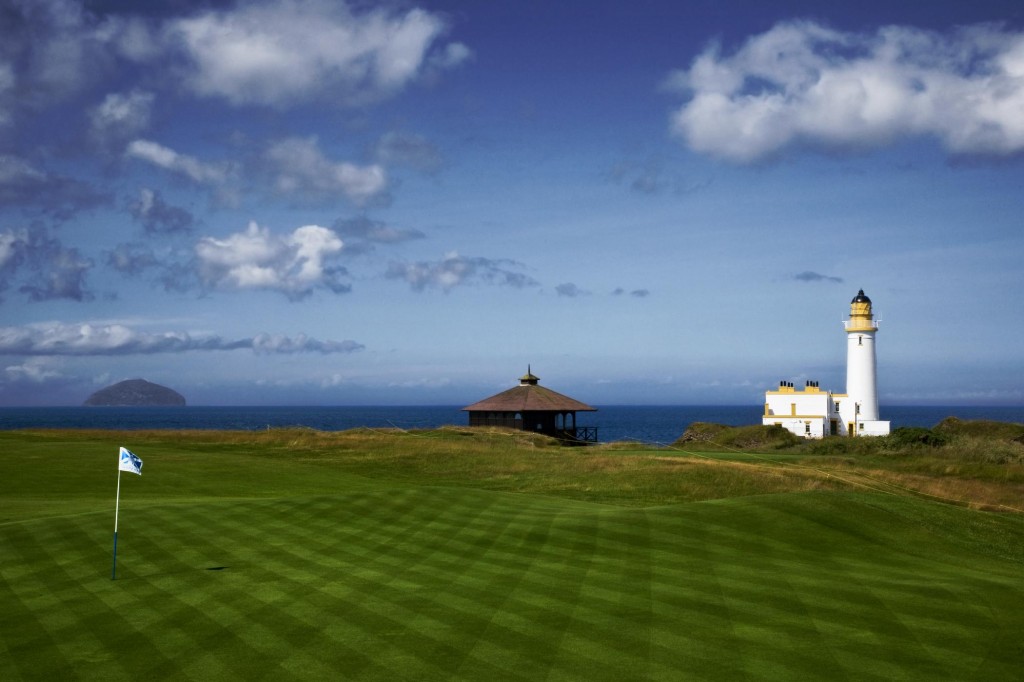 The iconic hotel looks magnificent but I must confess to being a little disappointed. I enjoyed a first rate full Scottish breakfast with attentive service, yet felt underwhelmed by the service in other areas and the quality of the bar food which was very disappointing. A little complacency perhaps, or just a bad day?
the glorious Ailsa course at Turnberry