It's pretty much a given that if a player wins a a major and is committed to play the following week, he'll withdraw by Sunday night from the next tournament. Not so for Webb Simpson and 29 other pros, who boarded the private jet provided by the Travelers Championship  (see item below) and were in Connecticut by Monday afternoon. The new U.S. Open champion played in Wednesday's pro-am and s slated for a 12:55 tee time for Thursday. Also on Wednesday, Simpson also spent a good 20 minutes answering questions from the media with a relaxed and friendly demeanor.
When I see a first-time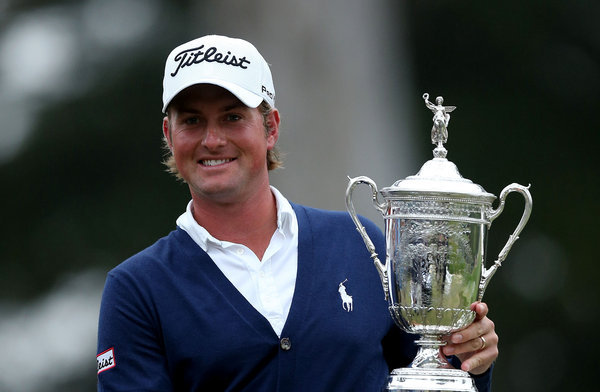 major winner, like Simpson, I wonder if he'll become one of those guys who has just a single moment of glory or becomes one of the better players of his generation. There was so many compliments thrown at Lucas Glover after he won the U.S. Open in 2009 and Trevor Immelman after he captured the 2008 Masters and neither of them has done anything since.
It seems that in order to build on the success of winning a major, a player needs to avoid "distractions and commitments." I asked Simpson if he is worried about those stumbling blocks.
"It is a concern, but a good concern. I experienced a little bit of it when I won for the first time. You know, the extra attention in the media was new to me, but I'm a guy that has a great team around him to kind of coach me and help me through the challenges that come with winning a major," he said but added that he knows it will not be easy to stay focused. "I'm a people pleaser so I'm going to have to get used to saying no. I think it's just a matter of me trying to continue to focus on the main thing and try to continue what I do on a daily basis and not try to ignore it but embrace it."
Simpson already appears to be handing the  situation. He turned down invitations to appear on various late night television programs because of a commitment he made months ago to a sponsor.  Simpson is also  skipping the Open Championship to be with his wife for the birth of their second child.
"I'm a guy who loves my family, and we're probably only going to have a couple more babies, so I have the rest of my life to play in the British Open. I don't want to miss the birth of the second child. So it's an easy decision."
XXXXXXXXXXXXXXXXXXXXXXX
For many years the various incarnation of the Travelers Championship, was at second-level event that had a difficult time pulling in marquee players. It didn't help that on many occasions the event was scheduled the week after the Open Championship. Even in its heyday of 1992-1995 when Lanny Wadkins, Nick Price, David Frost and Greg Norman won consecutively, the tournament, then known as the Greater Hartford Open or Canon Greater Hartford Open, was never on the top tier.
Since Travelers has become the sponsor, the tournament has taken big steps up. First, the company invested millions into TPC River Highlands to build a 22-acre practice area, now considered on of the best on tour. Prior to the improvement, the range and practice greens were substandard.
With Travelers deep pockets the tournament made it easier for a number of players to get to Cromwell, Conn., from San Francisco, Calif., where the U.S. Open was just held. The Monday after the tournament a jet with 30 players and 50 other passengers (caddies, family members, etc.) flew from the West Coast to the Connecticut with no one charged a dime for the flight. As a result, the field is the strongest its ever been. The reigning title holders of the last three majors are here and, for TV, are paired together.
Teeing off at 12:55 p.m. on Thursday and 7:45 a.m. on Friday are Webb Simpson (U.S. Open), Bubba Watson (The Masters) and Keegan Bradley (PGA Championship.) Simpson and Watson were teamed up in the last Presidents Cup.
On the other side of the tee sheet and starting off off at the opposite times of that group (7:45 a.m. on Thursday) are three victors of the Open Championship, Louis Oosthuizen (2010), Padraig Harrington (2007-08) and Justin Leonard (1997).
The Simpson-Bradley pairing could be entertaining. Simpson has it out for Bradley's sidekick on the course who Simpson asserts is the guy who pulled a prank on him prior to the fourth round of the U.S. Open.
"I think it was his caddy Pepsi who put bananas in my shoes Sunday, and it was a brand new pair of shoes. And I washed them and the smell is still in there. So I'm going to get him back with something. I don't know what I'm going to do but I'm going to get him back," Simpson said.
Other big names in the field include Ian Poulter, Matt Kuchar and Hunter Mahan who won the event in 2007. Other major winners in the field are Angel Cabrera, Zach Johnson, Lucas Glover and Vijay Singh. Patrick Cantlay, who set a PGA Tournament record here last year shooting a 10-under-par 60, the lowest round ever recorded by an amateur at a PGA Tour event,  turned pro this week and is in the field.