According to a story in the Scottish Sun newspaper, Graeme McDowell, the 2010 U.S. Open winner, says players are avoiding the Scottish Open at Castle Stuart Golf Links the week before the Open Championship because the course is too easy.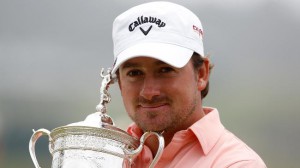 "I feel bad singling out the Scottish Open, because I used to love it at Loch Lomond. It was a phenomenal tournament. Taking it to Castle Stuart was designed to get it on a links course the week before The Open and it's a beautiful venue — but it is probably a little too wide open off the tee and a little one-dimensional," the paper quotes McDowell as saying.
According to the story, which you can read by clicking here, he is looking forward to the tournament moving to Royal Aberdeen next year.
"I've heard great things about it and it could re-light the event."
Castle Stuart, located in northern Scotland just outside of Inverness, is a Gil Hanse design. Golf Magazine ranks in the 53rd best course in the world.
Recreational golfers I have talked with who have played the course, have much the same assessment as McDowell. They enjoy the layout because the fairways are very, very wide and some have used the word "easy" to describe it.