It's rare that you ever hear golf announcer talk about architecture during a broadcast, other than the occasional mention that Jack Nicklaus, Arnold Palmer or Donald Ross designed the layout.
For instance, during last week's broad of the Champions Tour Senior Players Championship, the Golf Channel Senior Tour announcers seemed, at best, perplexed by Fox Chapel Golf Club design and, at worst, completely uneducated about the architect Seth Raynor and his work, not just at Fox Chapel.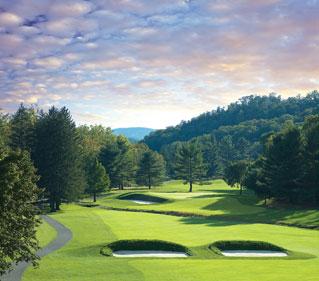 Cut to this week's broadcast of the PGA Tour's Greenbrier Classic being played at TPC Old White Course at the Greenbrier Resort in White Sulpher Springs, W.V., another Raynor design. The Golf Channel/CBS team was much more versed in Raynor and his style with Peter Kostis leading the way. Kostis also levied legitimate criticism at the younger generation on Tour.
I'm not sure I've ever heard a better architecture discussion on an American television network. I was amazed and the breath and depth of the talk.
"I love these old style golf courses. They bring out what is the essence of the game, I think. You know,  shot values, shaping of shots, strategy," Kostis said.
Later he added,  "I just think some of these old golf courses require you to hit different shots that the modern player is not used to playing week in and week out. They love the look of the golf courses, but I'm not sure they quite get the essence on how to play them."
Kostis was on a roll and he kept going.
"The old golf courses, like Merion, the style of the Raynor golf courses, the C.B. Macdonalds, the Donald Rosses, they just, I don't know, they want you to try and think your way around and not just bash the ball."
Then Bob Papa pointed out, "We saw Tom Watson with an even-par-round today. He played in the Senior Players Championship last week, another Seth Raynor design, Fox Chapel."
Way to go, Bob. Really good, especially considering he is the new guy on the announcing block.
"Exactly. So did Kenny Perry," Kostis replied. "So those guys still know how to play the game because they grew up playing that type of game. Some of these modern players, the art of  laying on a par-5 is all but lost on some of the 20-somethings; they just bash it up there by the green and try to figure a way to get it in the hole."
Kostis was then asked by Papa what other layouts that host PGA Tour events he considers in the same architectural vein.
"Colonial, for example is a great golf course  that players love because  can't just mash the ball out out there. You have to shape the ball both ways. I would say Harbor Town is another one. They are great old tests and they don't have to be 7 million miles long," Kostis replied.
Harbor Town is a Pete Dye design and his biggest design influences were Raynor and Macdonald.
During an aerial view of the course, Frank Nobilo chimed in with, "You see the rectangular bunkers. Seth Raynor's done that on a lot of his golf courses. He was the engineer behind the designer C.B. Macdonald."
I watched a lot of the Senior Players and never heard the connection made of Raynor to Macdonald.
Kostis also took time to point out nuances. When Bill Haas hit an approach to the 13th that ended short and right of the green, Kostis said,  "That big mound right there, that is why this hole is called the Alps and I think he got himself up in the Alps."
Later when an aerial closeup of the same green complex was shown Kostis said, "that's the big bunker that guards the Alps," drawing a line around the sand with his Teleprompter. "The  big mound behind it  obscures that  back  portion of the green from the players' eyesight."
He also gave a lesson on the 16th hole, known as Cape, one of the designs that Raynor and Macdonald included in many of their courses.
"The original Cape:  pick a line. Hit it the right distance. Cut off as much as you like. The original Cape design wasn't about cutting off as much as you possibly can, but cutting off the proper angle so it leaves you the correct angle into the hole location."
Peter Oosterhuis also took part in the conversation when the eighth hole was shown.
"A great look at how the green slopes from right to left," he said as a wonderful view from behind the green showing the steep bank came onto the screen.
"This is a Redan hole designed where you have options on what line to take. Are you going to shoot it  up the right hand side and let the slope on the green bring it around or are you going to attack the flagstick, which would be a little more dangerous with a big bunker in front of it?"
Then later.
"Another look at the Redan hole. The original at North Berwick in Scotland where wind is usually a big factor," Oosterhuis said as Charley Hoffman prepared to play.
At that point, Kostis saw an opportunity
"How many players in the field, Peter,  do you think know that this hole was patterned after a hole at North Berwick and is called the Redan Hole?
"Good question," Oosterhuis replied. "There'd be a few guys who pride themselves on golf course history and design and know what the challenge is, just how much slope there is from the right. You have to make the decision on this tee. It is a beautiful hole and it can be very difficult."
Kostis kept at it for much of the broadcast and credit should go to whoever wasn't talking in his ear telling him to get back to the action.
"It just amazes me, Frank, that golf courses like this can't be replicated or aren't aren't replicated with a lot of the modern architects. C.B. Macdonald said it originally, what did he have 25 templates, 25 holes?  He thought that was it for the essence of golf and  everything else was  a variation," Kostis said.
Nobilo added: "A lot of the architects today, we say if they copy something it's wrong, but you're right, Seth Raynor and Macdonald said there were basically 25 different types of holes. That's all the game basically needed."
Kostis again: "I said this last year, when Raynor and Macdonald put their Redan holes or a Biarritz or whatever it was… When they recreated those holes. they were geniuses for being able to figure out how to put it on that piece of land. When a modern architect does it, they call him a cookie cutter whose not paying attention to detail, so something is lost in translation there."
It was a delight to hear so much intelligent golf architecture talk. I hope it continues, especially into the weekend, so a larger audience can listen and, one would hope, learn.