Up until recently, the worst golf term explanation I ever came across had to do with the 2006 opening of the Renaissance Golf Club in Haverhill, Mass. a Brian Silva design.
A local newspaper writer was detailing the layout when the came to the 13th hole, called Cape. Silva's inspiration for the design comes from the Cape holes made popular on layouts of Charles Blair Macdonald and his student Seth Raynor.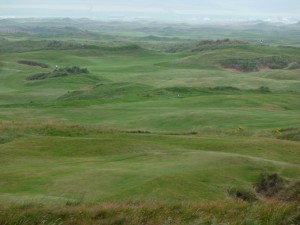 The newspaper writer, though, failed to question why the 13th had such a name and winged it. He decided it was because the architecture mimicked many of the holes Silva had designed on his Cape Cod layouts.
Wow. An instant all-time great.
It's an assumption that turned into a colossally humorous and incorrect blunder,  one that  still brings smiles to faces every time I've recounted the story in the nine years since the error first appeared.
It has, in my mind and that of Silva, stood as the biggest bungled golf term explanation, until now.
Recently I was on the New England Historical Society website and searched out the word "golf" when I came to an item about Meriden, Conn., one town over from where I live. Digging a little further, I found myself looking at digitized version of  150 years of Meriden; published in connection with the observance of the city's sesquicentennial, June 17-23, 1956.
Once there, I again searched out the word "golf" and struck absolute gold in the form of this explanation of basic golf term.
"Golf had its beginnings here a little later than tennis. The Meriden Golf Club was organized in 1898 at the residence of Dr. E. T. Bradstreet. A golf course in those days was known as a "links," because the holes were laid out like a string of link sausages bent into some peculiar shapes."
Holy mother of… sausage links? That takes the cake, takes the prize, takes my breath away. Unfortunately, there is no author listed for document, just the group that contributed and oversaw its publication, so I can't give credit where credit is due, which is unfortunate, because this is priceless.
Have you come across such bungled explanations of golf terms? If so, please pass them onto me. I'm thinking about forming a hall of fame of sorts.
Email me at AnthonyPioppi@gmail.com
(Photo by Anthony Pioppi of the Machrihanish Dunes Golf Club, a links course on Scotland's Kintyre Peninsula, on which no holes have even the slightest resemblance to a sausage link.)