The audacious intended guiding principal of Keith Cutten's first book, The Evolution of Golf Course Design, is found on page 358. It is there that Cutten explains the theory of the "scholarship of integration," as defined by Ernest Boyer. Boyer wrote that integration is the forging of "connections across the disciplines, placing the specialties in larger context, illuminating data in a revealing way."
Throughout his book, Cutten tries to show how outside factors such as movements in art and philosophy influenced golf course design.
Unfortunately, Cutten fails. The book also flops as a historically accurate work. Making matters worse, the Evolution of Golf Course Design is poorly written. Basic stylistic and grammatical errors abound, none worse than Cutten's maddening penchant for suddenly referring to people by their first name. "Pete" for Pete Dye, "Ben" for Ben Crenshaw, "Tom" for Tom Doak, and so on.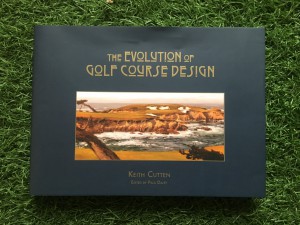 The book is broken into two major segments. The first is The Evolution of Golf Course Design. The second comprises profiles of designers, authors and visionaries and encompasses 177 pages.
In the first part, Cutten fails in his attempt to make any correlation between the art world and the golf design world. He does not back his thesis with facts, but instead tries to make points using suppositions and inferences. Attempting to link the Victorian, Arts and Crafts and the Modern movements to course architects from Tom Dunn to Robert Trent Jones is the kind of work that a master thesis is made of. Cutten, though, breezes through an explanation of each of the movements and then states that various architects of those time periods had to be affected by the other specialties.
For instance, when talking of Jones, he writes, "The concept of 'easy bogey, difficult par'" became the architect's calling card. "Quite possibly the style was influenced by his time at Cornell and his studies in design: while likely centered on the emerging ideology of Modernism: that 'form follows function.' It is relatable to the stylistic changes of Jones."
"Quite possibly"? Cutten easily could have accessed Jones's academic records at Cornell to find out precisely what classes he took. Cutten could have contacted James R. Hansen, who wrote the impressive and in-depth biography of Jones, A Difficult Par, and sought his opinion on the subject, or interviewed longtime Jones associate, architect Roger Rulewich.
Instead, Cutten comes to his conclusion without any substantial evidence and intimates that Modernism is the only outside influence that could have affected the work of Jones.
Cutten gives the same treatment to the supposed effect the Arts and Crafts movement had on design in the two decades leading up to the World War II. The basis for this thesis is apparently an essay that appeared on a golf architecture discussion website several years ago.
That the reader is supposed to somehow believe that the relationship English golfer-golf writer-architect Horace Hutchinson had with painter-sculptor George Frederick Watts led to a seminal shift in golf architecture is ludicrous.
Cutten's attempts and failures to identify ground-breaking moments aren't just reserved for outside influences on design. Take, for instance, the brief partnership between Harry Colt and Donald Ross that occurred during the construction of Old Elm Club north of Chicago. According to Cutten, Ross built what Colt designed, but the collaboration had a profound and lasting effect on Ross and others.
"To this day the greens at Old Elm are the original 'push-up' surfaces that Ross built in 1913. Hence, the influence of Harry Colt on early golf course architecture in North America is more profound that previously acknowledged," Cutten wrote.
How he came to that idea is never explained. Neither Donald Ross in his autobiography, Golf Has Never Failed Me, nor Brad Klein in his must-read biography of the Scottish architect, Discovering Donald Ross, make such a claim. If Cutten has information to back his declaration, he didn't put it in print.
At other times Cutten repeats oft-told tales that are, in fact, false. In a book that attempts to be a definitive chronicling of golf design history, that is unforgivable.
Cutten writes that Marion (Mass.) Golf Course, the first design of George Thomas, opened in 1904. To my knowledge, and I researched the course heavily for my book, To the Nines, it has never been determined when the layout was first played. Thomas did not mention a date it in his book Golf Architecture in America, Its Strategy and Construction.
 Cutten also credits Alister Mackenzie with the routing of Cypress Point Club. In reality, the course was routed by Seth Raynor, who died before construction began. While Mackenzie may have tweaked some holes, the majority follow what Raynor drew.
Cutten also repeats the mistake that Charles Banks helped build Mid Ocean in Bermuda with his mentor, Raynor, and Charles Blair Macdonald. He did not. Banks met Raynor in 1923 at the earliest, but more likely in 1924. Mid Ocean was completed in 1921.
As far as important Golden Era architects, perhaps none are dismissed more by Cutten than Banks. There is no profile of Banks, even though he is the designer of about 15 original layouts. Banks finished a number of Raynor's high-profile layouts after Raynor's unexpected death, and he also wrote eloquently about the craft.
The second half of the The Evolution of Golf Course Architecture is nearly as frustrating as the first . The profiles are in no discernible order; it surely is not alphabetical. It would have made more sense to put the three Joneses—Robert Trent, Robert Trent, Jr. and Rees—back-to-back-to-back. Every single one of the bios is written chronologically, often times making for a dull read. (During the writing process of the book, I critiqued the bios of Macdonald and Raynor at Cutten's request.)
Cutten's reverence for Alister Mackenzie and Harry Colt is plainly evident, as is his disregard for Donald Ross and A.W. Tillinghast. In the Ross biography, Cutten lists only six of Ross's original designs, including the first five layouts at the Pinehurst resort, and his first American layout, Oakley Country Club, outside of Boston, Mass. No mention of the likes of Seminole, Oakland Hills, Oak Hill or Interlachen.
Mackenzie's bio is eight pages and Harry Colt's six. Ross and Macdonald each have four pages. Tillinghast was bestowed a mere two, the same number afforded Eddie Hacket and George Cummings, neither of whom approach anywhere near Tillinghast's impact on design. Cutten completely ignores the fact that Tillinghast was one of the most proficient writers of all the Golden Age architects and that he was a design-agronomic consultant for the PGA of America.
Although Cutten lauds Macdonald, he fails to highlight Macdonald's role in formulating the USGA, his important writings on golf or his almost single-handed role in preventing a split between the USGA and the R&A. Cutten omits that it was the designs of Macdonald and Raynor that heavily influenced Pete Dye, the man who virtually single-handedly resurrected strategic design in the post-WWII era.
If page count in the biography section is an indication of the most important architect in Cutten's mind, then Robert Trent Jones, who has 12 devoted to his story, tops the list.
When it comes to recent history, Cutten profiles only the most well-known of the designers, with biographies of the team of Ben Crenshaw and Bill Coore, Tom Doak, and Gil Hanse, sometime stretching to legitimize their inclusion. For instance, Cutten notes that Hanse and golf writer Geoff Shackelford designed the Horse Course at the Prairie Club in Nebraska, but fails to mention it is a 10-hole par-3 layout and that the Prairie Club has two regulation 18-hole designs, one designed by Tom Lehman and Chris Brands and the other by Graham Marsh, none of whom receive even a mention in the book.
Cutten has virtually no regard for modern designers who are not the "glitterati" of the golf world. Left out of the profiles entirely are highly successful and well-regarded architects like Brian Silva, Bobby Weed or the duos of Dana Fry and Jason Straka and Ron Forse and Jim Nagle. The most obvious snub, however, is that of David McLay Kidd. The architect of a number of lauded layouts around the world, including the first course at Bandon Dunes, Machrihanish Dunes in Scotland, Gamble Sands, and most recently the Mammoth Dunes course at Sand Valley, gets a mention here and there but is not afforded even a one-page profile.
The brush-offs, though, are not just for the architects. There is a glaring omission in the Author category. That Bob Labbance was left out is a significant blunder. Labbance is the man who wrote every one of the architect profiles in two must-read works, The Golf Course in 1981 and the updated 1992 edition, The Architects of Golf. Labbance also authored two fantastic golf biographies, one on Walter Travis and the other on Wayne Stiles. Labbance was the creator or co-creator of more than 15 club histories, and the editor of various golf magazines in the New England and Mid-Atlantic Regions.
If you looking for something positive about the book, there are many fine photos and drawings. That being said, pass on The Evolution of Golf Course Design. It is worth neither the time nor the money.