Common wisdom in the golf design world is that Charles Blair Macdonald was the first golf course architect; he said so himself in his book, "Scotland's Gift-Golf," published in 1928.
Writing about his desire to create, with the National Golf Links of America, a golf course based on the best golf holes in the world, he penned, "I believe this was the first effort at establishing golf architecture—at least there is no record I can find preceding it."
I've long been suspicious of that claim. It wasn't as if Macdonald was the first to design a golf course. In 1765, as golf historian Bob Crosby pointed out to me, a group of men shortened The Old Course in St. Andrews, Scotland from 22 to 18 holes that included combining existing holes into ones that are still played. Alan Robertson, of St. Andrews, Scotland, was paid to layout out golf courses in the mid 1800s. Another St. Andrean, greenkeeper of the Old Course in St. Andrews, Old Tom Morris, followed him in the field. At that time the term "golf course architect" had not been created but there were those, it seems, practicing that very craft as defined in modern terminology.
I did some online searching, looking through digitized issues of the magazines Golf (1898-1915), The Golfer (1895-99, 1902-1903), The American Golfer (1908-1915, 1918-1919) and Golf Illustrated (1914-1918, 1921-1934) to see when the word "architect" was used in relation to golf design, and who was first bestowed the title, golf course architect. (It should be noted that searching digital archives is a less than perfect endeavor and it is possible that instances of the words "architect" and "architecture" were missed.)
The first reference I found of "architect" came in the September, 1900 issue of Golf in a story on the modifications to Deal, officially Royal Cinque Ports Golf Club. The line reads: "Some of the cop-bunkers are wonderful creations of the golf architect's fancy—two and even three lines of intrenchment, pepper-and-salted with pretty little grassy islands and horrid pits of particularly soft sand. And they have scalloped tops too, and their grassy sides are kept carefully clipped. True aesthetic are these Deal cop-bunkers."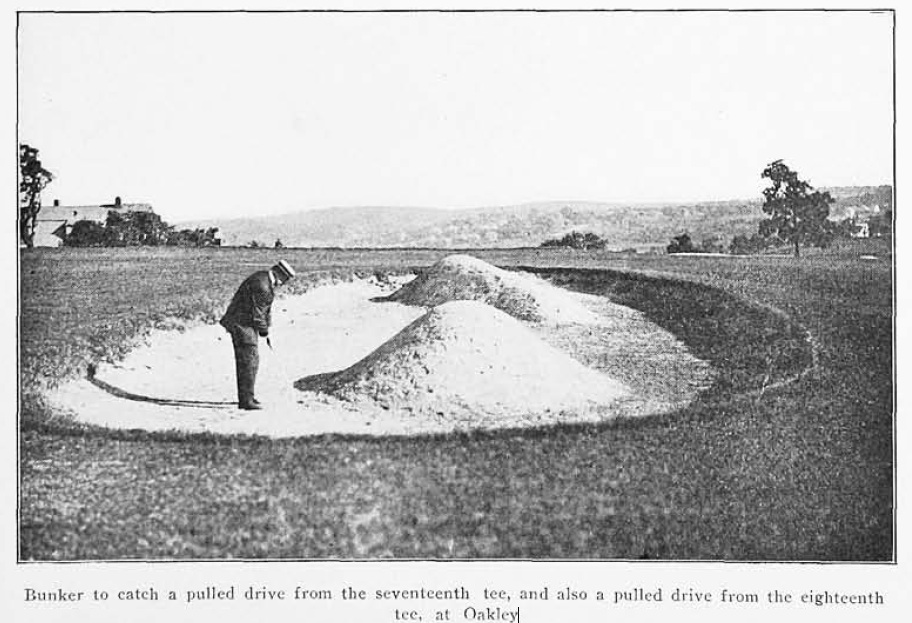 David L. Dobby, the club's historian and archivist, wrote that Harry Hunter, Deal's first head professional and greenkeeper, was most likely responsible for the expansion of the club from nine to 18 holes in 1899.
According to Dobby, the first nine was built in 1892, probably by Hunter, but designed by either Tom Dunn or Ramsay Hunter.
The first use of the word "architecture" in reference to a golf course that I found came in the April 1900 edition of Golf in an article titled, "The Revised Rules of Golf," by Lawrence Curtis. The sentence reads: "It will involve the need of local rulings as to lifting a ball stuck in the face of a bunker or a cope to save the architecture of the cop."
In reference to the work of a specific American golf course, "architecture" was used in the April 1901 edition of Golf in an article about the Glenview Club, in Golf, Ill.
"It is not often that one sees such a felicitous combination of wood, field, and water, and the upkeep is perfect—the effect is exactly that of a private park, and yet the landscape-gardener has not been permitted to exploit himself at the expense of the golf architect."
According to the club's website, Richard Leslie, the first golf professional at Glen View, in all likelihood, designed the layout, probably with assistance from club member Herbert J. Tweedie, who himself laid out a number of courses.
The word, "architect," however, was still not of common usage in the magazines. I found no record of it 1906 and 1907.
In the February 1908 issue of Golf, the word "architect" was used in reference to a specific person, the first time I could find such an example, and who received that title was a surprise.
"Tom Bendelow, the well known links architect and tournament manager, received word by cable recently on the death in Aberdeen of his father. Apoplexy was the cause."
It would be a while before anyone else was bestowed the title in the pages of that publication.
It appears as if "architect" in reference to a course design debuted in The American Golfer in the December 1908 issue. The phrase was regularly used throughout 1909, including in a story about the alterations at Oakley Country Club in Massachusetts that appeared in the Aug. 2 edition. (A photo from the article appears above.)
"Donald J. Ross is the architect of some of the bunkers," it reads.
In the Sept. 15 issue, Ross was lauded in an article authored by "Bunker Hill," who covered golf in New England for the magazine. In detailing an upcoming 36-hole four-ball match between the team of Ross and his brother Alex versus the pair of Thomas McNamara and M.J. Brady, "Bunker Hill" wrote: "Donald J. Ross is distinguished as a player with a delightful style, as one of the most successful and sought after professionals in the country, and as a course architect of first-rate experience and ability as shown by his work at Pinehurst."
The American Golfer was edited by Walter J. Travis, an accomplished player and architect. In the eyes of Travis, it appears, that it was Ross who first deserved to properly be called a golf course architect.
Even though "architect" was used in 1909, it would be a few more years before the word appeared regularly. By 1913 it was of common enough usage that the links architect was the butt of a cartoon that appeared in the April edition of Golf.
When I finished my search, however, I had a nagging, gnawing feeling that my findings could not be correct. Surely, "architect" and "architecture" appeared elsewhere and earlier, in Great Britain, perhaps. To ease my worried mind, I accessed the golf course architecture research equivalent of the Bat Phone and sent out my query, along with my findings. As I suspected, there were earlier references, but not many. (This is how I garnered information from the aforementioned Mr. Crosby.)
Architect Dr. Michael Hurdzan, came up with the most definitive answer.
"I am of the opinion that the first guy to call himself an 'architect' was H.S. Colt. I have a large poster size advertisement for Colt where he actually credits himself as 'the First Golf Architect'. Then, in Fred Hawtree's authoritative book "Colt and Company: Golf Course Architects," he quotes Sir Reginald Bloonfield as saying: 'Our first Secretary was H.S. Colt, a fine golfer, who afterwards transferred his energies to the design of golf courses and I suppose would now be given the ridiculous name of "golf architect," a name pirated without the slightest foundation from an old and honourable calling.'"
Hurdzan contends that there is good reason for Colt to be given the title.
"There is no definitive date of when all this took place but Colt was a man of such high character and integrity that I don't think that he would have misconstrued the fact, if he was not the first to use the term. Colt's early work at Rye in 1894 or so, would not have prompted him to call himself such a lofty term, but by 1898 when he was applying for Secretary of R & A, he perhaps would have had done enough work to have the confidence to use the term."
Mark Bourgeois wrote me that the earliest reference to "golf architect" he could find "was 1896, in a British publication, Baily's Magazine of sports and pastimes, vol. 65, page 76: 'Trees and outhouses are unknown on the St. Andrews course, while too often elsewhere they are the only things the Golf architect has to work with, and he is not to be blamed for making the most of them. Perhaps he sets up a few artificial bunkers; but here again he cannot get a result consistent with the spirit of the rules, for his forced earth and precarious turf will not bear the smashing freely bestowed upon a natural sand bunker.'"
Bourgeois also noted that the first reference to "laying out" and "laid out" he could find came in "The Golfers Handbook" by Robert Forgan, Jr. that was published in Edinburgh, Scotland in 1881. Forgan wrote of the Luffness Golf Links, "The green was laid out by veteran player Old Tom Morris, and at first it consisted of 17 holes for the round, but after a few years it was thought expedient to make 18 holes, which was done by laying out a short hole for an iron shot."
So, the sum and substance of the research by others and me is that it appears that Colt was the first person to be referred to as a "golf course architect" and that the description appeared well before Charles Blair Macdonald began constructing the National Golf Links of America in 1907. So, why would Macdonald call himself the first? Another golf historian, Tom Paul, has a theory.
"Macdonald was saying NGLA was the first example of 'golfing architecture' he was aware of; therefore, it appears he felt he was doing something differently than anything that came before NGLA. Unfortunately, he did not say specifically what that difference might have been," Paul wrote me in an email. "Logically it would seem it could've been he felt he was the first to comprehensively use pre-construction topo survey maps or he felt he was the first to essentially copy a number of famous holes and architectural principles from abroad (he called them 'classical')—or perhaps both together."
Paul has a salient point. Up until the construction of the National, those who designed golf courses walked the land, found suitable green sites and designed a layout to utilize the natural features; earth moving was minimal, if at all. Often time, hazards were what existed on the land, although by the time construction on the National began, artificial hazards were not uncommon.
Paul also points out that beginning with NGLA, Macdonald always partnered with a surveyor, Seth Raynor, a practice no other architect boasted.
In his book, Scotland's Gift, Macdonald wrote about the involved first few steps he took to finding the correct location for NGLA on the land he had purchased at the eastern end of Long Island.
"…Jim Whigham and myself, with kindly interest taken by Joseph P. Knapp, James A. Stillman, Devereux Emmet, Charles A. Sabin and others, forged ahead with the construction from the surveyors' maps and the thirty or forty drawings which I had made myself abroad of different hole which I thought were worthwhile. These drawings were no necessarily copies of the particular hole from tee to the putting-green, but in some instances were of the outstanding features which I thought made the hole interesting and which might be adapted to a hole of different length. Two or three such features might be put in a hole which would make it more or less composite in its nature."
The concept of a composite hole was most likely not in existence prior to the National and, it appears, no one else had moved so much earth to create holes the way Macdonald did. In that respect, Macdonald was the first. Whether or not that makes him the first "golf course architect" ultimately depends on how one defines, "golf course architect." C.B. Macdonald, undoubtedly, would say he was the first. H.S. Colt would undoubtedly disagree.
(I have a suspicion that the search had not ended and I welcome any additional information that will aid my quest ~ A.P.)