Having now shot his age or better for the 1,000th time, 95-year-old Palmetto Dunes resident Leo Luken is living proof that age is just a number.
By Brad King
HILTON HEAD ISLAND, S.C. (Sept. 24, 2013) — Hilton Head Island resident Leo Luken shot his age or better for the 1,000th time Tuesday on the George Fazio Golf Course at Palmetto Dunes Oceanfront Resort, firing a 92 (47-45) to reach the milestone.
Despite taking a 9 on the par-4 eighth hole and a double-bogey on the par-4 18th, Luken still managed to better his age by three strokes including a thrilling hole-out for a birdie on the par-3 sixth hole.
Described by his playing companions as "humble, gracious and fiercely competitive," Luken still carries a 21 handicap and typically plays three days a week on the George Fazio and Robert Trent Jones courses at Palmetto Dunes Oceanfront Resort where he resides, typically shooting his age or better about two out of three times.
"My [playing] partners told me I would have to swim across the lagoon on [the par-3] 17th if I hit it in the water," said Luken following his historic round Tuesday. "On my previous attempt at Jones I hooked one out of bounds on No. 17."
"While there are a couple of gold standards in golf and sports, shooting your age surely must rank among the most coveted and enviable goals of all," said Palmetto Dunes Director of Golf Clark Sinclair, who has known Luken for many years. "It means two important things: One has lived a relatively long life. And they are still a good golfer, with enough athleticism left to skillfully navigate their way around 18 holes."
What would seem like an amazing accomplishment for most anyone else will go down as another notch in the belt for the 95-year-old Palmetto Dunes Oceanfront Resort resident, who didn't take up golf until he was 45 years old and first shot his age at the age of 71 with 68 being his best-ever round in Fort Wayne, Ind.
At one point in his life, Luken was arguably the world's best fast-pitch softball hurler, using a pitch clocked at more than 100 miles per hour to help win 53 straight games from 1944-46 for the Fort Wayne Zollner Pistons. Nicknamed "Leo the Lion-Hearted," his 511 total wins helped earn Luken a spot in both the Kentucky and Indiana Sports Halls of Fame.
Palmetto Dunes Oceanfront Resort Director of Golf Instruction Doug Weaver, friends with Luken for decades calls him, "maybe the best athlete I have ever been around." Pretty heady praise considering Weaver is a former PGA Tour professional who once recorded a hole-in-one during a U.S. Open.
Following Luken's historic accomplishment Tuesday, he was more interested in talking about his family. Luken and his wife, Mickey, celebrated their 75th wedding anniversary this spring. The pair taught dance for three hours a night for 30 years to put their children through college. A daughter, Lisa, went to Purdue where she played golf and was chosen as the school's Student Athlete of the Decade. Now, one of his grandsons is attending Purdue.
Eight years ago, when Luken shot his age for the 530th time, he bettered his age by six shots and he picked a particularly sporty time to do it – the final round of the inaugural Shoot Your Age Championship at The Villages, Fla. This novel event brought together 58 amateurs and two legendary professionals, ranging in age from 67 to 96 on a course measuring 6,251 yards, with par represented by the competitor's age.
Playing in front of 8,300 spectators, with cameras whirling for a CBS tape-delayed national broadcast the following afternoon, Luken took his 6-under 81 to the clubhouse, where he anxiously waited for everyone else to finish. Adding to the drama, once players reached the number of strokes equaling their age, they were eliminated and had to leave the course.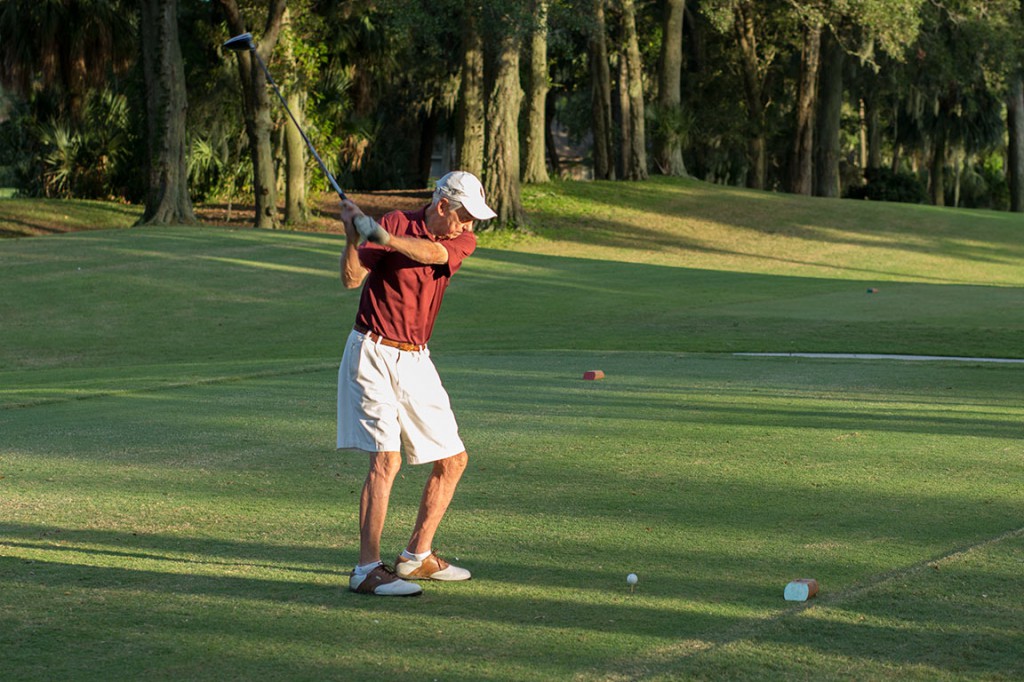 By the end, only six of the 60-player field lasted long enough to hole out on 18, and Luken finished a whopping three shots ahead of a trio of players, which included a 76-year-old by the name of Arnold Palmer. Another guy who enjoyed a pretty good playing career, Gary Player, had been eliminated on the 17th green.
None could match the play of Luken, who brought back to Hilton Head Island an engraved Waterford crystal bowl, a pair of Southwest Airlines tickets and a 42-inch Dell plasma-screen TV for his victory.
"Yeah, Gary Player thought I was lying," Leo said. "Before we teed off the first day down at the championship, he was walking around introducing himself and asking guys how many times they'd shot their age. One guy said twelve, and another said thirty. When he got to me I said five hundred twenty nine, which was the number at that time. Player threw up arms and said, 'Get outta here.'" Then with a grin, Leo said, "The next day I made it five-thirty and won the tournament."