The New Year is upon us, and if you didn't get all the new golf gear that was on your holiday wish list, take a moment to consider some of the latest offerings from companies like TaylorMade, adidas and Leopold.  These companies continue to make a concerted effort to innovate, which is one reason why they are so popular with tour pros and amateurs alike.  Here are four can't-miss products they've just come out with.
R11 Pure-Lite Earns a Standing O
Everyone knows the R11 is a great driver.  But have you seen the R11 stand bag?  Comparing TaylorMade's new R11 Pure-Lite stand bag to carry bags from even just a few years ago is like comparing an F-22 to a paper airplane.  This species has evolved a lot.  The R11 is the ultimate stand bag – with several meaningful improvements over last year's model.  The design of this bag is just plain smart.  It houses the things it needs to house well and flat-out works the way it should.  TaylorMade does the little things right here, and the big things even better.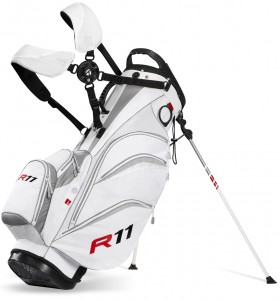 The R11 Pure-Lite is light: just 5.0 pounds.  But it's anything but light on features.  This year's model is made with a new lightweight rip-stop Gortech material.  Its six nylon dividers and three full-length shaft dividers keep clubs organized, while the integrated handles at the top, bottom and side make it one of the world's easiest bags to move around.  It's also easy – and comfortable – to carry.  The ergonomic "air-mesh comfort straps" utilize an EVA foam and a continuous webbing system that distributes weight evenly, giving it an even lighter "effective weight."  This year's straps were designed to breathe, too – so your shoulders stay cool and relaxed.  And the strap system is 8-point, 4-way adjustable, so  the bag can be fitted to ride at the optimal 10-degree hanging angle.  And it's got a generously padded hip pad for comfort when walking and carrying.
The R11 Pure-Lite has compartments for just about everything.  There are a total of eight pockets — a valuables pocket, a large apparel pocket for sweaters and rain gear, a glove pocket big enough for six gloves, a pocket for tees and balls, an accessories pocket, a valuables pocket, a water bottle sleeve – even a place to keep your Sharpie.
The R11 is rugged, too.  The legs are 6020 aluminum with stainless steel rod actuators.  The stand system is tested to hold up to all but the toughest abuse – an automated test replicates cycling the stand open and closed 60,000 times.  The legs are designed for optimum spread to help with stability on uneven lies, too, and new for 2011 is a stand housing with an anti-split mechanism – so the legs won't open up too wide.  Finally, the tough-as-nails base has a new actuator for 2011 that allows its hinge to work smoothly even on slippery surfaces.  It's as close to a "can't-fail" design as anyone has ever come or may ever need to come.
Throw in a rain hood that's big enough to actually fit golf clubs under it and a towel ring that doesn't make you jump through hoops to use it and you've got what just may be the most intelligently designed golf bag ever created. $179
Strap one on and you'll see what I mean.
A Belly Putter That Gives You More Than a Ghost of a Chance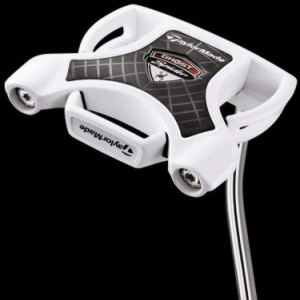 Admit it.  Ever since you've seen PGA Tour players who don't have bellies successfully wield belly putters, you've wanted to try one, haven't you?  When you see the likes of Keegan Bradley, Webb Simpson and others (even Phil Mickelson, who does have a belly) win events using the longer sticks, it makes you wonder, doesn't it?  If you're ready to give one a go, the first thing is to make sure you get properly fitted for it.  Belly putters can range from around 38 inches to 46 inches or more.  Finding the one that allows your shoulders and body to make a nice, smooth pendulum-like swing is key.  You don't want to feel hunched over – nor do you want your arms to feel like they're extending out too far from your torso.  They should hang freely and swing freely.
But which belly putter should you try?  I'd recommend the TaylorMade Ghost Spider belly putter.  It's beautifully weighted – and the moveable weight technology allows you to customize that weight to your preferences.  And it's got the perimeter weighting and resulting MOI you need for consistency.  What's more, its "Pure Roll" Surlyn insert promotes forward roll and accuracy.  Seen from above, the club may look like something better suited to flipping burgers than holing putts.  But put that white clubhead down behind a golf ball on a putting green and suddenly the stars start aligning.  The Ghost Spider almost seems to align itself.  Bottom line: this beautifully balanced club and all the technology that went into it make it a great choice for those who are looking to go the belly route – whether you sport a paunchy belly yourself or not. $199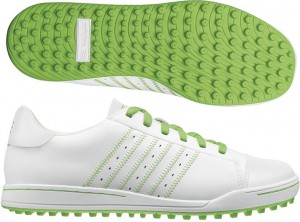 The New adidas adiCross Golf Shoe
Have you seen the kicks that golfers like Tiger Woods and Fred Couples have been wearing of late?  They look more like running shoes than golf shoes – and they fit like them, too.  If you're thinking of going the sneaker-substitute route, adidas has a new entrant into the category that's worth a look.  The adidas adiCross don't look much like traditional golf shoes.  They come in a variety of colors and designs that more closely resemble street wear than something you'd see in a golf locker room.  But they do a good job on the course, thanks to their 124 strategically placed traction lugs.  The lugs (or nubs or nibs or whatever you want to call them) are of varying sizes and they offer a pretty good grip on all but the slipperiest surfaces.  Their uppers are full-grain leather, so they're comfortable and breathe.  And the toe cap is made from a super-durable synthetic material that resists abrasions and protects your toes.  The adiCross comes in five different colors, and each pair ships with two different sets of laces – a tonal pair and a contrasting pair.  Best of all, when you finish playing in these babies, you won't necessarily have to take them off.  The adiCross is perfectly happy to transport you across asphalt, cement, wood, carpet or any other surface you encounter, either before golf or après.  $90
Infrared Precision
I don't get the appeal of GPS units for judging yardages.  You have to have the course you're playing downloaded on the unit.  And even then, it only gives you yardages to approximate points, such as the front, middle and back of the green.  You may not think you need anything more precise than that, but in my mind, having the exact yardage to the hole (or bunker or water hazard) is a good thing.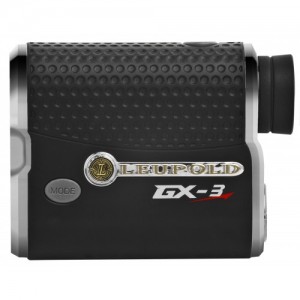 And if you're in the market for a new laser range-finder, Leopold's GX series is a particularly good choice. They're compact, sturdy, weatherproof, easy to aim, and are available with a variety of desirable features.  The GX-3 model, for example, is a tournament-legal model that surpasses other range finders in a number of ways.  Its proprietary beam geometry improves laser returns from the target, while the company's advanced GX software helps you accurately separate out those targets.  The GX-3 lets you choose which kind of aiming reticule you prefer, too.  And it has "Scan Mode," which lets you get multiple readings in one quick sweep.  Not only that, but with Leopold's "Prism Lock," you can lock on to the reflector prisms that some courses place on flagsticks and the unit will beep and the display will freeze on that number to tell you it has found the prism.  The GX-3 also offers a special mode that improves the unit's performance in fog.  It literally ignores the fog and cuts through it to give you accurate measurements to your targets.
Want even more features in your range-finder?  Check out Leopold's GX-4.  It comes with two faceplates, one that's tournament-legal and another that adds extra functions.  This "Smart Key" faceplate, which converts the GX-4 from a simple range-finder to a full-tilt coaching tool, is a great invention.  With it in place, your GX-4 can help you determine distances on inclines, make adjustments for atmospheric conditions, or even help you choose your club.  And when it's time to play in an event, you just switch back to the standard faceplate and you're good to go.  GX-3: $285, GX-4: $350