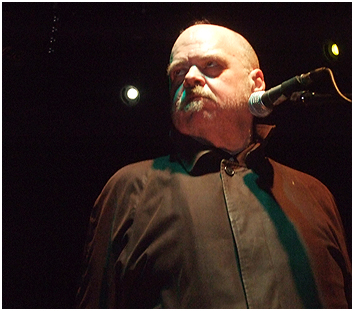 The first time I encountered David Thomas was at a club called Rahar's in Northhampton, Mass. in 1978.  When he took what passed for the stage there wearing a black suit and narrow-brimmed hat, he looked to me like a larger-than-life preacher come to scream out a sermon to the assembled Saturday night faithful.  What proceeded to come out of Thomas's mouth and the PA system, though, was anything but liturgy—or if it was, it was a liturgy of sounds and ideas the likes of which my young, preppy ears had never encountered before. Today, Pere Ubu's remarkable frontman more closely resembles Walter Brennan than a frothing holy roller, but the passion he puts into his music and his shows has not diminished.
Pere Ubu was born from the ashes of another Cleveland band, Rocket from the Tombs, in 1975. The band's first album, The Modern Dance, introduced a form of rock music that was unprecedented at the time and remains uniquely theirs. That album, and subsequent mind-blowers like Dub Housing, New Picnic Time, Worlds in Collision, and its most recent release Lady from Shanghai, represent an unlikely artistic journey that has now, almost 40 years later, brought Thomas and today's version of the band back to New England for two shows this weekend: Friday night at the Fete Lounge in Providence and Saturday night at The Brighton Music Hall in Boston.
If you want to see the best American rock band that ever took a stage, you'll be there. A word of warning, though: my definition of what constitutes a rock band may be markedly different from yours.
Pere Ubu's music is characterized by a solid beat, with layers of synthesizers, guitars, bass, other forms of percussion, an odd clarinet or bassoon or theremin—and Thomas's tortured-canary vocals—layered over it. What it is not characterized by is any kind of reverence for the traditional notions of melody and harmony that have enslaved so much of the rock music world during its glacial progress toward the new. You might mistakenly describe Ubu music as "experimental." It's not. It has one foot solidly in the roots of rock n' roll—Brian Wilson, Roy Orbison, Elvis—and the other in a place that your feet can't reach but this band's can. Ubu rocks as only Ubu can. But its music does much more than get toes tapping. It gets synapses firing.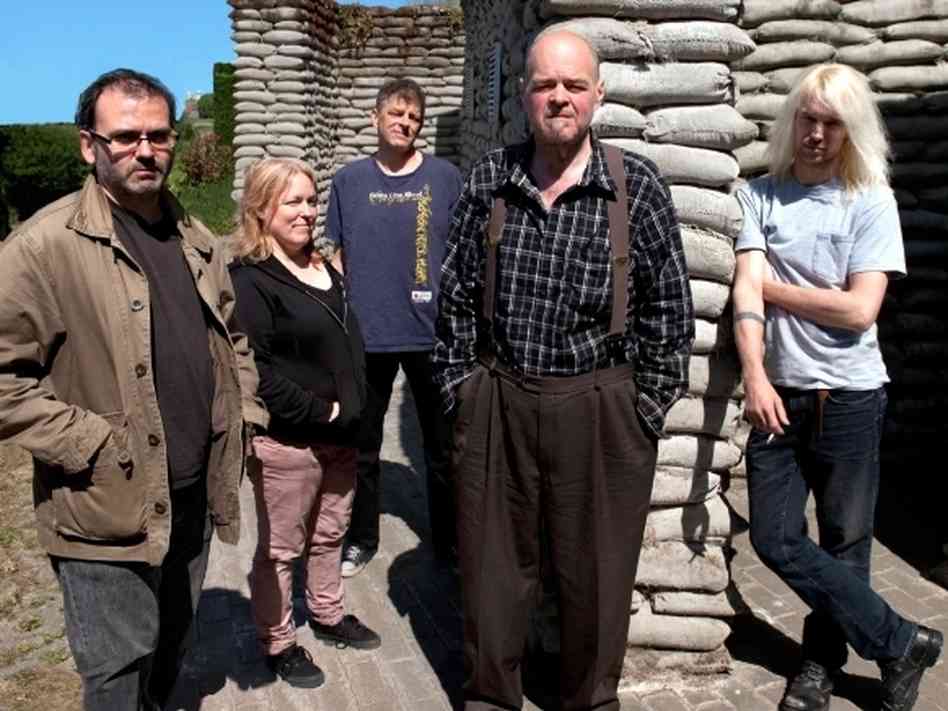 One aspect of Pere Ubu's music that has always intrigued me is the sleight-of-hand with which it combines a vocal celebration of bedrock American culture, a folk-rock look-back at a life and a land that it overtly mourns the passing of, with a musical style that flat-out refuses to pay homage to anything but itself. Ubu songs may eulogize things like the bulldozing of barbecue joints to make way for parking lots, but they do so in a way that is not at all retrospective; musically, the band has always been riding a train that moves in one direction and one direction only. Forward.
As an Ubu fan and someone who enjoys writing about music, I approached this interview with no small amount of trepidation. Even when he was younger and cared to some degree what the world thought of Pere Ubu and its music, he still routinely chewed up interviewers and spit them out when they asked the wrong questions. Today, in his 60's, Thomas is even less interested in suffering fools.  As he says on the Ubu Projex website:
"I'm an old man facing the end of his life. I can't be bothered with crap any more. I'll talk at length, be entertaining, be insightful—all of it—but don't approach me like I'm a fluffy pop wannabe… and don't make me do all the work. Forty years ago I too was a music journalist. I know the game. Bottom line: I have expressed my thoughts on the subject. I trust you to make the needful decisions on how to deploy my time and talent."
In the end, I shouldn't have been worried.  During the interview, Thomas willingly and thoughtfully talked about his approach to music making—though his characteristic impatience was certainly on display, and the fact that the band had just rolled into New York City to play the 7th of 17 straight nights may not have made for the smoothest of interview situations. But as always, Thomas delivered. He talked about the extreme nature of the musicians who comprised the small rock music scene where he got his start in Cleveland. The balance between horror and humor in the band's music. The way people inhabit their own personal ghost towns. How the job of the singer is to manipulate sound and space. The band's God's-eye perspective. And how "Stand Still" just might just be the ultimate answer to everything.
Here's what he had to say.  Check it out.  And then go out and buy a ticket to one of this weekend's shows.
To hear this interview, click here.
(Please give it a little time to download, it's a large file full of large thoughts from a formerly large man.)