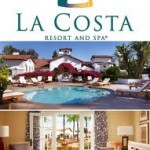 It had been years since I was last at La Costa Resort & Spa in beautiful Carlsbad, California, just a few drivers north of San Diego. When I heard that the new owners of La Costa, KSL Resorts put some $50 million into renovating the rooms and redoing some of the dinning areas and the golf courses, I had to go. I remember La Costa as being a very popular spot with not only golfers, but also folks who love a day or 2 at the spa and just want to lay around one of the pools and get some sun and read a good book. My other impression was that this grand lady of resorts,with a great history of people and events, needed a facelift as it was starting to get a bit long in the tooth and show her age.
Fully opened in 1965, a who's who of the rich and famous started coming to La Costa to play golf and tennis and to enjoy the the country's first full-service spa. In fact, the Spa at La Costa has recently been named the the No.1 Wellness Spa in the nation by Spa Magazine and Travel & Leisure's No.4 Spa in North America. I can personally attest to that as I experienced a great massage in a super relaxing atmosphere where you can follow-up with a stay in the sauna or wet steam if you prefer. It further enforced why this spa was also voted the No.1 spa in Southern California by Spa Magazine. Let me also highly recommend the Reflexology Pathway where you step barefoot across smooth stones of different shapes en route to an al fresco jacuzzi dip. I was so relaxed after my spa experience I almost feel asleep on the way back to my suite.
All of the guestrooms and suites at La Costa have been redesigned to provide its guests with almost all of the comforts of home. Nicely decorated rooms with flat screen televisions, a great minibar, terrific views of either the property or the golf course and most important…a very comfortable bed. Rooms also offer high-speed internet access. Some of the suites even are outfitted with pre-loaded iPods and Bose docking stations, which I took full advantage of listening to some of my favorite music. You'll need a good night's rest because of all the activities you have to choose from at La Costa. If you are into golf, La Costa has 2 great courses, the North course – now the Champion's course – and the South course. La Costa offers a 17-court tennis club with some lighted for night play. If you are into fitness and leisure, a great athletic club awaits you with 7 heated pools. If shopping is your thing, La Costa has a number of really nice shops and boutiques where you can purchase everything from hats to outfits to wear anytime night or day. Fantastic dinning awaits you and your family as well. More on dinning in Part II on La Costa Resort & Spa along with an in-dept view on the 2 golf courses that make-up a large part of the tradition at La Costa. You will then see why La Costa Resort & Spa has played host to more then 30 Professional golf events. Please feel free to go to TheNextLaCosta.com to preview more about La Costa.
Dennis Silvers