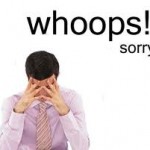 On December 26, I posted a story about Callaway Golf and Justin Timberlake. I had apparently received information that was incorrect and am here to correct the record.
I stated in my post that Timberlake was hired by Callaway as a "Creative Designer" for their new line of Razr clubs when in fact Timberlake was hired as a "Creative Director," which is emblematic of the approach that Ely Callaway had taken years before with having other celebrities such as Alice Cooper, Bill Gates and Smokey Robinson doing product commercials for Callaway.
Other then that correction, everything else that was written in the opinion article is totally accurate. Like all of the writers for The A Team, we want to make sure that what's written is accurate and truthful.
Dennis Silvers