The media end of the golf business is inundated daily with marketing information from almost every company in the industry trying to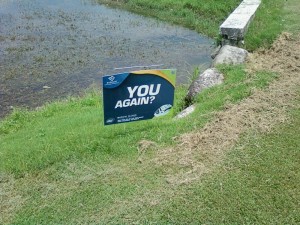 convince us to say or write something nice about them and their products.
It all must filtered, put in context and otherwise vetted but is seldom used directly that is, until something such as the new Bionic Glove campaign entitled, "You Again?" shows up.
Bionic is placing signs along water hazards, near out-of-bounds and even behind trees with a humorous messages aimed at Bionic's overall campaign to remind golfers that bad shots are signals their game needs help and that Bionic Gloves can give them a "Better Grip for a Better Game."
Signs have messages like, "You Again?", "How Embarrassing!", and "If you hit me…You need me."  
"It's a lighthearted campaign, intended to gently poke fun at golfers who send a ball screaming into the woods, splashing into the water, or slicing O-B," said Cheryl Fink, Bionic's marketing director, "and we've all been there, so we can all laugh about it."  
She added, "We're putting our message exactly where golfers use the product; on the golf course."  
Golfer comments have been positive. "We are really enjoying the reactions so far!" said Jack Shoenfelt, PGA Pro & owner at Oriole Golf Club in Margate, Fla. "In the pro shop we have overheard golfers commenting on the signs, saying it gave them a good laugh after a rough hit. Bionic has done a nice job with this clever campaign and we're glad golfers appreciate the humor."  
Fink says the "Get the Grip" campaign describes Bionic's primary benefit of a relaxed, comfortable, and controlled grip and separates it from all other glove brands, as will this one-of-a-kind campaign. Currently, over 130 courses and driving ranges have the signage, with more to come.