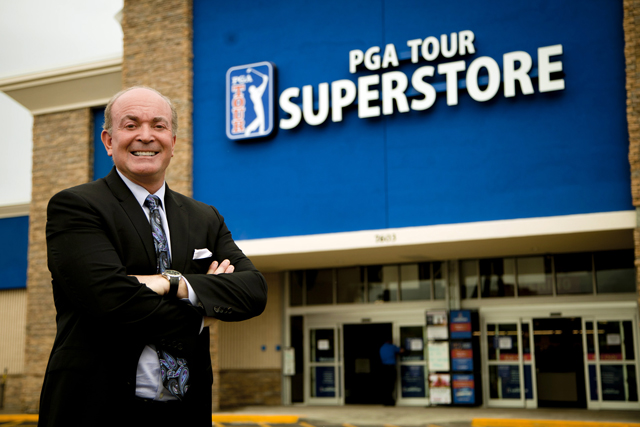 In addition to a soft demand particularly for hard goods, golf retailing has had to endure some difficult times typified by the bankruptcy of Golfsmith, Sports Authority and Ben Hogan Golf plus Nike Golf's decision to close its club and ball business.
PGA TOUR Superstores however, are bucking the trend. The Atlanta-based retailer is profitable and showing strong sales growth with an active program for adding new locations to the current 28. Three more stores are scheduled to open this year.
The company is privately-held by AMB Group, one of the family businesses of Arthur Blank that own the Atlanta Falcons football team, Atlanta United of Major League Soccer Team and the soon to be completed Mercedes-Benz Stadium in downtown Atlanta. Blank was cofounder of Home Depot, retiring in 2001 as co-chairman.
In an interview at the PGA Merchandise Show Dick Sullivan president and CEO of PGA TOUR Superstores talked about their success and plans for the future. Sullivan joined the company in 2008 after successful stints at both Home Depot and the Atlanta Falcons.
Brand identity is a must, especially in the competitive business of selling retail golf equipment, so we began by asking about the use of perhaps the best know name in golf, PGA TOUR. Sullivan responded, "We have a 50 year license with the PGA TOUR for the name and are very happy with the association with the Tour and in fact handle the e-commerce for them off their website. We want people to feel the link between us and the Tour as being real and important."
Sullivan continued by saying he wants his stores to be high in wow-factor so when a golf consumer walks in the first time their reaction is "WOW!" because of the large amount of floor space, the interactive and brightly lit open layouts and well-stocked shelves.
With stores averaging over 45,000 square feet a big part of the growth has been realized by maximizing revenue whether in sales of clubs, apparel or services. We questioned how the revenue per square foot compared with other retailers and though he was reluctant to share specifics Sullivan did say that, "Revenue per square foot is up to double of other golf retailers."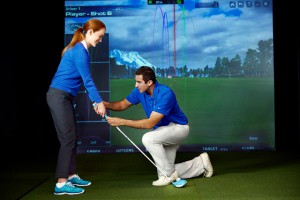 Experiential is the word the company uses to describe a visit and Sullivan said sales mix in a given store depends on the local market but, "Last year (2016) we gave 45-50,000 lessons so we have a strong presence in helping golfers get better." Also interesting and somewhat unexpected is some locations sell more ladies' apparel than men's.
In 2016 PGA TOUR Superstores had over seven million customers and that will presumably grow in 2017 not only from same store growth but from increasing the number of locations. Sullivan expects to have 50 stores in five years so the rate of openings will be steady but not spectacular.
Realistically the growth into new markets and opening of new locations in existing markets is driven often by the cost of real estate. "It has to make sense for us and some areas [commercial real estate] are pretty expensive and it's hard to make the numbers work," Sullivan told me.
The almost mystical reputation of Home Depot's customer service is a benchmark for Sullivan and the employees of PGA TOUR Superstores and this starts with knowing golfers and what they want and need. The connection is made through store employees.
According to Sullivan, "The employees on the floor who are closest to the customers are at the top of the PGA TOUR Superstore pyramid and the CEO is at the bottom. Employees tell us what we need to do." They are the ones dealing with the golfers so they understand what the customer wants and needs.
He followed that comment quickly with, "If you do the right thing the numbers will follow," which certainly is a refreshing change from the bean-counter orientation of some other operations.
Anecdotally, on a recent visit to the Orlando store to purchase some golf gloves the display rack had none in my size. When I asked a store associate if they had any he ran…ran mind you, to the back and returned almost immediately with what I needed.
I don't recall ever experiencing that level of enthusiastic service much less physical exertion ever in any golf store, big box retailer or green grass shop.
On average PGA TO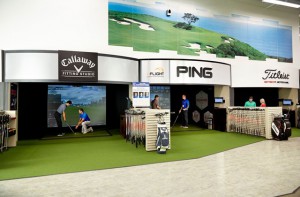 UR Superstores have 14 hitting bays with the latest swing analysis software and graphics along with custom fitting of clubs, club repair, re-gripping. "We run Saturday clinics for juniors to build the interest of youngsters in the game hopefully making them lifelong participants but also to engage the parents in a meaningful way with their children, the game of golf and our stores."
So how is it working? As noted previously PGA TOUR Superstores is bucking the trend with continued growth and profitability and for example, "Some snowbound locations have to use beepers like in restaurants to notify when a practice bay is available which have swing analysis software. Each location has PGA Professionals on staff."
When asked for a description of their ideal target customer Sullivan responded, "The avid golfer is of course first for us. We want them to find everything they want and for them to come back."
From my experience it would seem a lot of golfers will be doing just that.
Images courtesy PGA TOUR Superstore