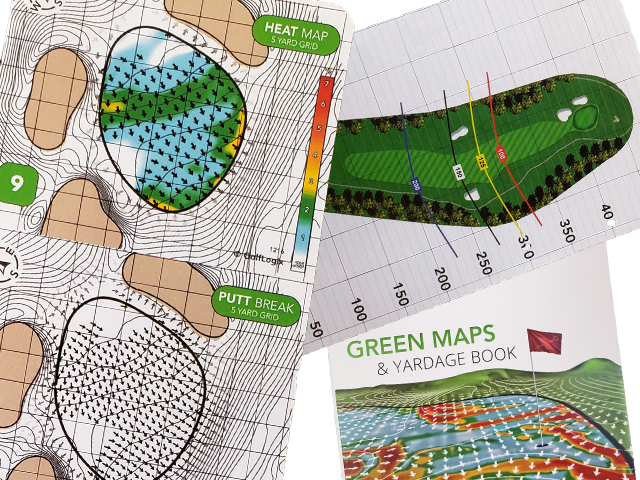 GolfLogix knows to score well you must putt well. Hitting the ball on the proper line with the proper speed is a skill honed by experience and assumes the player can see the proper line. The green reading smartphone app from GolfLogix is used by over 5 million players around the world to help with their game management and now the company has expanded by offering printed green and yardage books for more than 14,000 courses.
Most golfers have at least some acquaintance with green books like those carried by professionals and their caddies and the GolfLogix books go a step further. Each green is diagrammed with a "Heat Map" showing the amount of slope and thus relative putt speed over the various parts of the surface plus there is a detailed "Putt Break" diagram of how the ball will break.
Taking the GolfLogix green book for my usual course to play a casual round served as a timely reminder of the importance of selecting the proper club to leave the most "makeable" putt rather than simply banging away straight at the pin. This is obvious of course but, especially on a familiar course, may not always get the consideration it deserves.
Secondly, the combination of speed and break as shown by the Heat Map and Putt Break illustrations gave a clear indication of the putt's line and even after all the rounds on this course it showed my green reading had not always been exactly right. For example, the fourth green has two flat areas, one center front and the other center back plus there is a slope running towards the front between the two. The tendency when putting up this tier to a back pin is to read in a righthand break but the GolfLogix green book showed in fact there was almost no break which is presumably why I always the putt miss wide left.
My playing partners were kind enough to not comment about old dogs and new tricks.
The books also have a handy yardage diagram of each hole and pages to fill in the distances you hit your clubs in case you need the information. Those looking to take their scoring potential up notch should consider the GolfLogix Green & Yardage Books.
Fast Facts:
$40 on GolfLogix.com or at selected golf courses
More than 14,000 courses
Heat Map of green slopes
Putt Break diagram
Hole View with yardages
USGA compliant