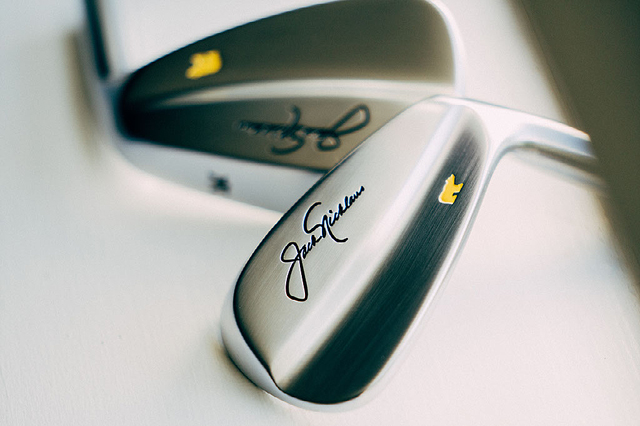 Jack Nicklaus and Katsuhiro Miura have collaborated to design a limited-edition update of the classic Nicklaus blade irons.
Fast Facts:
Miura and Nicklaus design modern version of Nicklaus blade
Limited edition
Forged S20C carbon steel
Uniform offset throughout set
Satin chrome finish
Available now for preorder
To ship first quarter 2021
3-iron through pitching wedge $2,750
WYNTK:
Since the Nicklaus Companies and Miura Golf are both part of 8AM Golf owned by Howard Milstein president and CEO of New York Private Bank & Trust it was natural two of the game's legends Jack Nicklaus and Katsuhiro Miura should get together on an iron design. The idea was to create a modern version of the classic Nicklaus blade while at the same giving a little help to today's players by improving the iron's forgiveness.
Nicklaus' preference is for each iron, regardless of loft, to have the same amount head offset saying that helped his control and consistency. Miura improved on this by doing some "subtle grinding" of the neck leaving the look at address unchanged but effectively increasing the offset while maintaining the loft Nicklaus desired. The subsequent weight reduction in the hosel moved the center of gravity towards the toe making the design easier to hit, i.e., more forgiving.
"I've spent decades designing golf equipment, and I cherish the painstaking craftsmanship that goes into enhancing the tools of my trade," Nicklaus said. "The Miura family and I share this passion for doing everything the right way and leaving no detail overlooked, and we have worked closely in this collaboration to highlight the superior subtleties of Miura forged steel."
President of 8AM Golf and CEO of Miura Golf, Hoyt McGarity said, "This collaboration between two of the greatest giants in our industry has been a true melding of generational genius. It's a union that's nothing short of inspiring and together they have produced a remarkable set of irons.