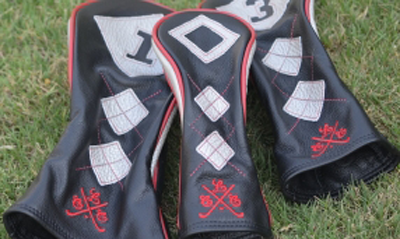 One of the neat things every year at the PGA Merchandise Show is meeting new people and listening to them enthusiastically talk about their products whether it's a new club, a new ball, golf bag or even software to analyze your swing. 
So chatting a few minutes with Adam Blake of Cru Golf was interesting but the topic was something most golfers think of as pretty mundane—head covers. 
Cru Golf was co-founded by Blake almost three years ago on the idea of making premium head covers to go over that expensive driver you just bought; really making it yours as well as a statement of your golfing style at the same time. They have done this very successfully with their line of leather head covers which are customizable for color and logo plus they have linings to absorb moisture on the clubheads. 
One of the problems club manufacturers have and especially with the current 460cc head sizes of drivers is providing a cover that fits—not too loosely but not so tightly they are a problem to take on and off especially in wet weather. This may not sound like a big deal but if you use your driver 14 times in a round and have to struggle each time first getting the cover off and then getting it back on (as I have done with one of the top manufacturer's drivers this year) it gets very old…very fast.
Cru head covers solve that problem plus protect your expensive equipment and look good doing it. They are definitely worth the price that starts at $39 and I've already decided to purchase them as gifts for Father's Day and an upcoming graduation.