Though the PGA Merchandise Show (sometimes also known as Disney World for golf equipment geeks) was over in late January, I was sifting through some information gathered and reminded when I first saw the Swing Box I wasn't impressed with just another indoor golf net.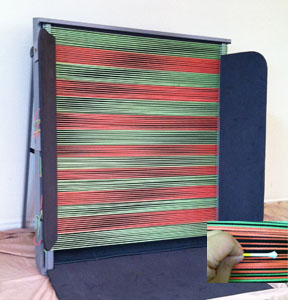 However the Swing Box isn't just another indoor net but an innovative idea from Dr. Joseph Lee, a California eye surgeon. His idea was to string tightly spaced cords of approximately ⅜″ diameter across a board, put on sides to contain really errant shots and a sloping return at the bottom.
It works. Dr. Lee points out not only does the golfer receive feedback from the feel of the ball striking the club but audio feedback when the ball hits the back board. Though a little pricey at $470 (which does not include a hitting mat) the SwingBox comes with two side wings and a return mat and according to the company ships via FedEx within two days of order. 
If interested you may see more at SwingBox.com.