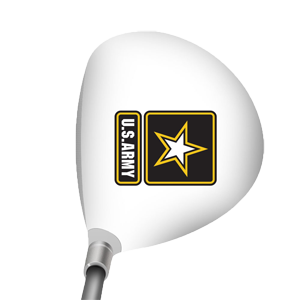 Frankly when they asked if I would be interested in having a customized decal on my driver I was somewhere north of skeptical.
A decal?
On my driver?
Yeah right.
However I subsequently learned it is not a decal but a high-tech film made by 3M custom cut to fit each driver, fairway or hybrid head and then heat bonded so it's really in place with no lumps, bumps or curled edges. Also, after a bit of research I found a ClubCrown and you aren't "joined at the hip." If you don't like it (or want to have it changed to a new one) dig your fingernail underneath the edge near the hosel and peel it off.
So assured I wouldn't have to live with my driver having a crown-look I couldn't stand I sent away my current number one wood to ClubCrown for the not-a-decal to be installed. In 10 days it was back with a great looking American flag on the crown, cost is around $40 and they pay for UPS Ground shipment both ways. 
I was wondering, and you are too probably, about the added weight to the clubhead and found it's somewhere around 2 grams which is so little I couldn't tell it was there. 
The driver looks good drawing positive comments from everyone and there's a side benefit I didn't know about until a playing companion asked to try it out. 
Proving no good deed goes unpunished I gave it to hi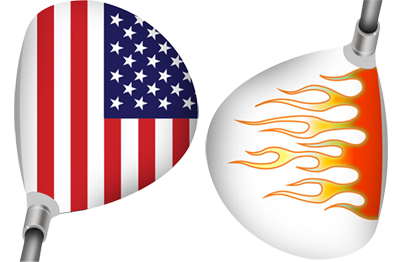 m to hit and he returned it (with the head cover on) but on the next tee upon removing the head cover I found a big black mark across the crown. How it got there he had no idea. 
It was then I found one of the pluses of the ClubCrown film; the black mark cleaned right off with soap, warm water and towel which saved both the driver and the friendship.
Vibe, makers of ClubCrown, is building a network of trained installers around the country meaning you will soon be able to get your favorite design installed locally or at least closer than sending your club away though that service will still be available.
If you want to show off your colors or favorite team or just get one up on your golfing buddies ClubCrown is a must-have.