New service for US Golfers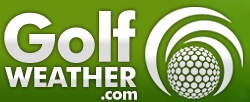 Golfweather.com, an online weather forecast service for golf courses and golf destinations, is now tracking up-to-the-minute weather conditions at over 16,000 golf courses throughout the U.S.
 The brainchild of South African entrepreneur Moshe Adir, a 14-year veteran of online start-up businesses, Golfweather.com is a golfer's 15th club in the bag offering accurate and real-time seven-day forecasts that include temperature, wind speed and direction, comfort level and probability of rain.
"We gather raw weather data from renowned meteorological organizations and institutions to provide longitude and latitude location-based forecasts for each golf club in the U.S. and around the world, which results in an incredibly accurate picture of what the weather is going to be like there on any given day," says Adir, a three-handicap golfer. "Our detailed forecast is broken down into three hourly segments for 5a.m., 8a.m., 11a.m., 2p.m., 5p.m. and 8p.m. 
To get the accurate weather data, golfers simply search by golf course or location on Golfweather.com. They can choose to see a 7 Day Detailed Forecast or a Summary, which lists conditions, daily high and low temperatures, daily precipitation probability and an overall playability rating. 
It's not only golfers who depend on the weather accuracy of Golfweather.com. Golf course superintendents are now tapping the online source when setting up their courses for the day and deciding on pin positions and tees according to wind directions and strengths.
Golfweather.com was founded in 2009 in South Africa, and by 2010 grew to include Ireland and the United Kingdom. The free online tool now pinpoints weather at more than 26,000 courses worldwide. Golfweather.com has already released its app service for the iPhone and soon for android phones.