This year is the centennial of Sam Snead's birth, who passed away 10 years ago, so in recognition if not celebration of one of the greatest champions of all time a new beer has been introduced.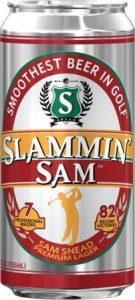 The Slammin' Sam Beer Company has brought to market a craft-brewed lager named Slammin' Sam that publicly debuted at The Greenbrier Resort during thePGA Tour's Greenbrier Classic.
 "It makes sense for Slammin' Sam beer to be introduced here," said Jeff Kmiec, President and Managing Director of The Greenbrier Resort. "Sam Snead called The Greenbrier his professional home for more than 60 years and I think he'd be happy to know guests will savor a beer that bears his nickname."
"Mr. Snead is an international sports icon, and our first priority was to create an amazing beer that honors his legacy," says Casey Bierer, founder and CEO of Slammin' Sam Beer Company. Bierer is well known to fans as a former producer and reporter with the Golf Channel. "Through the assistance of a beer industry legend and remarkable craft brewery, we're proud to present a thirst-quenching premium lager that golfers and all active lifestyle consumers will truly enjoy."
 Made in Wisconsinby Stevens Point Brewery – a World Beer Cup multiple Gold Medal award winner – Slammin' Sam is available in cans, bottles and kegs. Launching soon at other renowned resorts throughout North America, as well as golf courses, restaurants, bars and everywhere beer is sold, the line's packaging and marketing depict famous images of Snead from the 1950's and '60's.