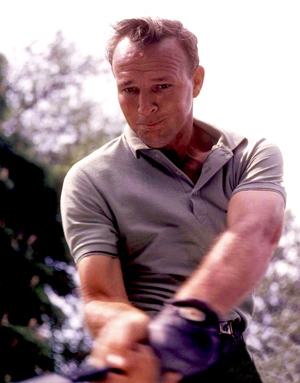 Like millions of others, I am and always have been a fan of Arnold Palmer. He came into my life at the same time golf was taking over from baseball and the other games boys play before they figure out girls aren't just someone who's a handy mud ball target.
Today he still oozes charisma but younger people may not appreciate how exciting and virile and forceful he was and have only a vague idea of how domineering he was on the course.
The Golf Channel may change that with a special, appropriately titled "Arnie," broadcast over three consecutive nights starting after Masters tournament coverage on Sunday, April 13. During the past year a crew has travelled with Palmer shooting video and interviewing people as well as sifting through hundreds of hours of historical film including Palmer family film never before seen.
As Johnny Miller said, ""Some people have forgotten about his career a little bit, and they just know he's "The King," they don't realize, that this guy was amazing, he played like a Seve Ballesteros, Lanny Wadkins, myself, and Phil Mickelson all wrapped up into one. There wasn't a flag stick he wouldn't go at; there wasn't a drive he didn't try to squeeze out there in a tight area. My dad told me if you want to be the best, you've got to be willing to do what other guys aren't willing to do, and that was Arnold Palmer."
The three parts are entitled "Arnie & His Army," "Arnie & His Majors" and "Arnie & His Legacy" covering Palmer's life from childhood to today with comments from two U.S. Presidents, other golf greats, family and business partners.
Hope you will be watching with me. 
Images courtesy of the Golf Channel and Rolex