Course Architecture
According to an item in By Design, the publication of the American Society of Golf Course Architects, PBS will be airing a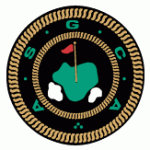 documentary on American golf course architecture August 3. The special has a companion book entitled Golf's Grand Design. ASGCA President Bob Cupp said: "ASGCA members Bill Coore and Billy Fuller, along with myself and Ron Whitten, have participated in the organization of the video and Ron and I are writing the companion book."
 World's fastest golf cart
The Washington Post reported Wednesday on a Guinness World Record stunt in Surrey, England involving Formula 1 driver David Coulthard driving a 2012 Mercedes-Benz SLS AMG Roadster (a $200,000 golf cart?) to catch a golf ball 300 yards down an airport runway. Coulthard (who has an endorsement contract with Mercedes-Benz) drove the 571-hp car at 120 mph to snag the ball hit by  by professional golfer Jake Shepherd 900 feet away.  
The ball's speed was reported to be 178 mph.  
However, the most amazing part of this whole thing is they did it on only the second try. According to the Post's article:  After completing the stunt, Coulthard said, "This world record attempt is definitely one of the most unusual things I've ever been asked to do with a car. Jake Shepherd was great to work with and the performance of the SLS AMG Roadster made driving to catch a mid-air golf ball even more exciting. I am honored to have received the Guinness World Record for the furthest golf shot caught in a car."
Restricted distance ball
Last Saturday the R&A conducted more testing with recreational golfers of a restricted distance golf ball in Osteråkers outsided Stockholm, Sweden. According to participants the ball used had larger and deeper dimples than regular balls but no other information was provided as to the construction or materials. 
Larger, deeper dimples create more air resistance or drag thereby restricting how long the ball will stay airborne cutting the overall distance it travels. 
It appears the R&A at least hasn't given up on the idea of regulating the golf ball to cut the driving distance of touring professional. Since both the R&A and the USGA have said repeatedly they are committed to one set of Rules for everyone, then by extension recreational players will be forced to play a restricted distance ball should it be mandated to corral touring professionals distance.