The 2010 Champions Dinner at The Masters was hosted by the previous year's winner, Angel Cabrera, and featured a meal befitting of his homeland: a full Argentine asado. The meal consisted of a multicourse barbecue featuring chorizo, morcilla (blood sausage), short ribs, beef filets and mollejas (veal sweetbreads).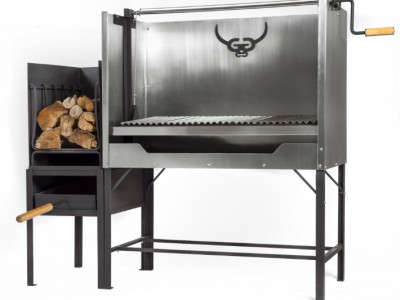 While this is certainly the most famous instance of Argentine cuisine and golf intersecting, it's no longer the only one. Gaucho García, a grill retailer based in Northern California, is about to bring its patent-pending line of Argentine-style parrillas to the marketplace, allowing barbecue-loving golfers to serve up their own post-round asado.
Gaucho García was originally founded in 2010 as an online resource for South American barbecue. After gaining a grassroots international following, the company decided to launch its own product line selling authentic hardwood grilling equipment and accessories. The company's Kickstarter campaign begins March 10, 2014 and it is aiming for a full product launch by the 2014 Memorial Day weekend.
"We've taken the best aspects of an Argentine-style grill—the V-groove grill grate, crank handle adjustability, drip pan and firebox stand—and given it a modern twist," said Pride Sasser, the company's lead product engineer. "This sucker is a beast. Made from stainless steel with over 7-square feet of grilling surface, our grills have everything you need to impress your friends, family, or playing partners at your next barbecue."
For more information, visit: www.gauchogarcia.com